Disclosure: Some links on this page below are affiliate links, meaning, at no additional cost to you, we will earn a commission if you click through and purchase. Read our disclosure for more info.
Merry Christmas!
Last year, while pregnant with Saira, I decided it would be nice to make Christmas stockings for the whole family, as a cool decoration for the holidays. Little did I know, that with two kids under age 2, it would take me an entire year to knit four stockings. I still have to finish a stocking from the dog, and I'm sure I'll make another stocking eventually, as we would like to have a third child sometime in the future. But for now, this is what I have!
Choosing a Pattern
I went on Ravelry to find a good stocking pattern. There are plenty, but the one I liked best was the Spindleknitter's Stocking pattern. It's big and has a ton of different interchangeable Christmas-y patterns. I love the ability to use so many colors in a Christmas stocking. There are so many patterns that have just red, white, and green, and I wanted something a little more customizable. I also have a ton of stashed up yarn to bust through, so this was the perfect pattern for me!
I hung up the stockings on the chimney with care, and I really think they look fantastic. Each one has something specific to the family member it belongs too. The top half of the stocking is a Christmas theme, while the bottom half is themed for a personal interest of the person it belongs to. To find the patterns for the bottom halves (which cover the foot of the stocking), I just searched the patterns on Ravelry for specific interests. It's very easy to search with a filter for "charts" and search for whatever you're interested in (like Star Wars, or rainbows).
I'll go into more detail about each individual stocking below.
The Stockings
Cassie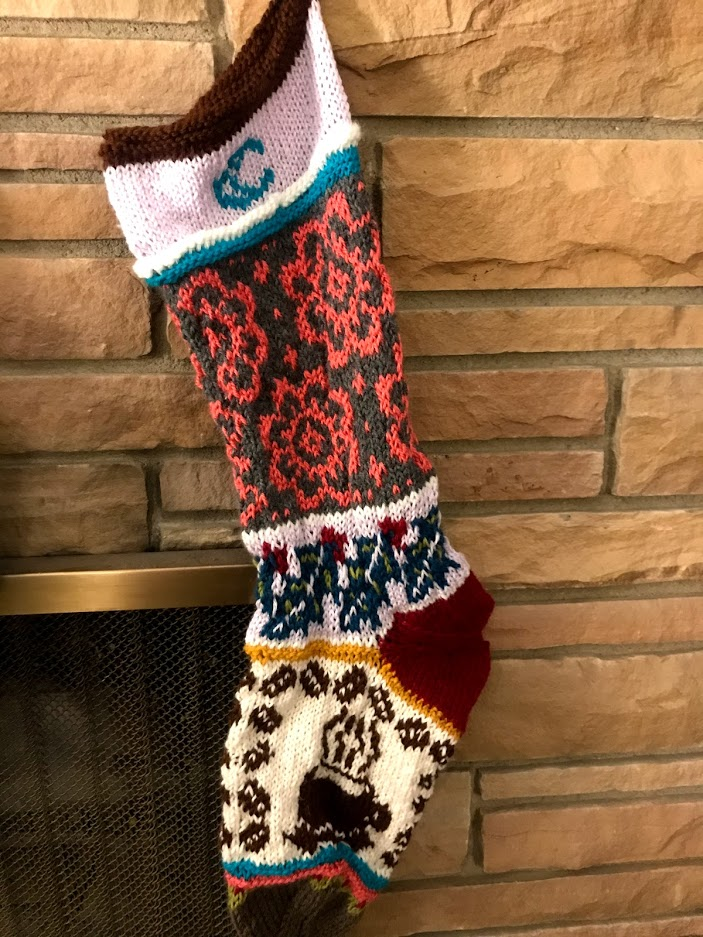 For my own stocking, I chose a mistletoe and flowers pattern for the top, and a coffee cup and coffee bean pattern for the bottom. The mistletoe pattern is included in the original Spindleknitter pattern, while the coffee pattern is the Gimme Coffee pattern by Karin Aida.
Kamran
For Kamran's stocking, of course, I chose a video game themed pattern. It's the Hylian Shield from Zelda. Anytime I ask him for what type of project he wants, he almost always says a video game theme. Or Star Wars. Go figure.
For the top of Kamran's stocking, I chose a really pretty Christmas tree pattern, which was again included in the original Spindleknitter collection.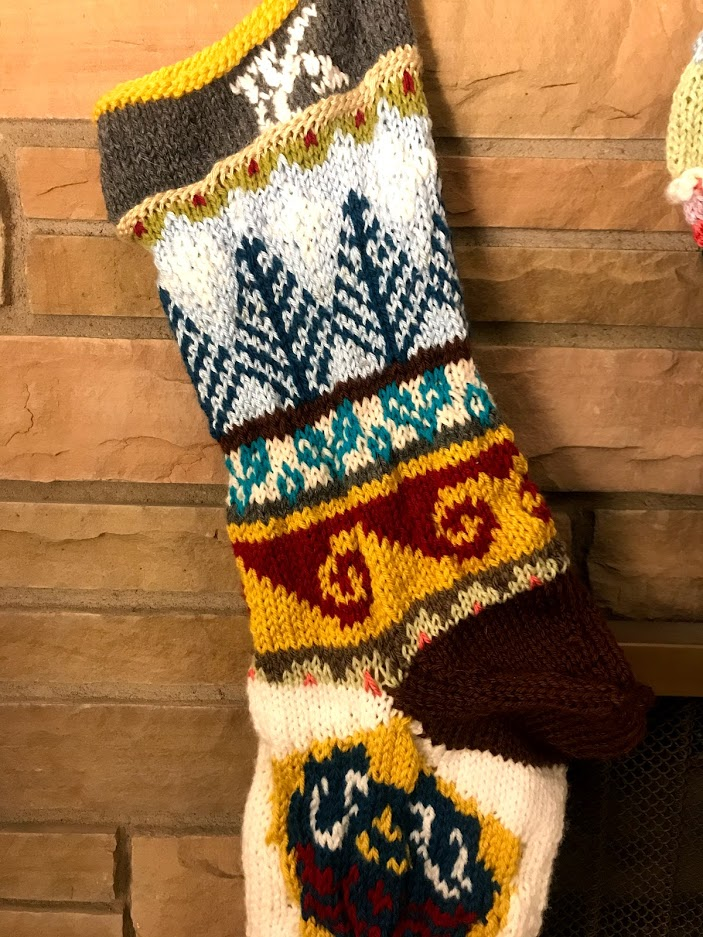 Rami
Rami asked me for a truck-themed pattern. So I found a pattern for an excavator and a dump truck, with one on each side of the stocking. These were both included in the Digger Jacket pattern from Sam Godden. Rami has been so excited about his stocking, and has shown it off to multiple guests we've had over to our house!
For the top of his stocking, I chose a winter forest with snow and maybe some Northern Lights in the background. I really like how the colors turned out in this one!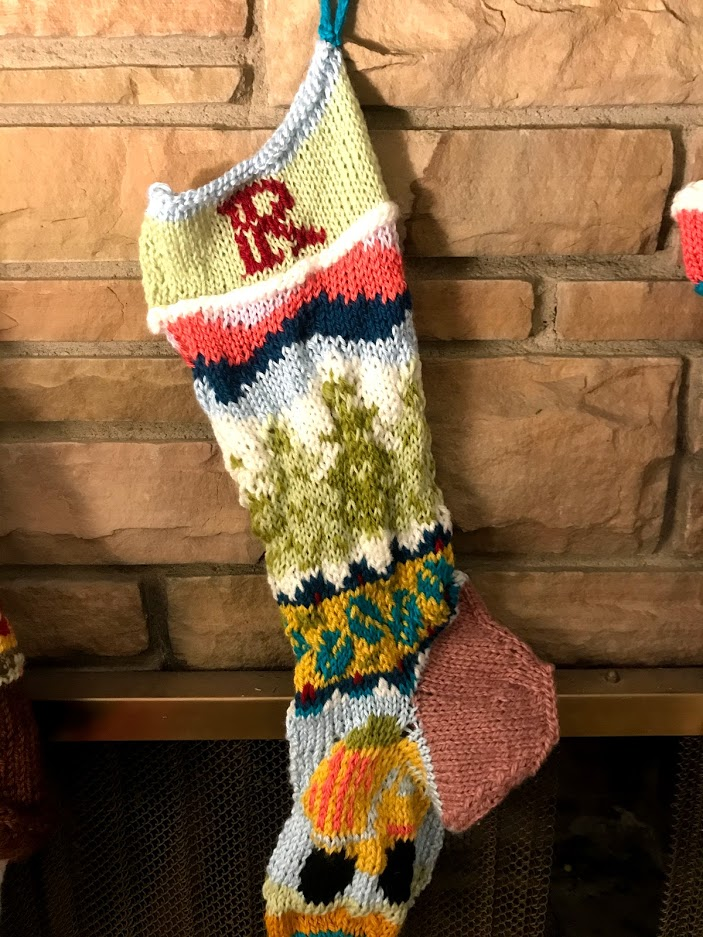 Saira
Finally, for Saira, I chose an elephant pattern. Saira has a string art elephant hanging in her room that I made, so her theme has been elephants since before she was even born. I'm hoping she actually likes them when she gets older!
The top portion of this stocking is actually unfinished. There are two birds (in white/green and pink/red) who still need beaks, while the wreaths still need some berries or ribbons to fill them out a bit. I really didn't have time for all those extras. I'm sure I'll finish them in the next year!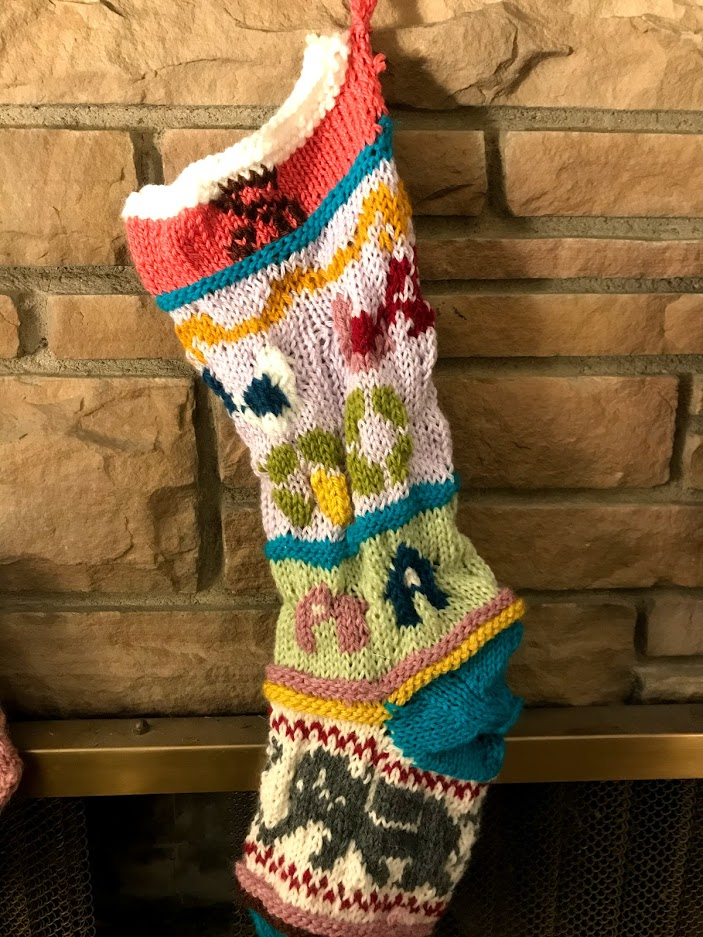 ---
I think all the stockings turned out really well! I'm excited to be able to take them out each year and enjoy them on our fireplace, with a nice wreath. Christmas is such a fun time for crafts, and I'd like to be able to make more Christmas decorations for our home. I guess I'll need another year to get them all done!