Disclosure: Some links on this page below are affiliate links, meaning, at no additional cost to you, we will earn a commission if you click through and purchase. Read our disclosure for more info.
Recently, as I was putting Saira to bed, she told me she wanted to wear her new dinosaur dress to bed. I told her that her dress was for daytime, and that she would have to wear pajamas to bed. She burst into tears, as a 2 year old told "no" tends to do, and I comforted her while saying, "Maybe I could make you a nightgown!" She hadn't heard of that before, so with her interest piqued, she stopped crying. I explained that a nightgown is a dress you can wear to bed, and that I used to have a Care Bears nightgown when I was a kid. Then she wanted to know what Care Bears were. It was a whole thing.
I knew what my next project had to be. With my new sewing room almost completely in order, I've been trying to devise ways to use up some old fabric. I have so many scraps that are maybe big enough to make things for Saira and Rami, but nothing much bigger than that. I also decided to scrap my yellow skirt-to-dress project. Even though I was excited to make it and happy that it worked out well, I don't wear it and I have gotten so much better and more sophisticated in my sewing technique that I don't even want to show it off.
I took the yellow skirt from that project and the blue daisy fabric from my daisy dresses, and started to cut out the pieces of a nightgown. I used the Summer Nightie pattern from Sew Much Ado. It's simple and quick; seriously, I think with all steps done, it took me MAYBE an hour to do one whole nightie!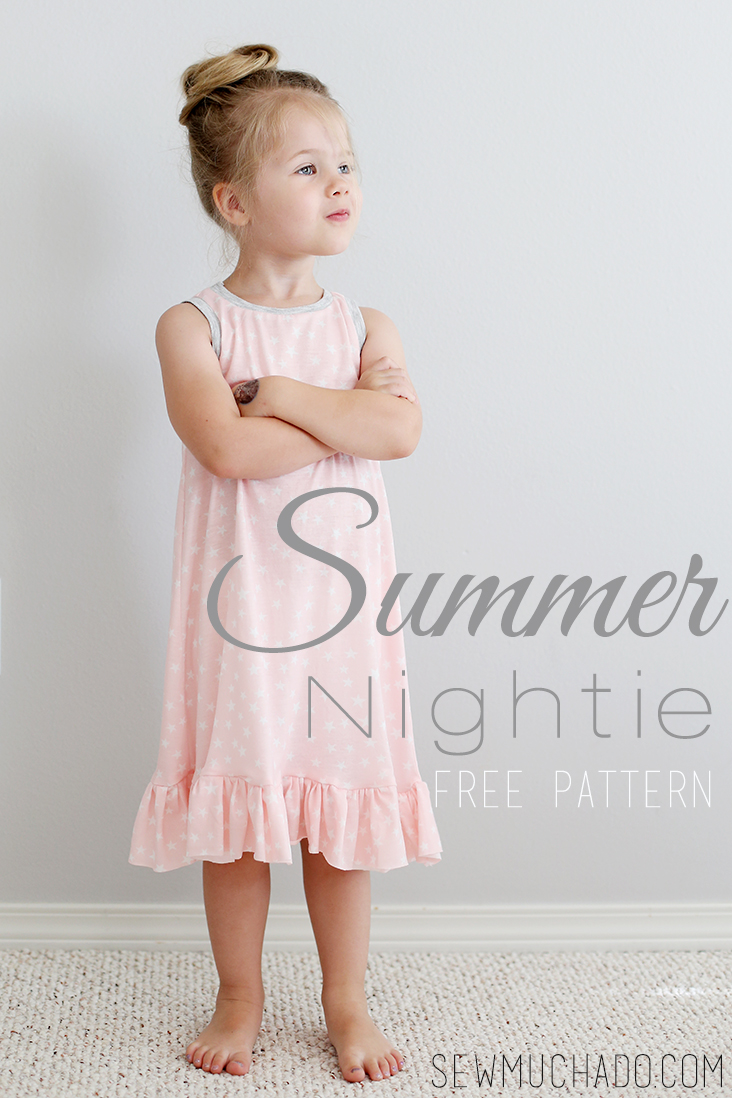 The pattern is free for sizes 2-3, which worked out well for Saira. I started cutting out my pieces from my scrap fabrics, and got to sewing!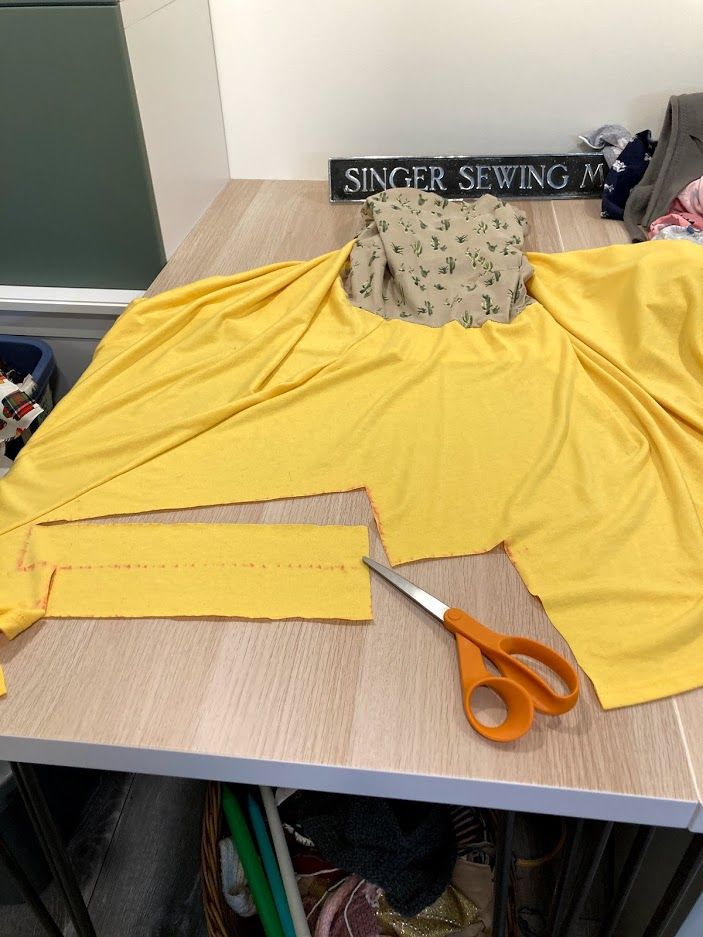 The pattern is constructed like any regular dress. Front and back piece, then strips for the arms and the neckband. Lastly, the pattern includes a ruffle hem on the bottom. I wasn't too keen on this, due to not wanting to have to figure out how to do it on the spot, so I decided to use lace for the bottom. I actually have a big bin of lace I got from my grandma's sewing supplies when she passed away, so I wanted to put it to good use.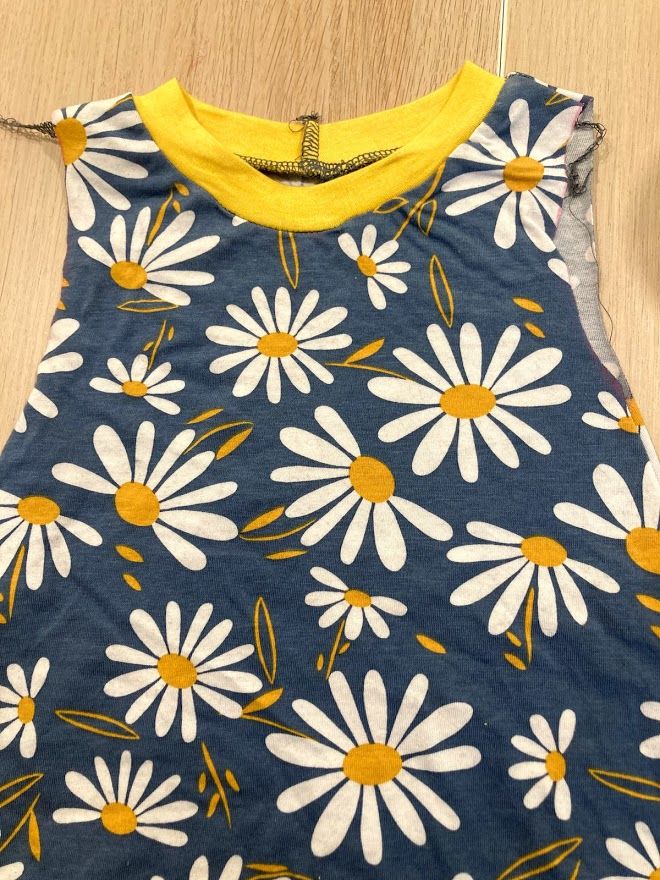 I cannot emphasize how simple this pattern is, but how effective and adorable it is. This was an absolute joy to sew up, imagining how adorable Saira would look when wearing it. The lace was fun to add, and gave it a nightie look. It reminded me of Wendy's nightgown in Peter Pan.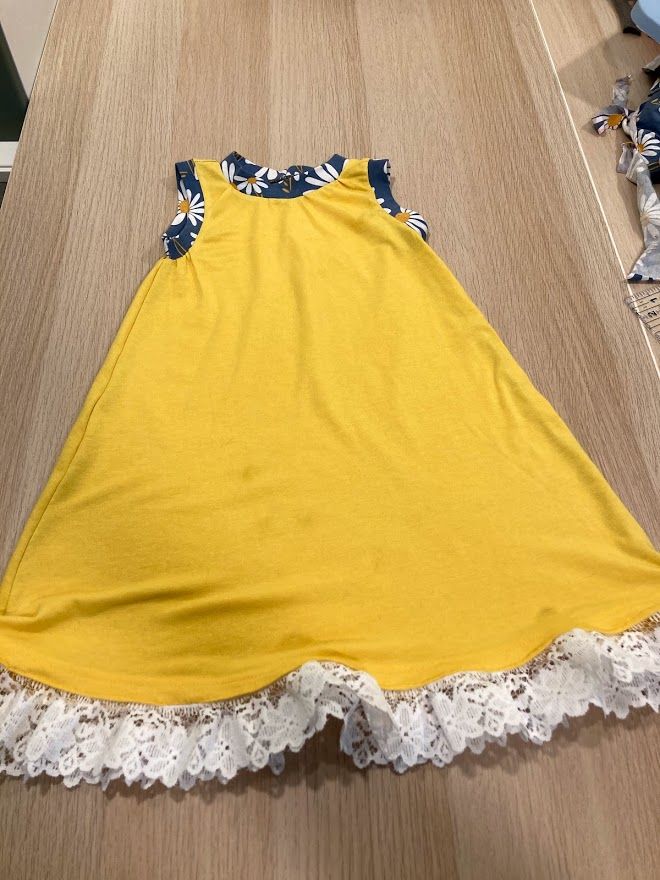 I ended up making two opposite nightgowns. One with yellow body and daisy details, and one with daisy body and yellow details. Saira definitely prefers the daisy nightgown but will wear them both.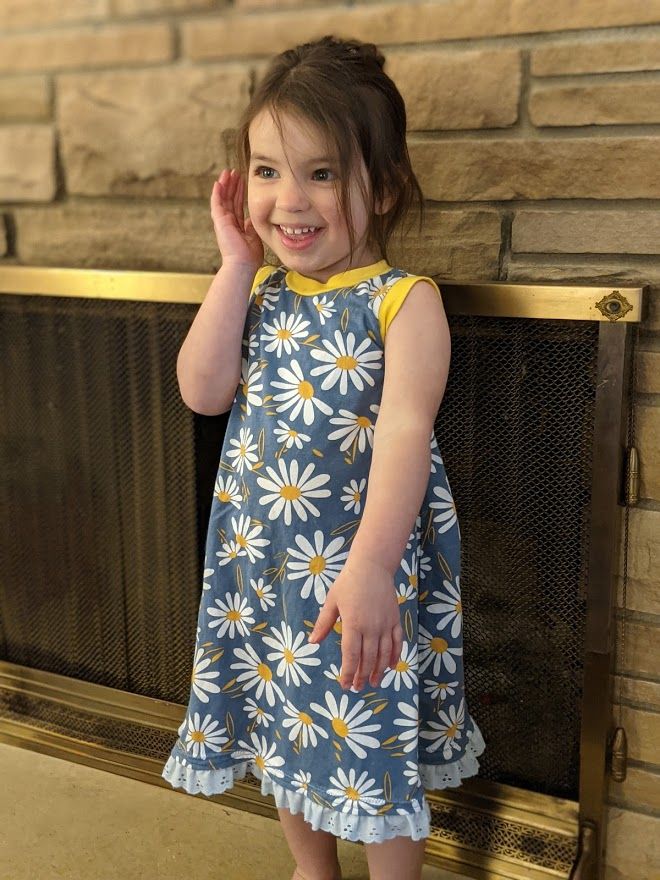 The length is perfect, and I think she will be able to wear these for at least another 6 months (she is officially 2 and a half now). I really don't feel bad if she grows out of these quickly, since it was just scrap fabric anyway. I don't want to go too crazy in making too many of these, in case she stops liking them, but I'm thinking I will be making some for gifts for friends' daughters as well.
After making Saira these little nightgowns, Rami asked if he could have one too. I told him I don't have the pattern in his size, and I actually mentioned to him that a long time ago (I think I said, "In Ebenezer Scrooge times") men used to wear nightgowns but they looked a bit different. I'm going to see if I can adapt the Cape Cod shirt into a longer nightgown, because I think it would be adorable and he would look very cute with a little nightcap on. So I may have an update to this post with a boy-version of this nightgown!