Disclosure: Some links on this page below are affiliate links, meaning, at no additional cost to you, we will earn a commission if you click through and purchase. Read our disclosure for more info.
We try to do one "big" trip a year as a family and for the past few years, it has been to National Parks. One summer we visited Cassie's sister in Hawaii and went to Volcanoes National Park. Another summer we went up north with friends to Voyageurs, and another summer we road-tripped over to Glacier. When our kids were born, we bought them the National Park passports to collect and commemorate all of our trips. They love looking through their stamps and ask about which parks they've seen.
This July we're planning another road trip with stops in Indiana, Kentucky, Tennessee, and Missouri. We aren't yet comfortable flying due to Covid and the kids' ages, but we are fully vaccinated and spending the majority of the trip outdoors.
This will be a 10-day trip and we'll be hitting two major National Parks: Mammoth Cave and the Great Smoky Mountains. If you want to plan a similar trip, this series of posts will share our itineraries, routes, and what we did!
---
You can follow along with the whole series by browsing our National Park collection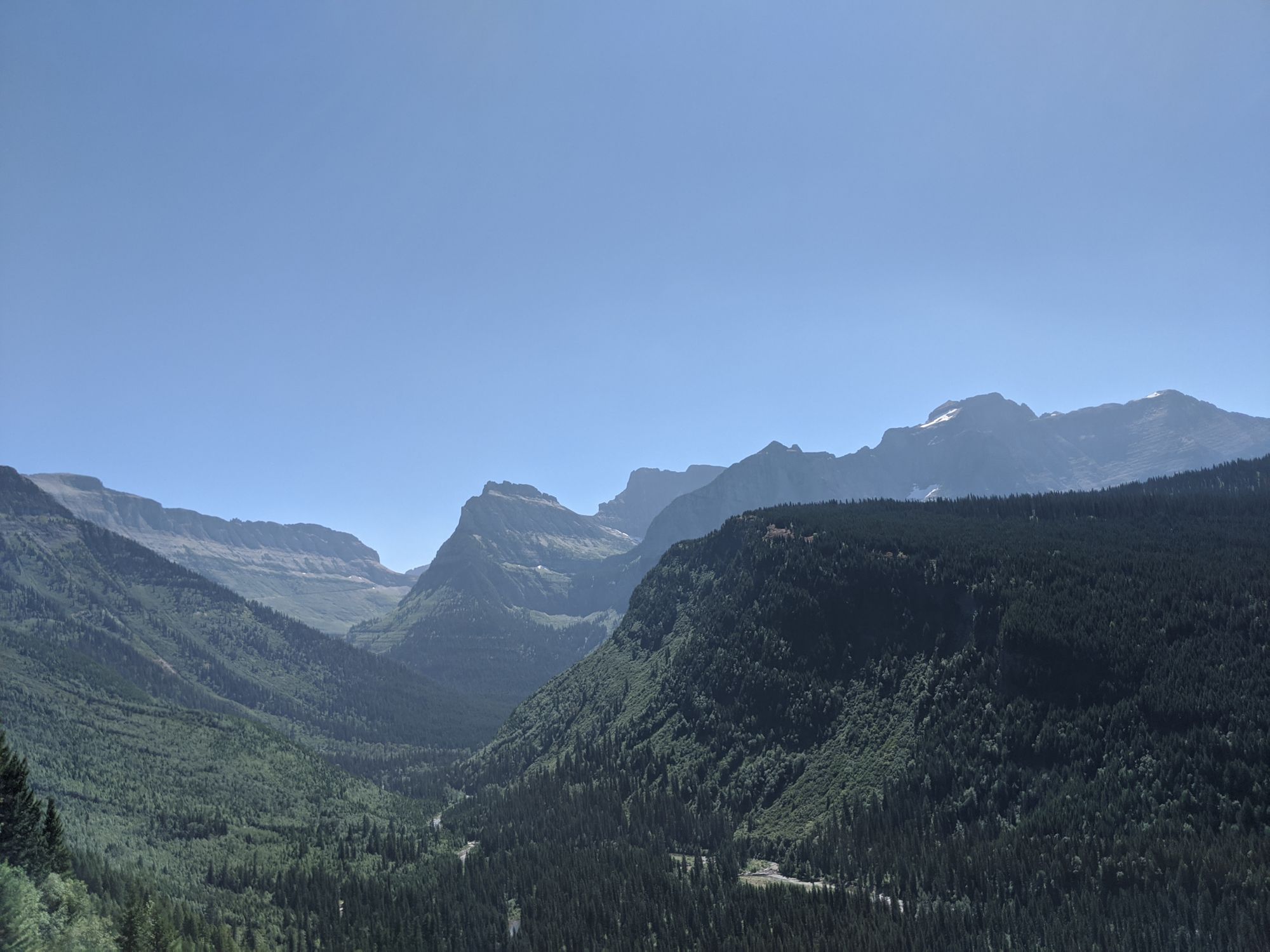 Planning tools
For the past couple trips we've planned we landed on using a tool called Notion.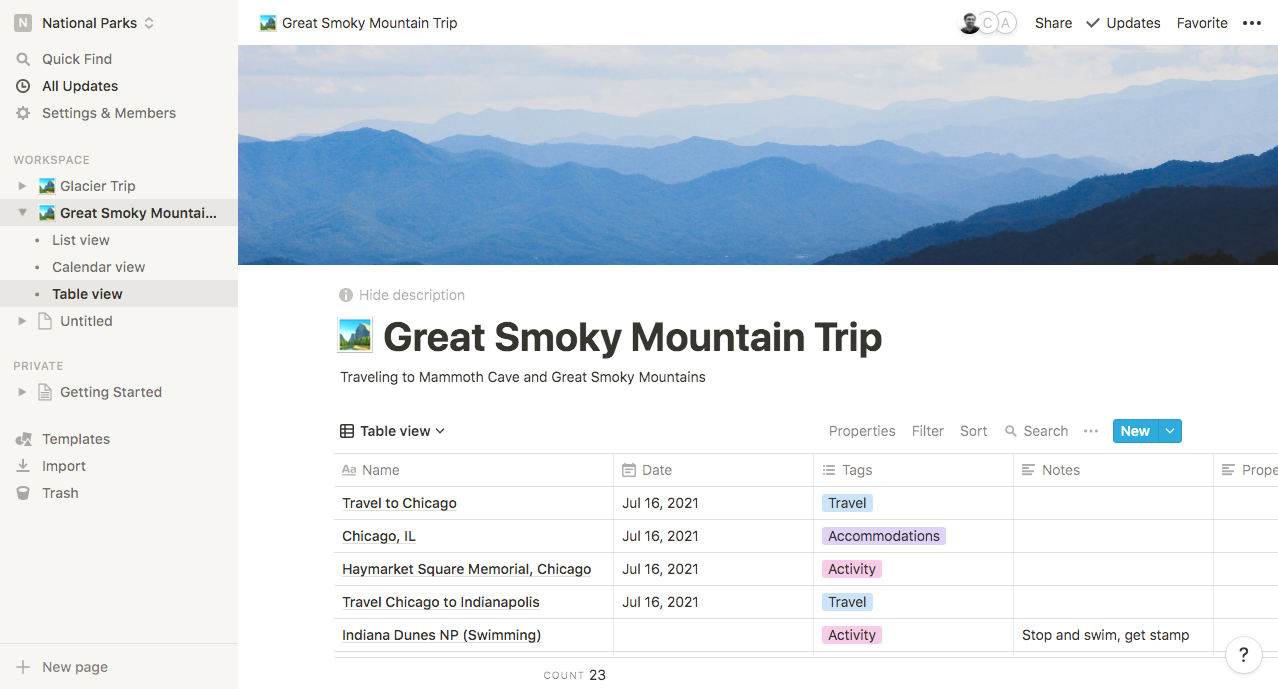 Kamran discovered Notion through some nerd sites since it tends to be popular with developers and entrepreneurs. To be frank, it can be really hard to use and Cassie and our friends only understand it at a basic level. It's really unfortunate because it's a powerful tool. It combines a ton of tools into one: spreadsheet, database, notebook, calendar, and task boards. They need to focus on helping users understand the power better and to level them up.
Planning the Route
We've been having monthly meetings with the other few friends joining us to plan the route we'll take. The trip will be a big circle starting and ending in Minneapolis where we live.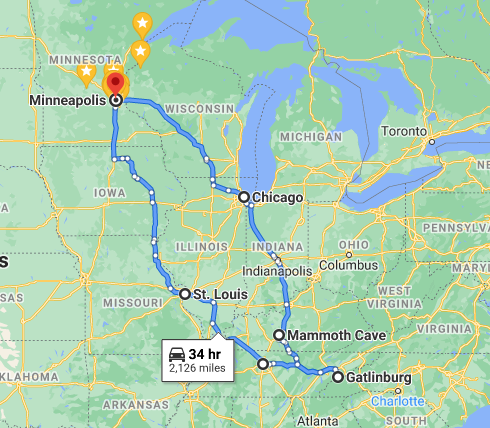 We'll be staying at hotels or Airbnbs along the route:
Indianapolis, IN
Mammoth Cave, KY
Gatlinburg, TN
Nashville, TN
St. Louis, MO
The trip will be 10 days with the majority of time spent at Mammoth Cave and the Great Smokies.
We had some debate about whether we'd drive through Nashville or stay there and we decided we'd like to experience the city a full day. We're looking forward to the Nashville Hot Chicken  😋
Planning accommodations
The accomodations are:
Indianapolis, IN: Mariott
Mammoth Cave, KY: The Lodge (historic cabins)
Gatlinburg, TN: Airbnb
Nashville, TN: Marriott
St. Louis, MO: Marriott
Our friend who travels with us is a Marriott Elite member so he can sometimes get us discounts, free nights, and other perks. We can also use our credit card travel rewards points with hotels but you can't really do that with Airbnb.
Since we prefer Airbnbs for the experience they provide, we typically choose them for longer 3+ night stays and stick to hotels for 1-2 night stays. At an Airbnb it is more like a home where we keep our stuff out, actively cook or use the kitchen, grill, etc. whereas the hotel is a get-in-and-out type deal.
Balancing the ability to redeem points (hotels) vs. having an experience (Airbnb) lets us save money where it counts and spend it where we value it most.
The Lodge at Mammoth Cave
For our stay near Mammoth Cave, we chose The Lodge at Mammoth Cave, which are historic cabins:
Cassie really wanted to stay in a cabin sometime during the trip and when we looked we saw these available. The prices are totally reasonable ($70/ni) too. When the kids are older, we'd probably prefer to tent camp so for now we are doing some glamping. There is no TV or Wi-Fi which will be good for us moreso than the kids, who don't really rely on TV much anyway. We'll have to bring some board games!
Gatlinburg Airbnb
Gatlinburg is one of the bigger cities right outside the Great Smoky National Park. This leg of the trip will be 4 days and will be the highlight so we chose to spend more on a bigger cabin for us all to stay in. It features a hot tub, fire pit, plus we can grill and use the kitchen to cook. It'll serve as our base while we explore the national park during the day.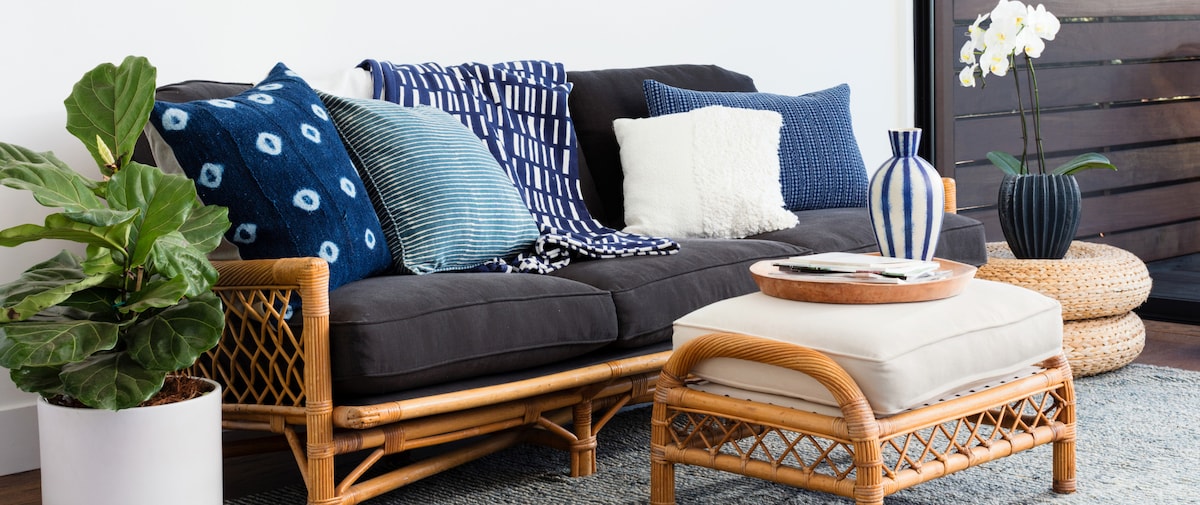 Budgeting the trip
To be honest we don't do a ton of budgeting for these road trips. Or we should say, it's kind of built-in to our spending plan.  When we stay with others (like the Airbnb), the cost is split and driven down further.
Roughly here's what we expect for our share of the trip:
Gas: $225-325 (2,100 miles + driving around)
Accomodations: $2000
Food: $500
Activities: $200
Shopping/Gifts: $200
I think we'd actually be surprised if "activities" was that high only because we have a National Park Pass already and 90% of the things we want to do are free/included. Kamran may want to do a brewery/distillery tour or something like that in Nashville.
Accomodations certainly take up the majority of the budget. Within that $2000, 40% of it ($850) is the Airbnb. It's a big 4BR cabin with a firepit and hot tub for 3 nights split between 3 parties. Again, the Airbnb is an experience and staying under the shadow of the Smokies in a new-but-rustic cabin will be memorable 😉 When we stayed outside Glacier NP we did the same thing, picking a beautiful Airbnb in Essex, MT in the middle of the mountains.
Note that we didn't use any rewards points for this trip. Why the heck not?! Because we're saving it all for our next trip in summer 2022 to Japan which is being budgeted. 😏 More on that later!
Activities planned
Since this a road trip, there will be stops along the way, some for several days, while we visit National Parks or historic sites and monuments.
Indiana Dunes National Park
Since we'll be driving near Chicago, it's possible we could stop by Indiana Dunes National Park.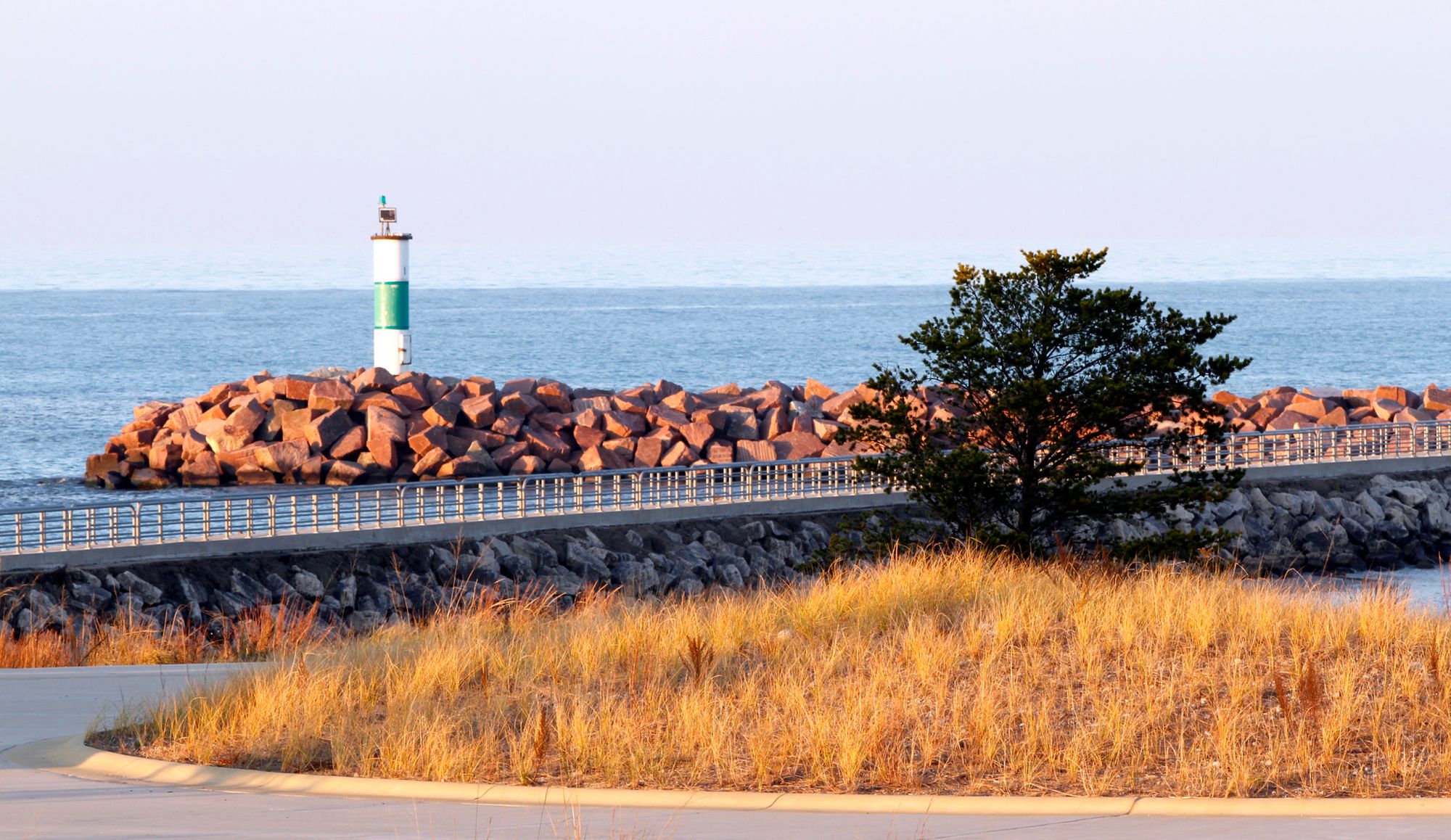 The park is right past Chicago across the border in Indiana and is on the shore of Lake Michigan. It's great for swimming so it might be a pit stop we make for the kids to get some energy out.
Mammoth Cave Tours – Kentucky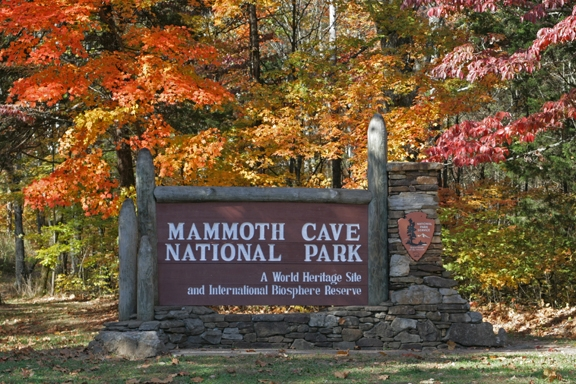 Since we have a group with two toddlers (4 & 2) we are somewhat limited in how strenuous activities can be. Since we want to go inside the cave, we looked at the tours available. Some are longer than others so it depends on the makeup of your group.
The ideal tour to us seems to be the Mammoth Passage tour, at only 1.25 hours and the description even says "ideal for small children." The other tour that seemed like it would be good is the Frozen Niagra tour which has hardly any stairs.
Cassie's sister actually visited Mammoth Cave in June before our trip so we had an "insider" to give us tips. They chose the River Styx tour since they only had two adults plus a teenager. That is labeled "moderate" at 2.5 hours with 600 steps and some trails next to deep water and limited lighting. She said that she wouldn't recommend it for toddlers/young kids as there are parts where you need to squeeze through. She went with her 13-year-old and she was fine.
Cumberland Gap National Historic Park
On the way from Mammoth Cave to Great Smoky Mountain NP we plan to make another pit stop at Cumberland Gap which promises ruins, trails, and caves to see and looks very scenic.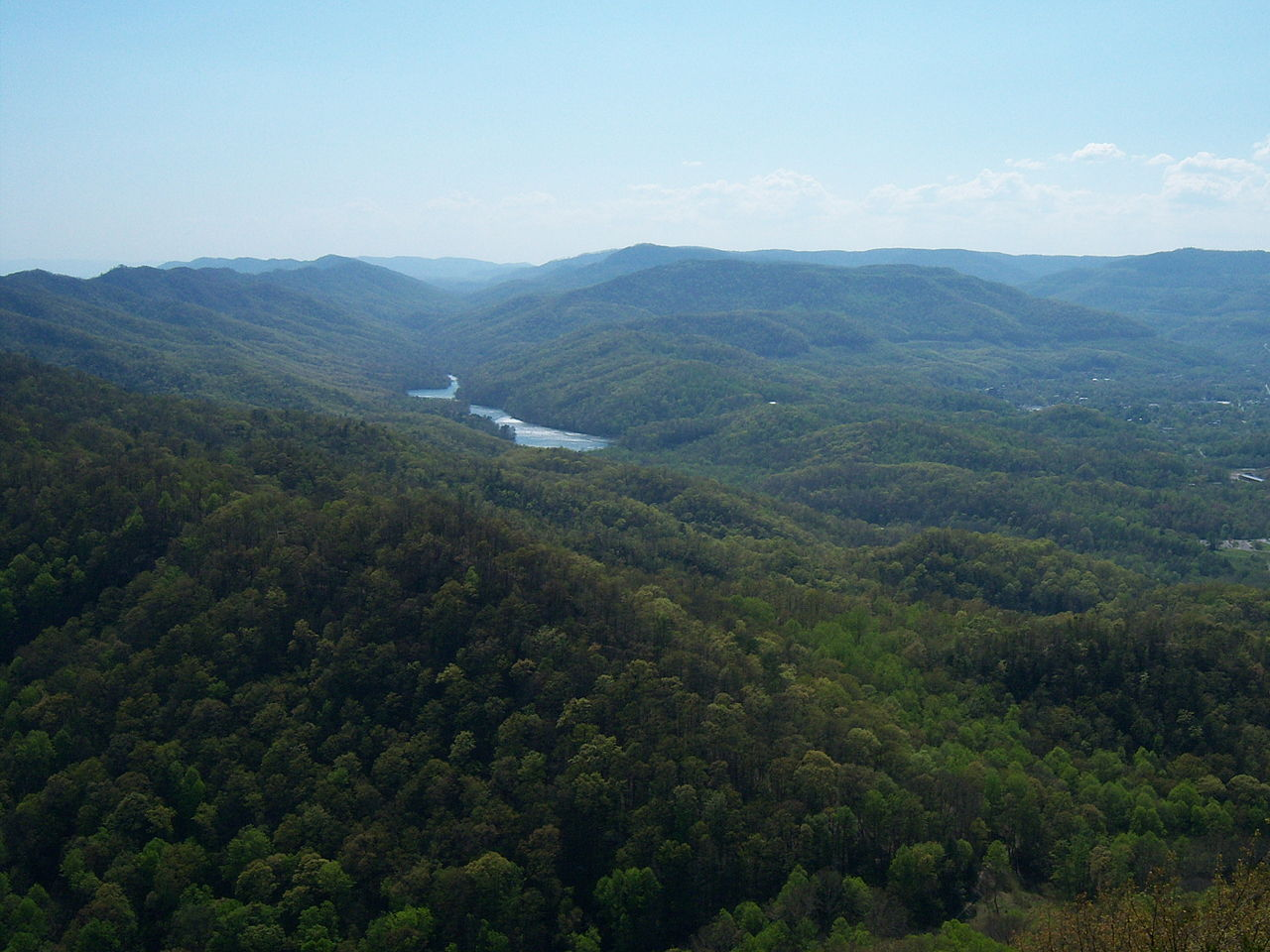 This is the view from Pinnacle Overlook which you can drive to from the Visitor Center. We may or may not walk along Ridge Trail from there depending on time.
Great Smoky Mountains National Park
There's so much to see and do in the national park but here's what our initial plans look like.
Waterfalls
We plan to look at some of the popular falls in the national park. The largest waterfall is Ramsey Cascades but with small children, we don't plan to do the 5-7 hour hike it will take to get there as the trail is rated "strenuous" in difficulty and is 4 miles one-way. Hey, we need to leave some things to do for when the kids are older!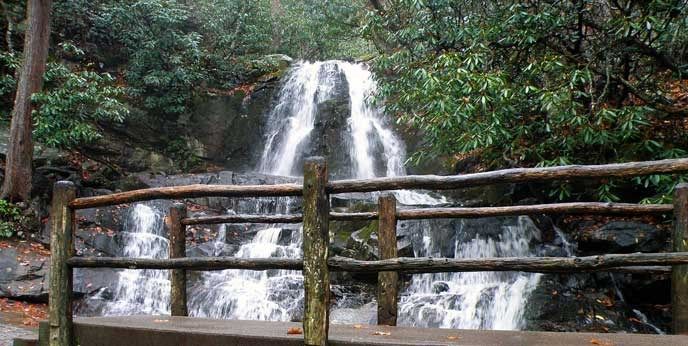 Instead it's more likely we'll check out Laurel Falls and Grotto Falls, both of which are "moderate" with 2.6 mile trails. We walk around the lake near our house which is about a 3-mile loop so we know the kids can handle that sort of hike (just barely!).
The trailhead access to Grotto Falls is along the Roaring Fork loop which is said to be pretty picturesque so we're looking forward to that.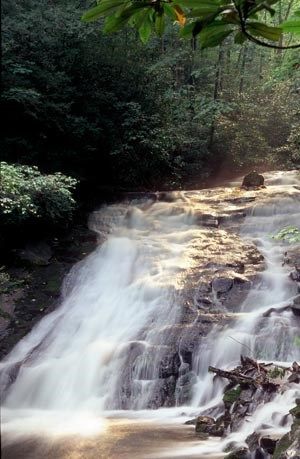 The other kid-friendly waterfalls are the Indian Creek and Toms Branch Falls, which can be accessed through an easy 1.6 mile trail in the Deep Creek area of the park. We are not sure yet if we'll have time to do those.
Cades Cove 11-Mile Loop
The Cades Cove loop is a drivable one-way loop that brings you through historic towns, buildings, and other sights.
In watching some YouTube videos, we know this is something to plan a day for because there can be long delays, waiting for people to watch animals, or stopping traffic. We plan to bring lunch and do a picnic or something mid-way through. There are trails including Abrams Falls which is a 5 mile roundtrip but we're not sure if we'll do that.
Notably, on Wednesdays the loop is closed to vehicles so on our first day in the park which is a Wednesday, we plan to do hiking or other activities.
Clingman's Dome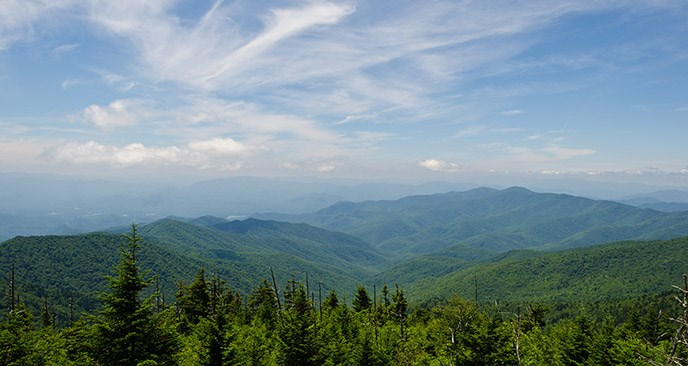 Just like when we visited Glacier and drove the Going-to-the-Sun road to the tippy-top of the park (which was amazing), we plan to do the same here by driving up to Clingman's Dome.
Elkmont
We plan to go and see some of the restored historic cabins in the Elkmont campground area. There are also some trails nearby we could hike.
The Sinks on Little River Road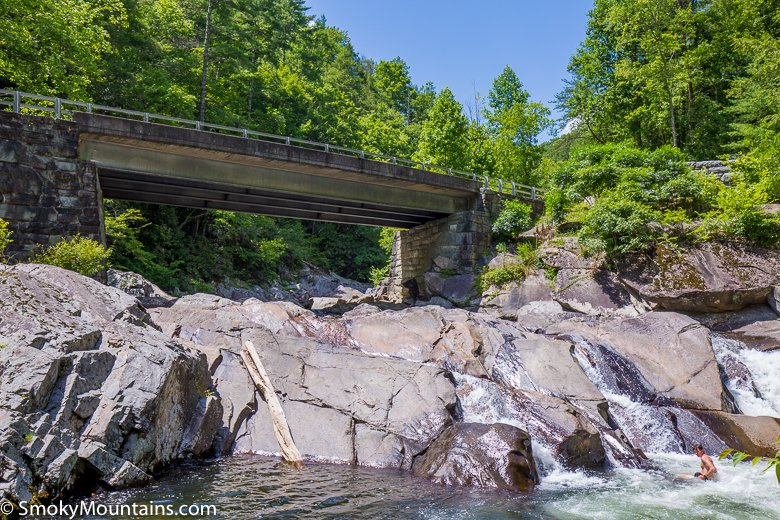 Interestingly there is not a dedicated NPS page for The Sinks but this is a scenic stop along the Little River Road.
Nashville, TN
After our visit to the Smokies, we'll be heading back through Nashville. Mainly here we'd like to have some good food, including the famous Nashville Hot Chicken (which we've made at home via the Times recipe and it's amazing!).
And since this area is home to some of the best whiskey and bourbon distilleries, Kamran would like to find one to tour, such as the Nashville Craft Distillery.
Saint Louis, MO
In Saint Louis, we plan to do three main activities: a riverboat cruise, visiting the Gateway Arch, and checking out the zoo!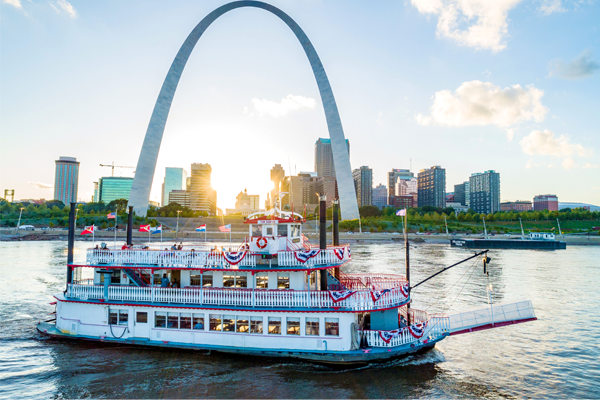 Riverboat Cruise
We thought it would be fun to see Saint Louis by river so we will be doing one of the riverboat cruises. The boats are steam-driven which is sort of neat!
Gateway Arch
Even though Cassie doesn't want to go to the top of the arch due to the confined space of the elevator, the rest of us have no qualms about it. The Arch is a National Historic Site so we can cross that off our passports to boot!
Saint Louis Zoo
We'll be stopping by the free Saint Louis Zoo which boasts having over 12,000 animals. Here in Minnesota we enjoy going to Como Zoo regularly with the kids which is a free zoo as well.
Fabric Stores
Cassie was excited to hear about some notable fabric stores that would be on the route in Kentucky and Nashville.
Documenting the trip
We are no strangers to documenting trips; we had a separate blog for our trip to France in 2015 but this is the first time we're documenting our travels on LGTU. We thought it would be a good time to start with these National Park trips since we're traveling while the kids are still young. We'll have to do a retrospective Glacier post with our route from last year.
Up to this point we've been using our phones to take photos and video, which aren't too bad but storage tends to fill up quick so we end up not taking much video which is a shame. Kamran bought a new camera, a Fujifilm X-A7, which he's excited to use! We plan to fill up a few memory cards for sure with videos and pictures. We'll be sharing things more in real-time on our Instagram as well as posts (hopefully!) each day or leg of the trip!