Disclosure: Some links on this page below are affiliate links, meaning, at no additional cost to you, we will earn a commission if you click through and purchase. Read our disclosure for more info.
We had our ten-day road trip to several National Parks this past summer and wanted to share some tips and insights into how it went, especially with a toddler and a preschooler! We'll also cover the budget vs. actual expenses which should be insightful.
We outlined our planned route and stops with activities in a previous post:
So how did it go? Did we do everything we hoped?! Well, mostly!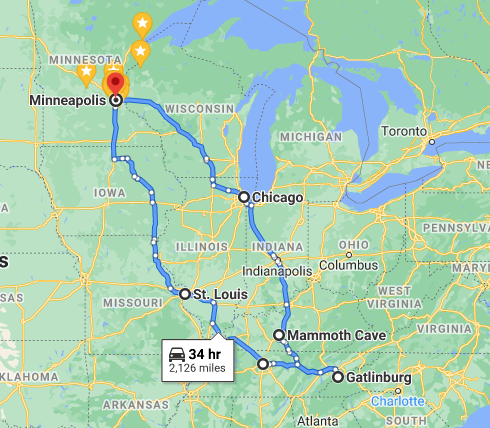 As a reminder, we started our journey in Minnesota, then drove down to Kentucky for Mammoth Cave, further down to Tennessee for the Great Smoky Mountains, then over to Nashville, St. Louis, and finally back home. We will include our experiences at the parks, as well as where we ate and what else we did.
All packed up!
Listen, with kids we've learned you can never have enough snacks. They eat 24/7. We are happy to report we did not have to get any new snacks on the trip, these lasted the whole 10 days. #parenting
As for packing, the only things we'd call out is that the Smokies and that area are known to have rain and it can cool down. So we made sure to all pack rain coats and some sweaters. The kids used their sweaters sometimes but we adults could have gotten away with a hoodie just for Mammoth Cave, which was about 55 degrees or so. Frankly it felt pretty good in the Kentucky humidity.
Expenses (estimated and actual)
In the planning post, here's what we estimated for the trip:
Gas: $225-325 (2,100 miles + driving around)
Accomodations: $2000
Food: $500
Activities: $200
Shopping/Gifts: $200
Total Estimate: $3,200
So did our guesstimates match reality? Kamran ran the numbers (for our share of all expenses) and here's how the actuals netted out:
Gas: $227
Accommodations: $2,086
Food: $568
Activities: $166
Shopping/Gifts: $156
Total: $3,203
Look at that, $3 within budget! Honestly, we were surprised since we weren't really keeping tabs on it much but we're glad that's the way it worked out.
A note on paying for photos
There were two activities were they took photos of us that we could choose to pay for. The first was the St. Louis Gateway Arch Riverboats but the cost was $20 (on top of the tickets). The second was the Gatlinburg Sky Park and that was only an extra $6. We chose not to pay for any of the photos but if you do, just know there can be a hefty difference between vendors!
Mammoth Cave/Kentucky
We drove down from the Twin Cities and stayed overnight outside of Indianapolis, to break up the trip a little for the kids. We left around 8am from Minneapolis with our caravan. On Google Maps it's about a 9 hour drive, but took us closer to 11 or 12 due to frequent bathroom breaks and a longer meal time needed for the kids. It was the longest leg of our journey and we're just glad we got it out of the way immediately.
We had originally considered stopping at Indiana Dunes to swim at the beach and get a stamp there, but it was raining fairly hard by the time we arrived, and it was too late to get the stamp, as the visitor's center had closed. If we had left much earlier, it might have been an option to stop but as it was, we were already going to arrive pretty late, around 9pm or 10pm.
After staying in a hotel outside of Indianapolis, we drove about 4 hours to Cave City, Kentucky, and over to Mammoth Cave National Park. We stayed in the historic cabins at the park, which were within walking distance of the park entrance and the historic cave entrance, as well as all of the walking trails.
I was expecting something very old and even maybe poor quality, perhaps without air conditioning, and I had actually thought I read that the showers were communal rather than private within the cabins. It turns out I was very wrong! Not only was there a great, blasting air conditioner (thank GOD), but there was a shower, refrigerator, and a little coffee maker. We ended up having a pretty fun time in our little rustic cabin! It wasn't anything like camping, but was still very separated from most modern conveniences. There was no wifi, and no TV. This was a blessing. (There is wifi at the Visitor's Center, so I was able to download and submit my New York Times crossword every day - don't want to break my streak!) Rami wants me to include that we had to fight off a giant june bug in our cabin, after it snuck in out of the dark. It was a harrowing experience, as I ran around the cabin with a book, with both kids screaming in terror. Thankfully, we prevailed.
The cave itself is beautiful, and very strange. We did two tours - the Mammoth Cave Passage tour, and the Frozen Niagara tour. When you approach the historic entrance, you experience a very sudden and very strange chill - the cold from the cave permeates the air right outside. It really is a feeling I will never forget. Kentucky is hot, and very, very humid, so that enveloping chill is so welcome and so wonderful. I tried to imagine what it must have been like to discover the cave (4,000 years ago!), just walking through the woods and suddenly experiencing this strange cold feeling.
The Mammoth Passage tour is very simple, and does not really require any hiking or exertion. It is completely paved, and all of the chambers are very large. It almost feels like entering a grand ballroom, then making your way through huge atria to even greater rooms beyond. At one point, the rangers turn out all the lights, to allow you to experience the true darkness of the cave. At first, this is just an interesting exercise. But the rangers on our tour left the lights off for a long time. You start to feel like you can hear things, or even see something. Your eyes are bursting to see some sort of light. It becomes very eerie, otherworldly. I had Rami on my lap, and I sat on the ground when they announced they would turn the lights off. I whispered in his ear the whole time, "It's okay, most people don't ever experience something like this, this is so special for them to share with us." He was incredibly brave, and talked about how cool the dark was. I think I was comforting myself too.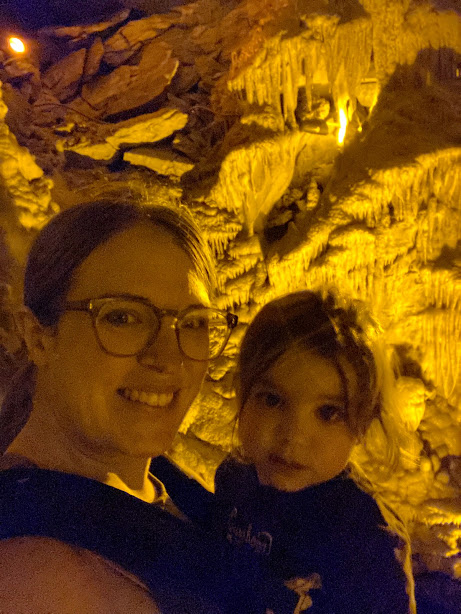 The Frozen Niagara tour was the real gem of our experience at Mammoth Cave. It is accessed through a separate entrance (created by some rich dude blasting it with TNT, what a genius, sort of an Elon of his time I'm sure). The atmosphere of this part of the cave is very different; the historic entrance is all flat, and completely dry. There are no drips, no stalactites or stalagmites. The Frozen Niagara entrance is FULL of these interesting cave formations, including the above as well as cave bacon and draperies. The tunnels here get much smaller, so if you have any risk of becoming claustrophobic, you may want to skip this one. I always have an initial thought about oh my god there's so much weight above us what if it caves in on us what if we are crushed. I usually distract myself and get over it very quickly, however. This was very easy at Frozen Niagara, because the cave itself is so beautiful, and because I was trying to keep my two kids in line and not like falling into a crevice or sinkhole.
Toward the end of the tour, our ranger (who was fantastic, his name was Jesse) turned the lights out again. When he turned them back on, he pointed out that there were now cave crickets everywhere. It was really jarring to suddenly look up and see a teeming mass of giant, spiderlike cave crickets on all the ceilings. The kids thought it was cool, I guess.
I wanted to add that we had initially wanted to try the Lantern Tour and the River Styx tour. On the Lantern Tour, you get to hold an old-fashioned lantern as you traverse the cave; the River Styx tour lets you follow an underground river. But both of these hikes were 2.5 hours, and I just did not trust that our 2.5- and 4-year-old would make it through. My sister, her husband, and their 12-year-old did these two tours and loved them, though, so I would still recommend them to anyone with older kids.
If you plan to visit Mammoth Cave, be sure to also check out the trails above the cave. We went to the sunset overlook right at sunset, and it was an absolutely beautiful view of the Green River valley. We also took the Echo River Trail and the River Styx Trail, which both lead to water features in the forests around the caves. The Echo River Trail we started at 7pm, knowing the sun would go down at 8pm. This was definitely a mistake. We just barely made it out of the woods by nightfall, which really started to get eerie. The kids were exhausted and complaining almost the entire time. The fireflies surrounding us in the woods were amazing though!
As for food in the Mammoth Cave area, this is not a place for gastropubs and cute, quirky sandwich shops. Cave City is a Tourist Trap and a scam, so be aware that any food you eat is probably going to be average or hopefully slightly above, if you are lucky. That being said, we ate at Bucky B's BBQ when we stopped into town, after a long drive from Abraham Lincoln's Birthplace. The food was fine and the restaurant staff was very nice. I think of all the options available to us, Bucky's was the clear winner.
The Drive to Tennessee
From Cave City we drove to Gatlinburg, TN which was about 4 hours. We stopped along the way for lunch (we packed a sandwich lunch, our friends had Zaxby's which they said was good, slightly above Chik-Fil-A in taste).
The landscape driving from Kentucky to Tennessee gradually becomes more rolling and scenic. Kentucky has some nice scenery but Tennessee had even more to offer especially once we entered the vicinity of the Smokies. It was "verdantly green" as our friend kept saying. We enjoyed seeing the ranches and estates along some of the state highways.
This drive was different than what we experienced for Glacier. In Montana, it seemed that it was mostly flat and plains-y right up until you are outside Glacier and then things get majestic. In our drive through Kentucky and Tennessee, the scenery was always green and rolling, with rivers and scenery throughout.
Cumberland Gap
We broke up this leg of the journey with a stop at Cumberland Gap, a National Historic Park. It didn't disappoint. It offered an overlook with some beautiful views. Plus, you can literally have one foot in Virginia and one foot in Kentucky because it intersects both states. We all took photos straddling the state line.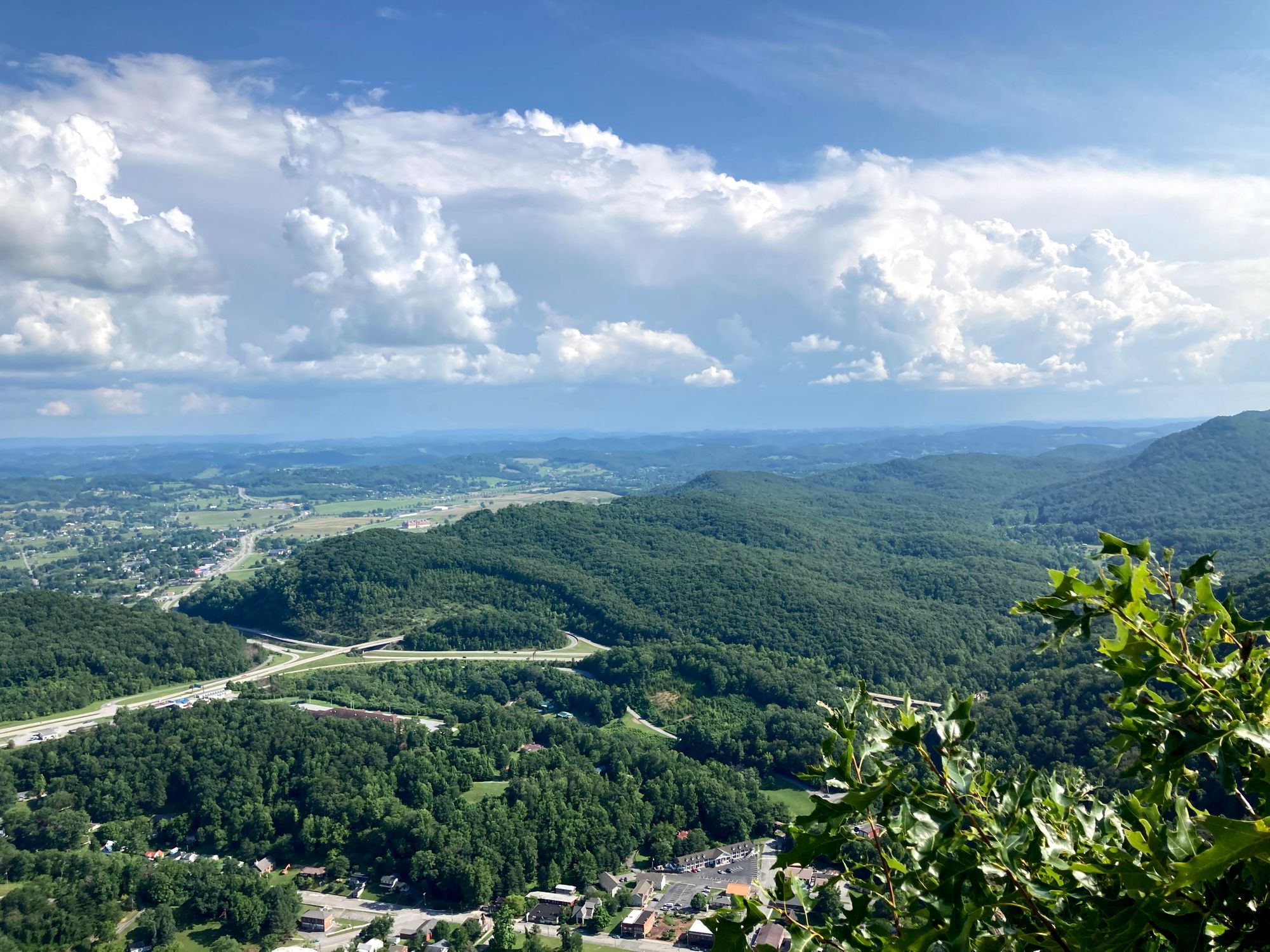 Gatlinburg, TN
Gatlinburg is the definition of a tourist town. The downtown area is filled with tourist traps and activities, it could easily be its own trip! Our Airbnb was just outside downtown so we didn't drive through it until the next day on our way to the National Park. The downtown area gets busy and traffic is pretty awful. We highly recommend going to the Park in the morning to beat traffic and then only coming out once you're ready to be done for the day.
Where we stayed
In the planning post we mentioned we chose to stay in an Airbnb and we didn't regret it, even though it was definitely one of the more expensive stays we've done.
Now after having stayed we feel great about recommending the Blue Sky Cabin. It was fantastic and had so much room for all of us and the kids. What we really appreciated was that each room had private baths which made it much easier to stay with 3 groups of people. Every level has its own TV/game room so it's perfect for parties!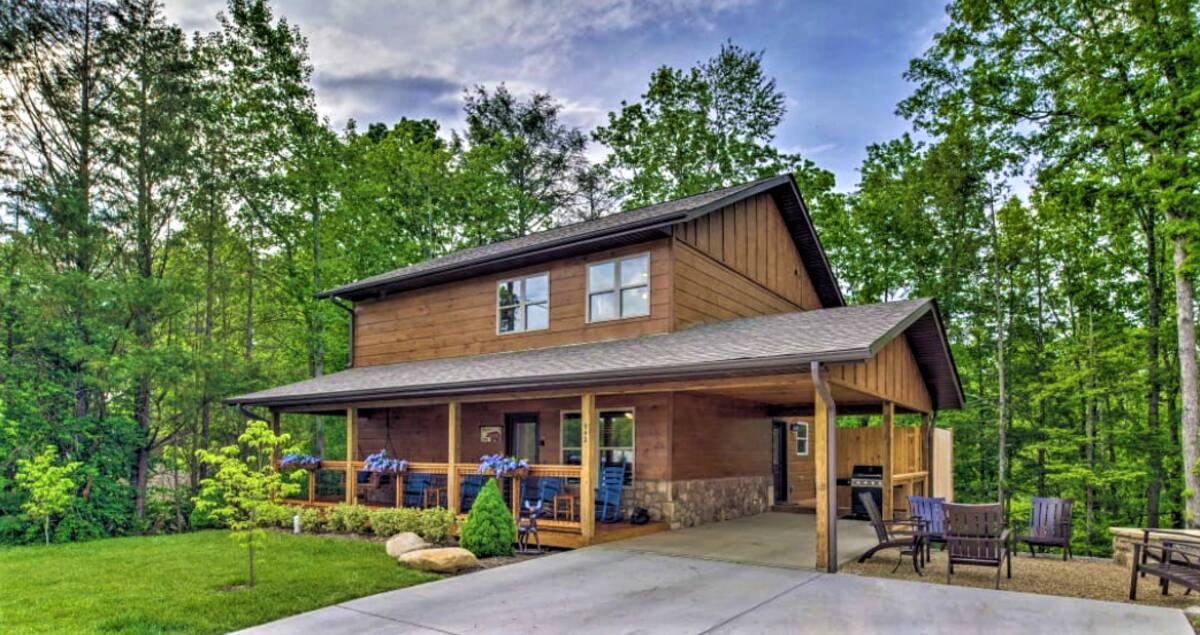 We took advantage of all the amenities: arcade machine, game room, hot tub, grill, fire pit, and home theater.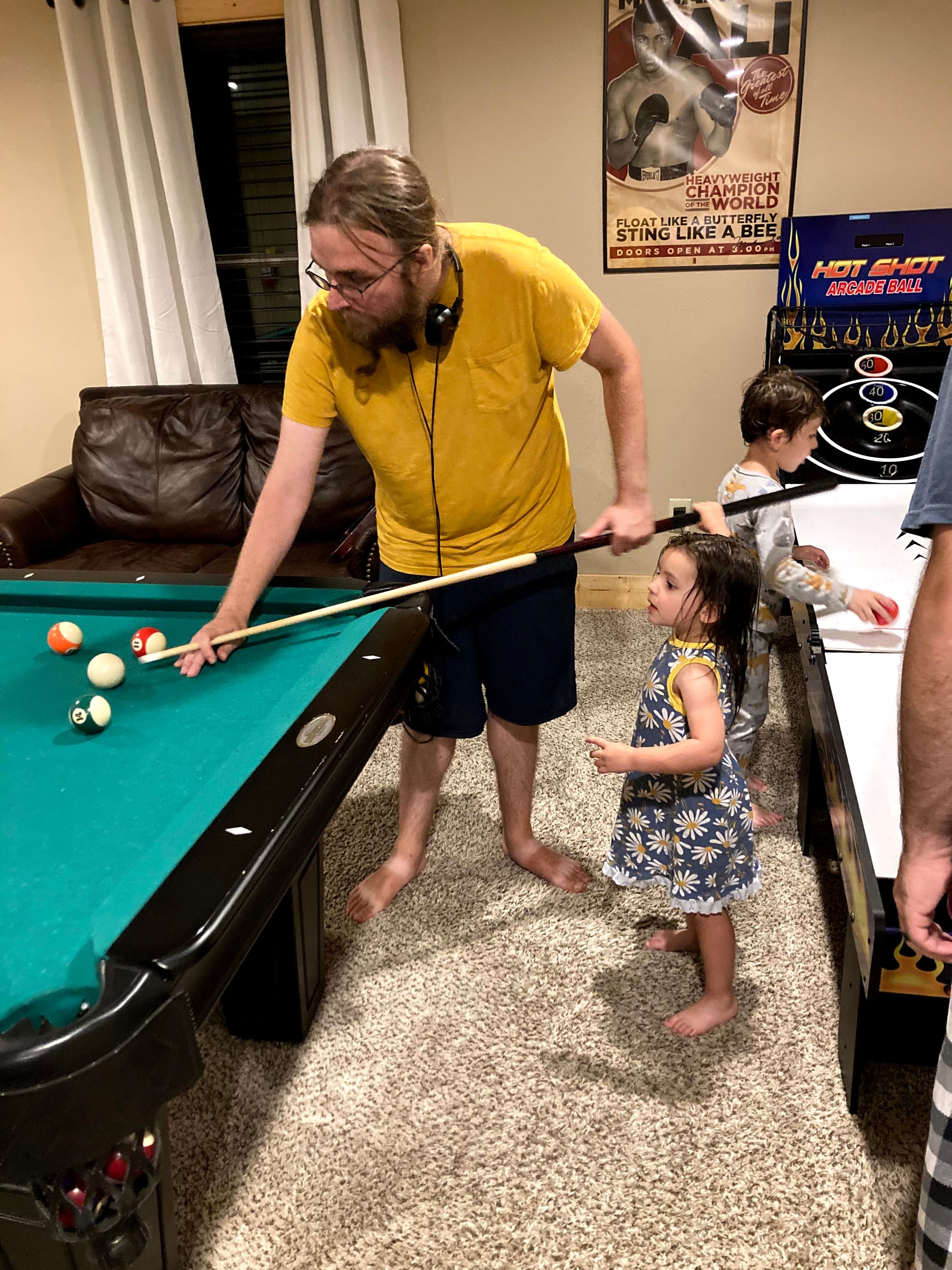 SkyPark (and Bridge)
One thing we were told by friends to check out was the Sky Park. It's in the center of downtown and we parked nearby the National Park side. You don't need tickets in advance but you will stand in line for awhile (there's no priority ticket line or anything).
You take a ski lift up to the top of Gatlinburg and there's a bridge that spans two hills. It's very long and even features a transparent middle section to see the view below! The kids enjoyed the lift up but they were pretty fearful of the bridge. Still, they bravely walked across it with us!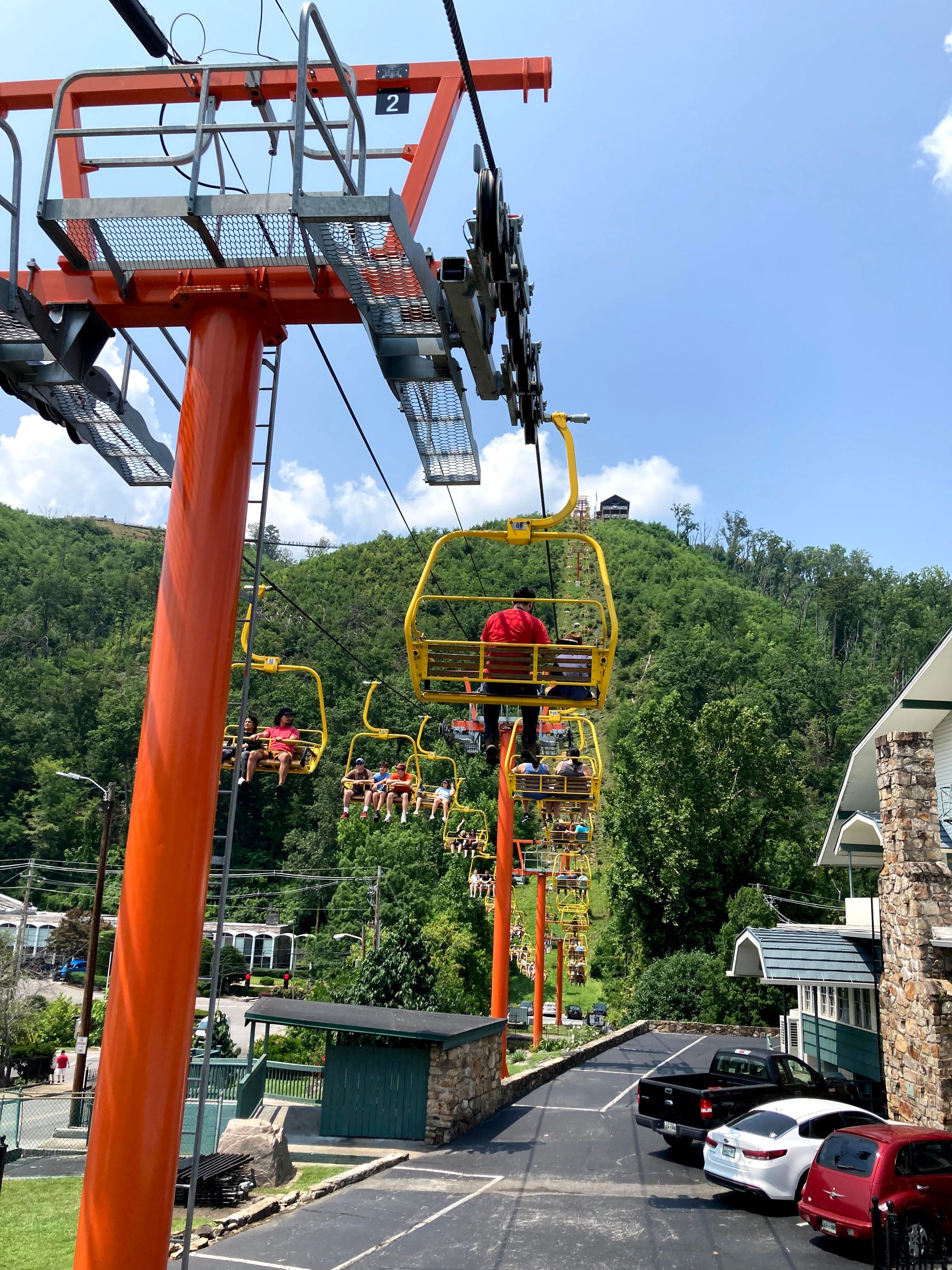 Pigeon Forge
We knew Pigeon Forge was another tourist town nearby Gatlinburg that features even more Las Vegas style venues. However, we didn't end up visiting nor did our friends, so unfortunately we don't have any advice on what to do there!
Great Smoky Mountains National Park
We spent 3 days in Gatlinburg so we could visit the National Park. Here's what we did and we can safely say the kids (4.5 & 2.5) managed to be troopers (or rangers?) through it all and went on all the hikes.
Laurel Falls
We woke up at 6am to get to the National Park early to do this hike which is the most popular hike in the park. The Ranger told us she drives in at 7am each day and the parking lot is usually not full for the Falls so we knew as long as we got there around 7am, we'd probably be fine. Indeed, as we drove up, we snagged the last "perpendicular" spot in the parking lot. We say "perpendicular" specifically because it's worth noting that you may park parallel to the main road within the parking zones which we didn't realize. You can also park down the main road in either direction at various pull-offs when the lot is full which is what we wanted to avoid. We had to do that at Glacier and it can be "a hike to the hike" 😁
The hike itself wasn't too strenuous and the kids were able to hike the whole way without needing to be carried. The Falls were gorgeous and offered some nice views. Some people were higher up on the falls and others lower down but you'd need to venture off the path to do that and we weren't up to it.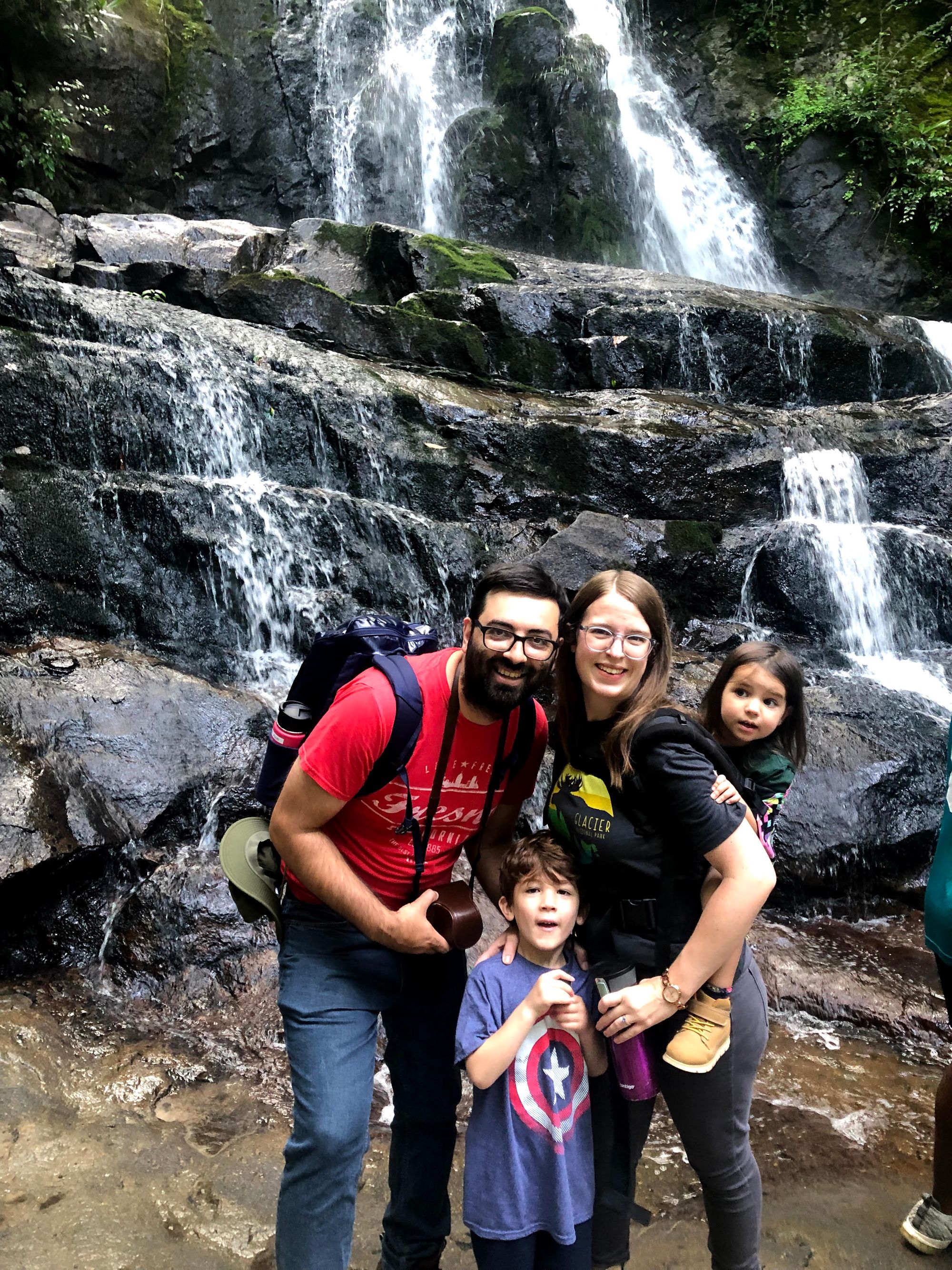 Cades Cove Vehicle Loop
Cades Cove is a 11-mile one-way loop but note it's closed Wednesday's to vehicles (pedestrians/bicyles only!).
The Rangers told us to expect a 3-4 hour ride through the cove as traffic will stop to see any wildlife or sight-seeing. Note that it's technically forbidden to stop while on the one-way road, instead you're supposed to use a pull-off, but of course in reality nobody abides by that. We actually didn't notice anyone doing this but we did encounter a huge slowdown due to some special guests!
[bear pic]
So we got to see our bears for the trip (the only ones we saw). The kids didn't get to see the bears very well from the van but Kamran took photos to show them. As far as the drive went, the kids took it well but they definitely needed snacks. There is a visitor center halfway through the cove and we stopped there to see some old houses, a farm, and use the restrooms. It was a nice break! There are plenty of other smaller sights to stop off at but that's the only one we really did. If we weren't with kids, we'd probably have more patience to see more of the old houses along the route.
Clingman's Dome
We did Clingman's Dome right after Laurel Falls so this was two big hikes in one day. This was more strenuous than Laurel Falls even though it's paved! This is due to the steep grade so it's a lot more taxing to ascend.
But when you reach the top, you're rewarded with the observation tower! Rami was apprehensive so he didn't go all the way to the top but Saira did. You can get 360 degree views of the entire park, it's very majestic.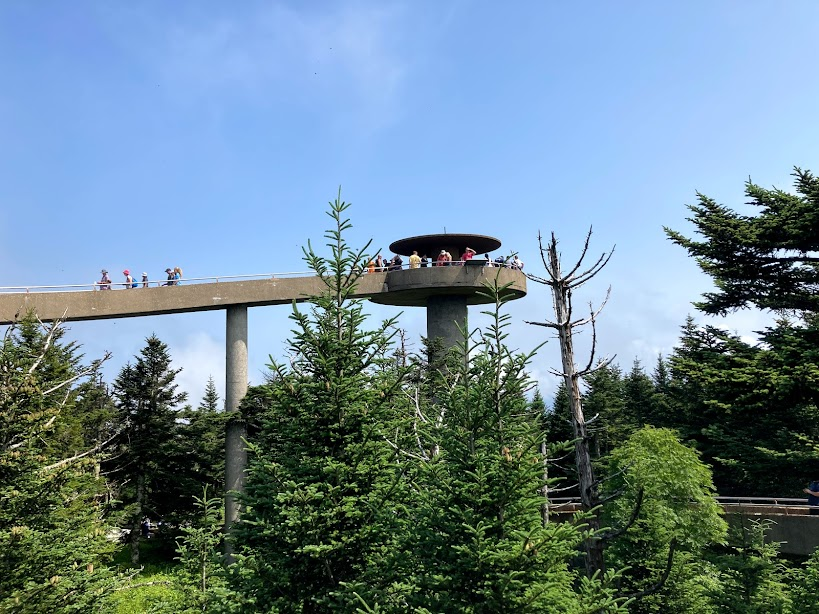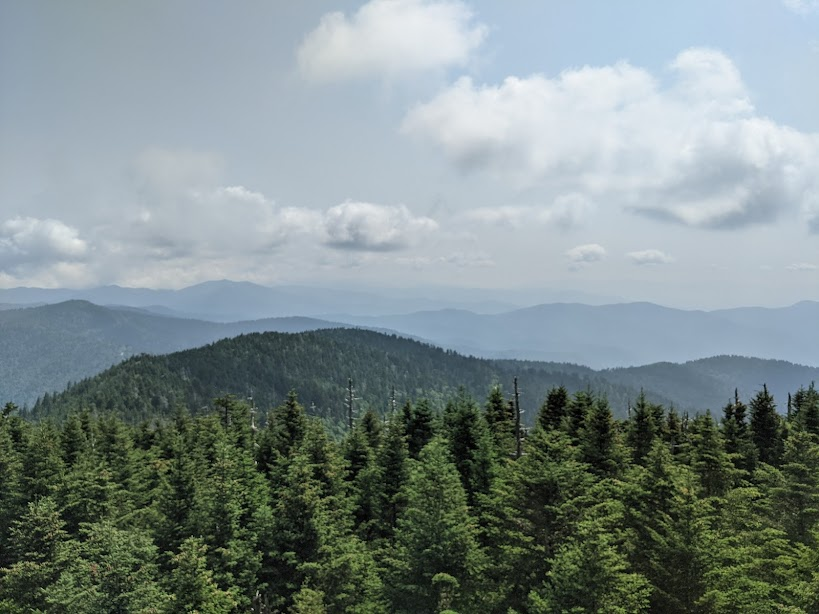 The parking lot fills fast but if you get there in the morning you'll find better spots. We ended up parking at a pull-off about a 1/3 mile away. When we left in the afternoon (about 12p), the line was about 100 cars long (about a mile?) just to park.
Nashville, TN
After cleaning the Airbnb and packing up, we drove from west to Nashville. We stayed south of the city at a Mariott. Nashville was definitely our food haven.
Prince's Hot Chicken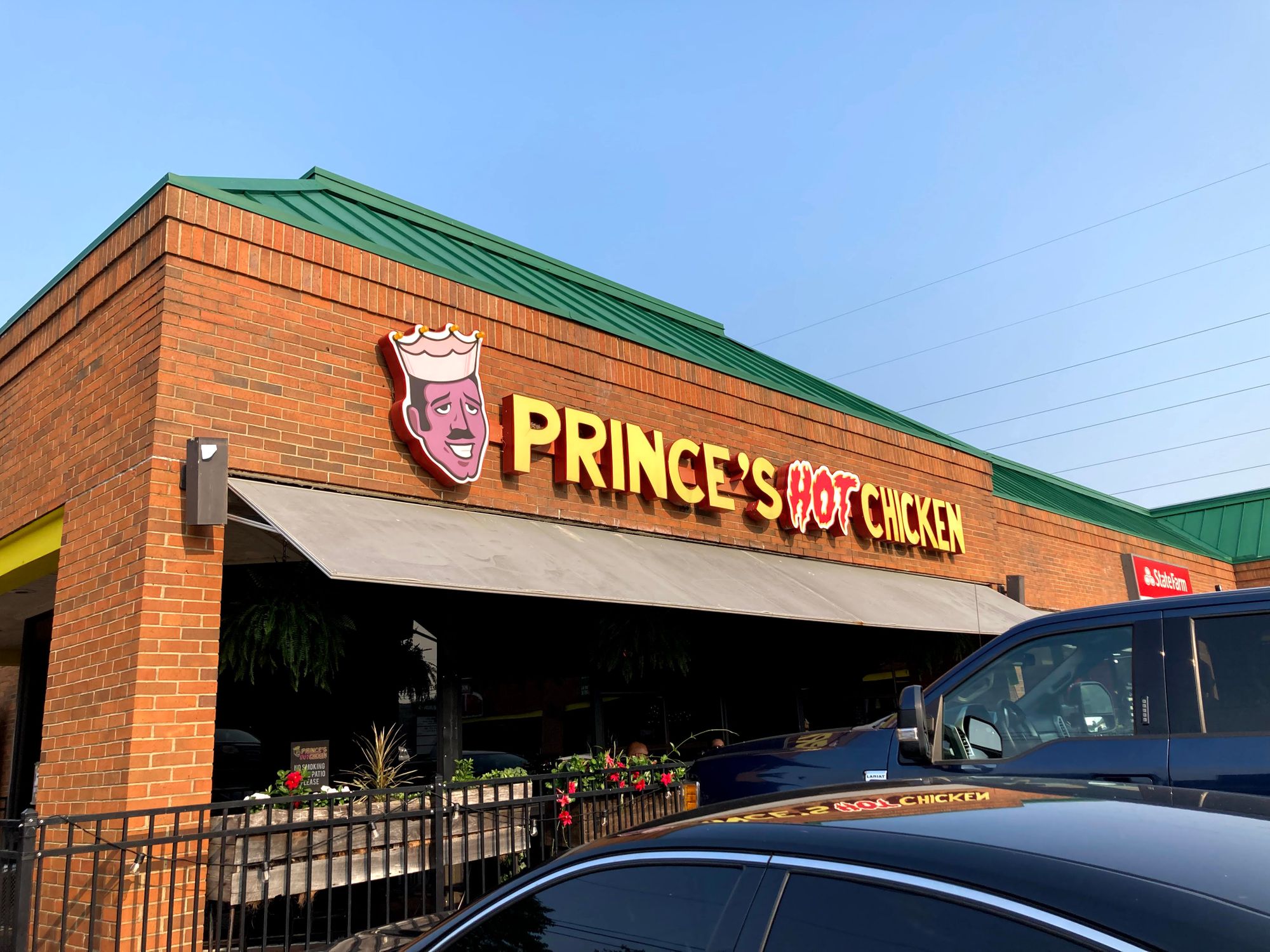 We got in slightly late the first night, but made our way to Prince's Hot Chicken to try the original Nashville hot chicken recipe. On the way, we had been reading reviews, which said that the chicken was very spicy, and that a medium or hot would be enough (you can order extra extra hot if you are brave!) I ordered medium, and it was perfect. The chicken was amazingly juicy, and so flavorful. We had a bunch of leftovers because the portions are generous, and we ate a lot of it for lunch on the road to St. Louis. It holds up pretty well even when cold! I also want to add that the iced tea was top notch. It is hard to get a good iced tea in Minneapolis, but I had no problems in Tennessee and Kentucky. It was heaven for me.
Five Daughters Bakery
The next morning, we stopped at Five Daughters Bakery, which funnily enough, we had heard about from the Netflix show Marriage or Mortgage. The donuts were amazing. They were layered, like half donut, half croissant. I ordered a maple donut with buttercream inside. The kids had a pink lemonade mini-donut and a chocolate mini-donut with sprinkles. Kamran had a bacon and maple donut. Everyone was very satisfied; the donuts are very rich though, so expect to be full for awhile after!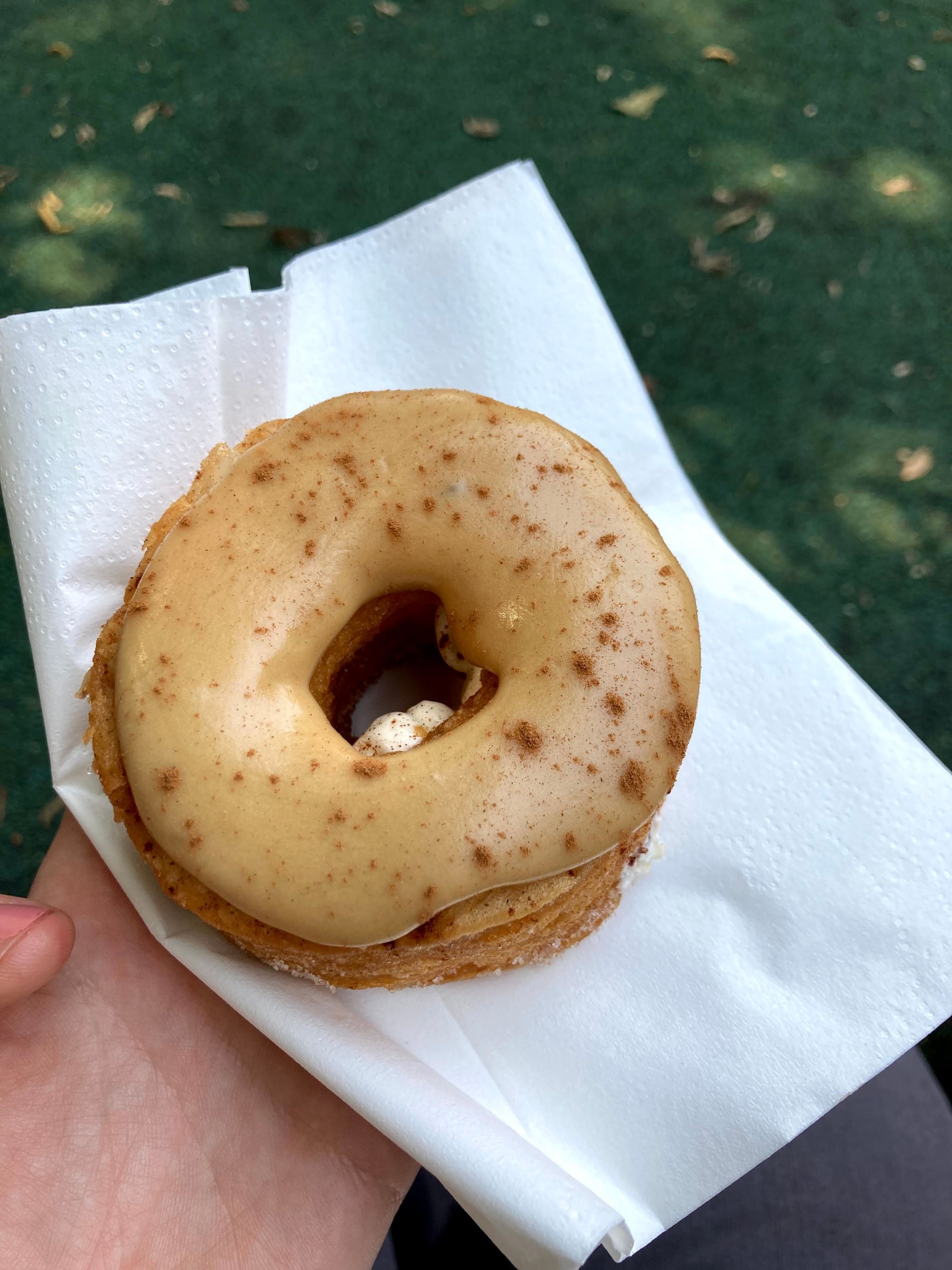 Parthenon
We stopped at the Parthenon recreation in Centennial Park for a quick walk. We walked around the little pond, and enjoyed the ducks and geese, which came in close to us, expecting to get some food. We saw the magnolia trees, sat in the interesting swings, and watched for birds. Rami and I are really into bird watching since the pandemic, and I have to say that this trip was pretty disappointing in terms of seeing new birds.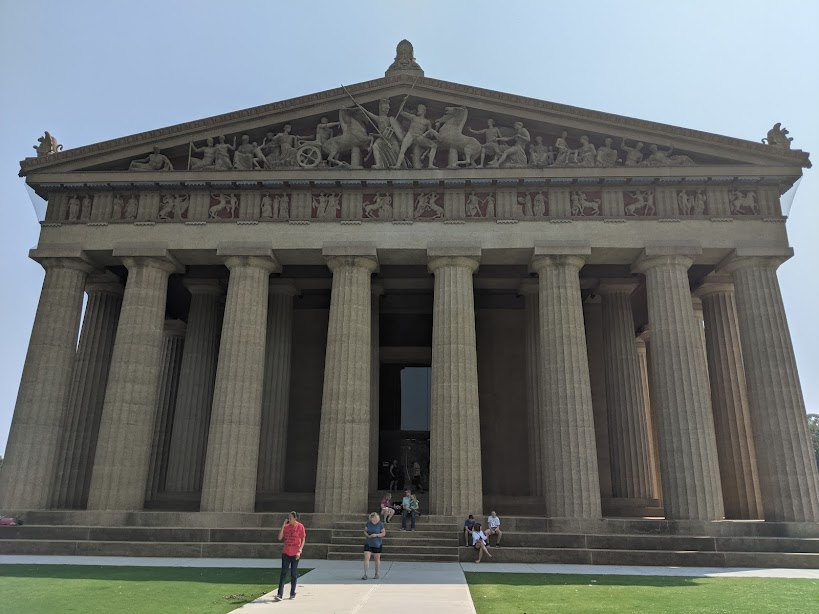 Downtown Nashville
The last thing we did in Nashville was explore downtown. It really is the central headquarters of daydrinking and being an obnoxious bachelorette.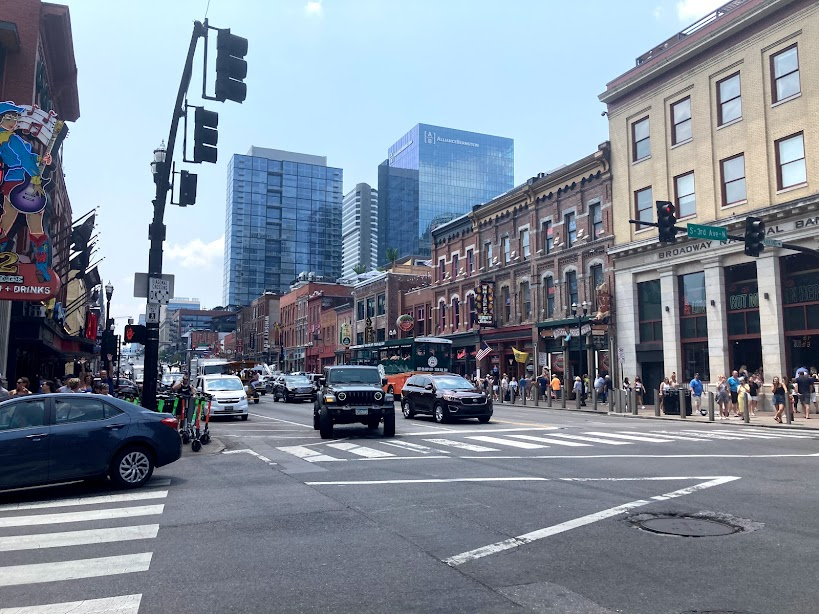 It was like being at the state fair, with loud music, the smells of various foods and drinks, and inebriated people at 12pm on a Friday. The kids were pretty overwhelmed, though they enjoyed hearing live music through the windows of the honky tonks. We stopped at one window and listened to a band play "All the Small Things," and Rami was smitten.
Martin's BBQ Joint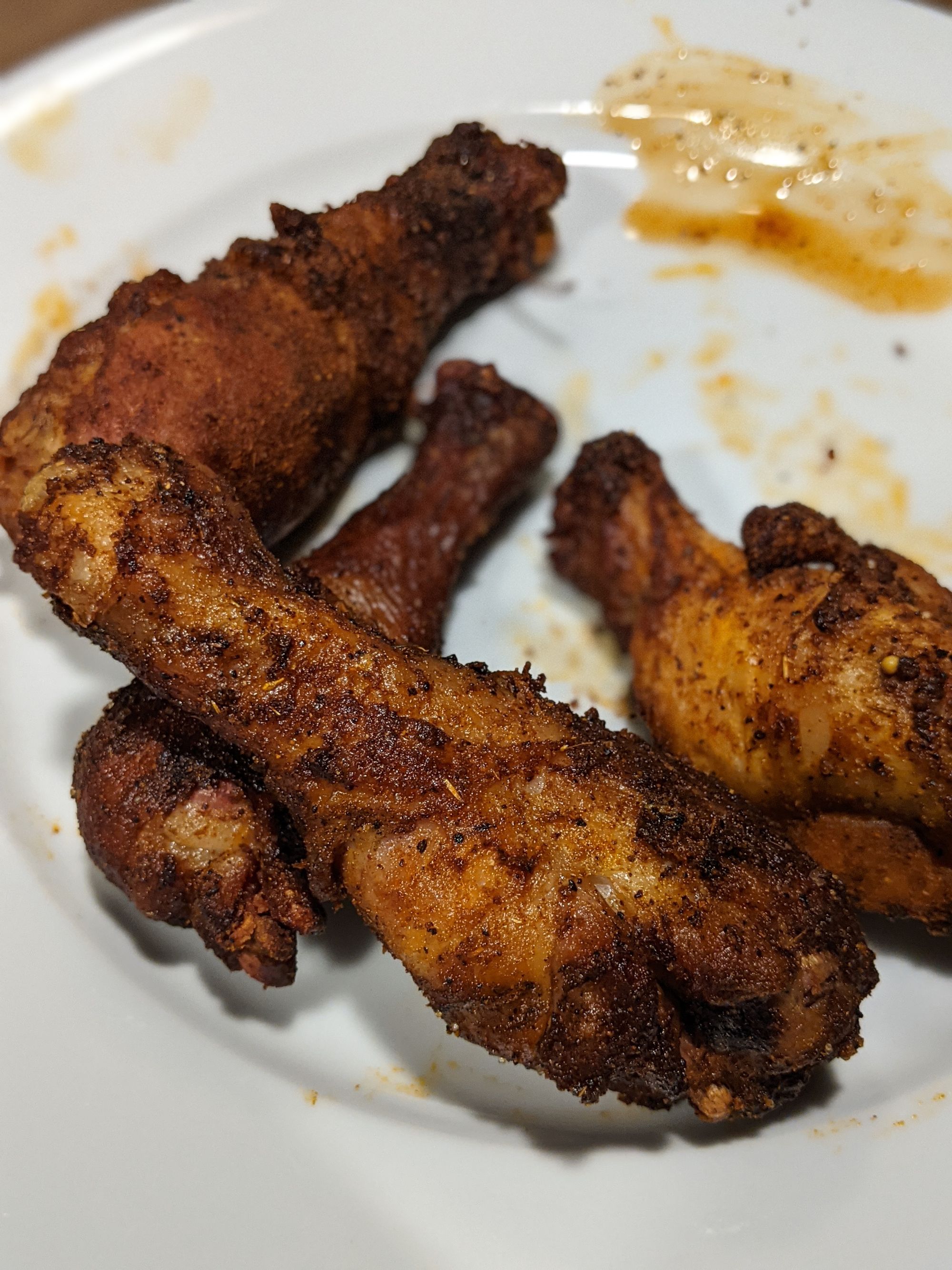 For lunch (and dinner) we ate at Martin's BBQ Joint. Everyone loved their food. I had a brisket sandwich and fries, along with iced tea and mac and cheese. Everything was amazing, and I just could not stop eating. I think I ate every speck of food on my tray. We try not to eat at too many chain restaurants, but I think Martin's might be a local chain, and it was a highlight of our food experience.
St. Louis, MO
The final stop on our road trip was to visit the Gateway Arch National Historic Site. I think we all agreed that St. Louis was better than we expected and had we known about the amazing zoo, we probably would have thought about adding a day.
Where to stay
We definitely spent a bit more time planning the rest of our trip than we did planning what we'd do in St. Louis (besides visit the arch). Had we dived a little deeper, we would have discovered there's a metro line and how it runs from across the river in Illinois to through St. Louis. This would have let us stay on the other side of the river and take the metro in.

We stayed downtown and we learned that at night they've been having issues with loud vehicles being driven and kids roaming around. We walked around at night without any issues but due to COVID, our guess was businesses weren't sending people downtown since on Monday when we left, there was still hardly any traffic or people around.
Gateway Arch National Park
The park is right on the riverfront, easily accessible from our downtown hotel. You can also get to it via the red/blue metro line.
The arch is big but it's HUGE in person.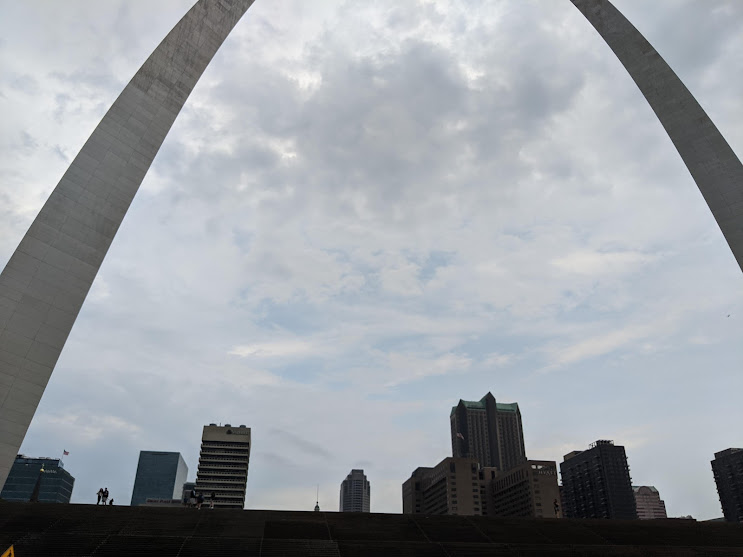 Riverboat Cruise
At the park on the river you can access the riverboats. This was a really fun activity and we'd highly recommend it! The tour was informative, explaining the history of different buildings, and it was fun to see the arch in full to get some good photos.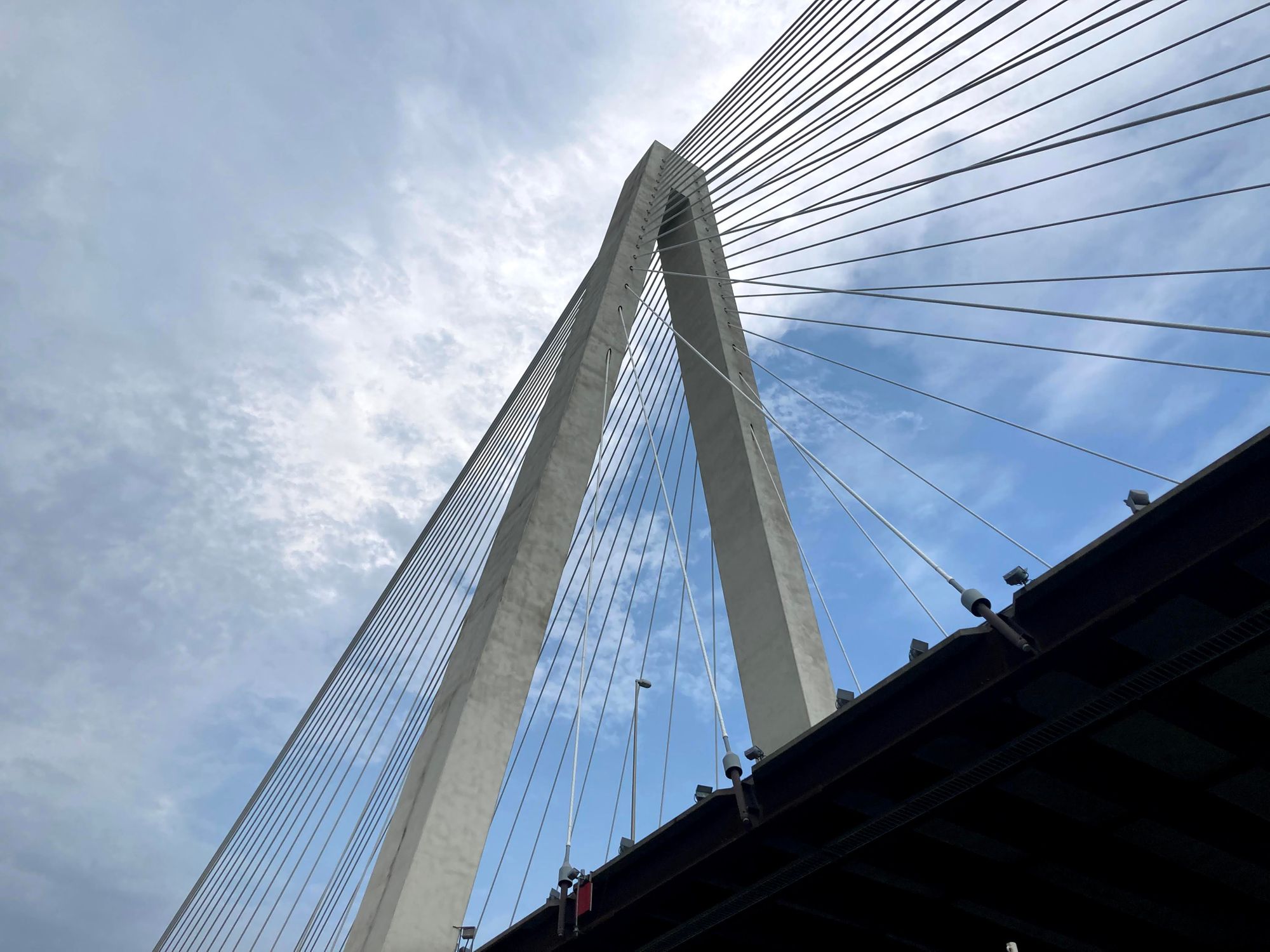 Visitor Center
The visitor center is on the west side of the park and you walk underground, it's pretty neat. There is a huge exhibit with the history of the park, the arch (Kamran enjoyed the architectural background), and activities for kids. This is also where you access the unique tram system to get to the top of the arch.
Speaking of...
Top of the Arch
Kamran and our friend were the only two who went up to the top of the arch. They took some videos and thought it was really fun (Kamran seemed less phased than our friend).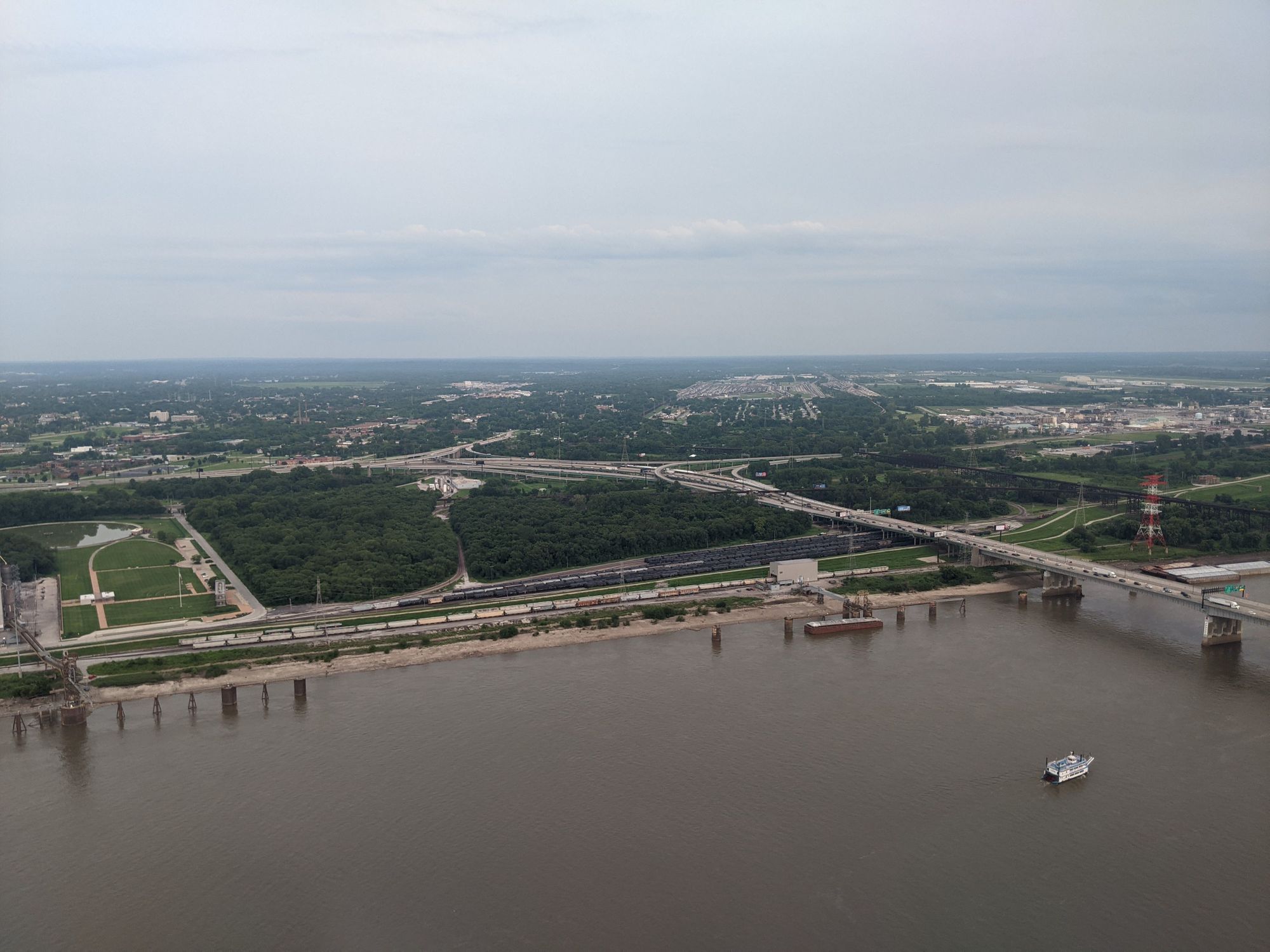 St. Louis Zoo and Forest Park
We're telling you right now that the St. Louis Zoo is phenomenal. Maybe it's because we've only experienced "small" zoos in the past but this blew past any expectations we had. Had we known how great it would end up being, we would have planned to be there a whole day instead of only 2 hours.
The zoo is situated within a large park called Forest Park. We took the metro and it is almost 1.5 miles away just to walk through the park to get there. It might have been a better idea to drive in retrospect  😅
We were able to see the bird garden, some marsupials, and grizzlies. By the time we made it that far, it was closing time and we had to go!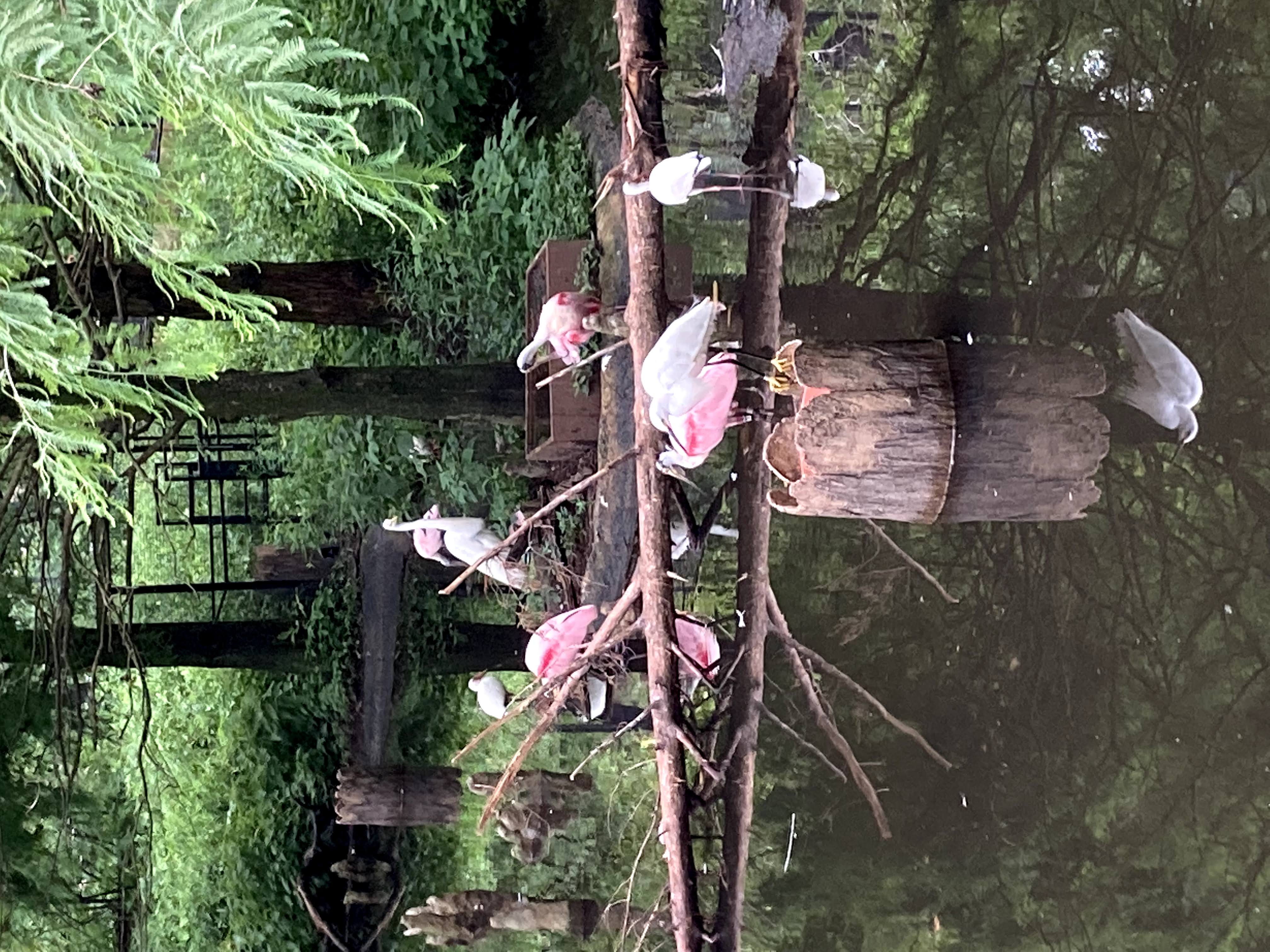 Restaurants
Sauce on the Side
Right across from our hotel was a made-from-scratch calzone place. We loved everything we had here, it was super tasty and the calzones are huge. Even when heating up leftovers, the bread didn't harden or get stale, which tells you they use some quality ingredients.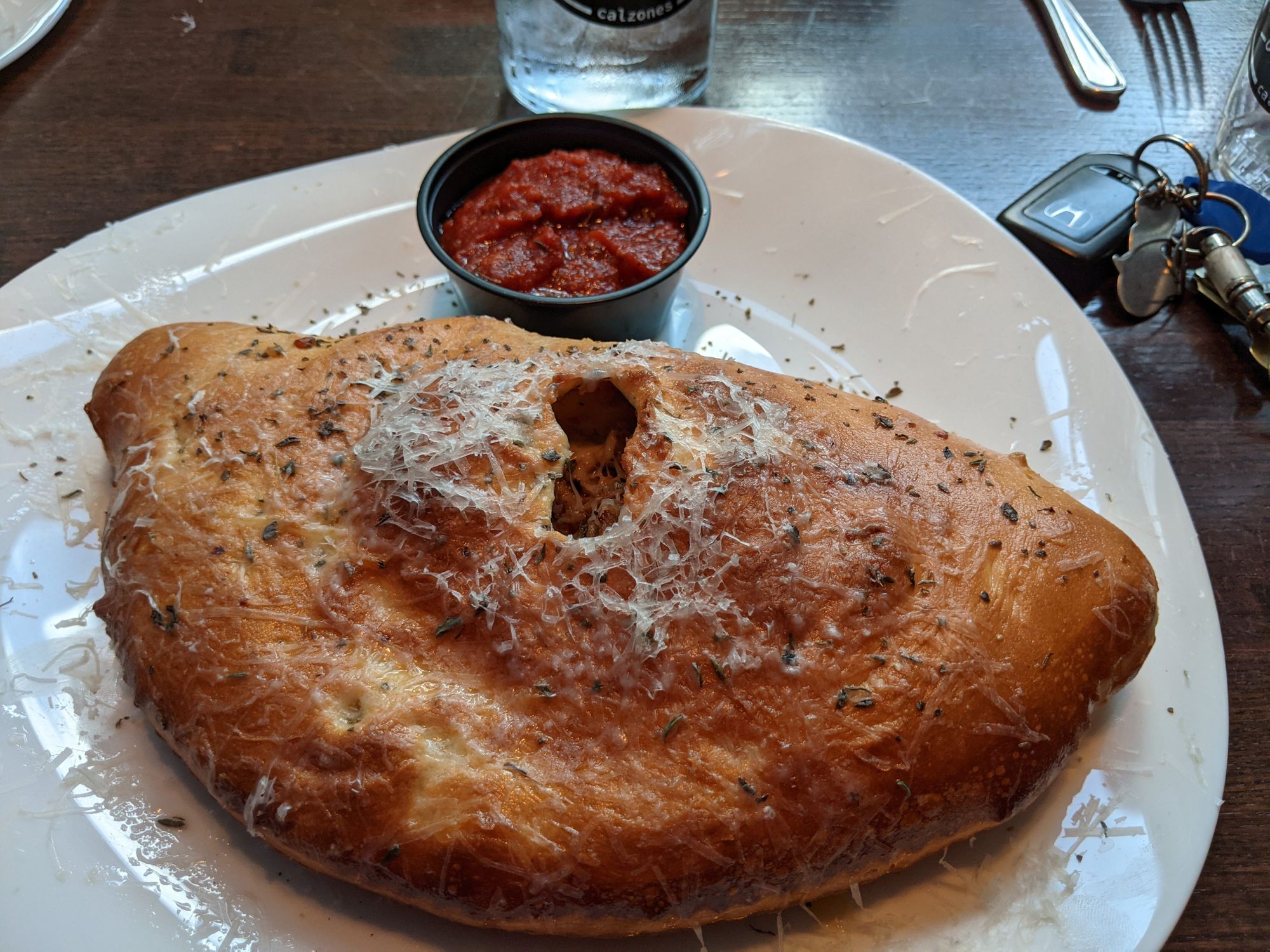 Mos Tequila Cantina
Right next to the Gateway Arch park is a little restaurant area in the historic old town with cobblestone streets. We ended up choosing a Mexican place and it was surprisingly good (for a touristy area). Kamran had a marg and he loved it. Everyone loved their dishes and some friends even ordered more tacos. The prices were higher but at least the quality and taste of the food matched.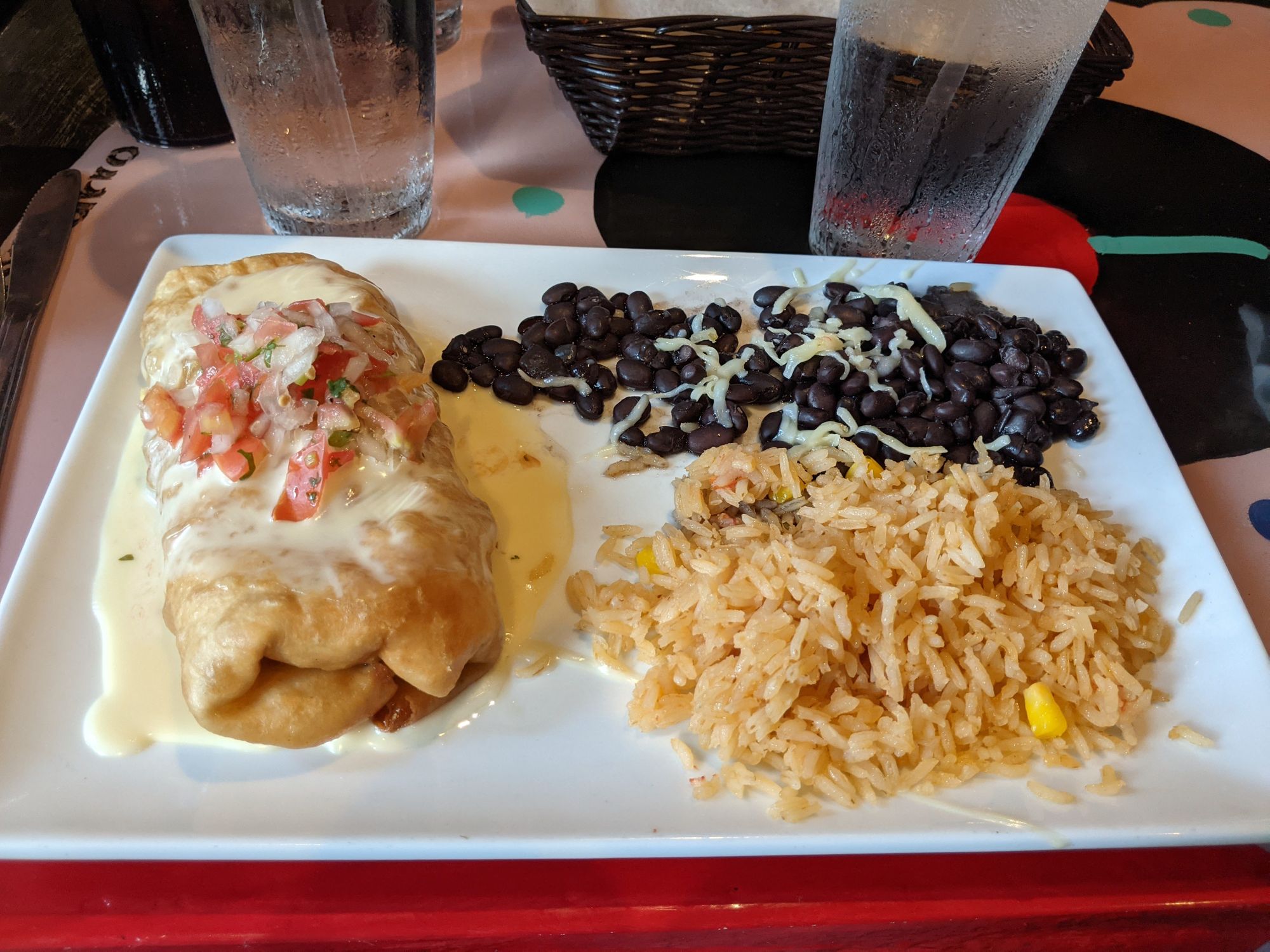 The Shack
This was our final meal together on the trip and it was the perfect endcap. We woke up early, drove on over and enjoyed an awesome breakfast with french toast, skillets, eggs, waffles, hashbrowns, cereal shakes, and Irish coffees. It was heaven 😇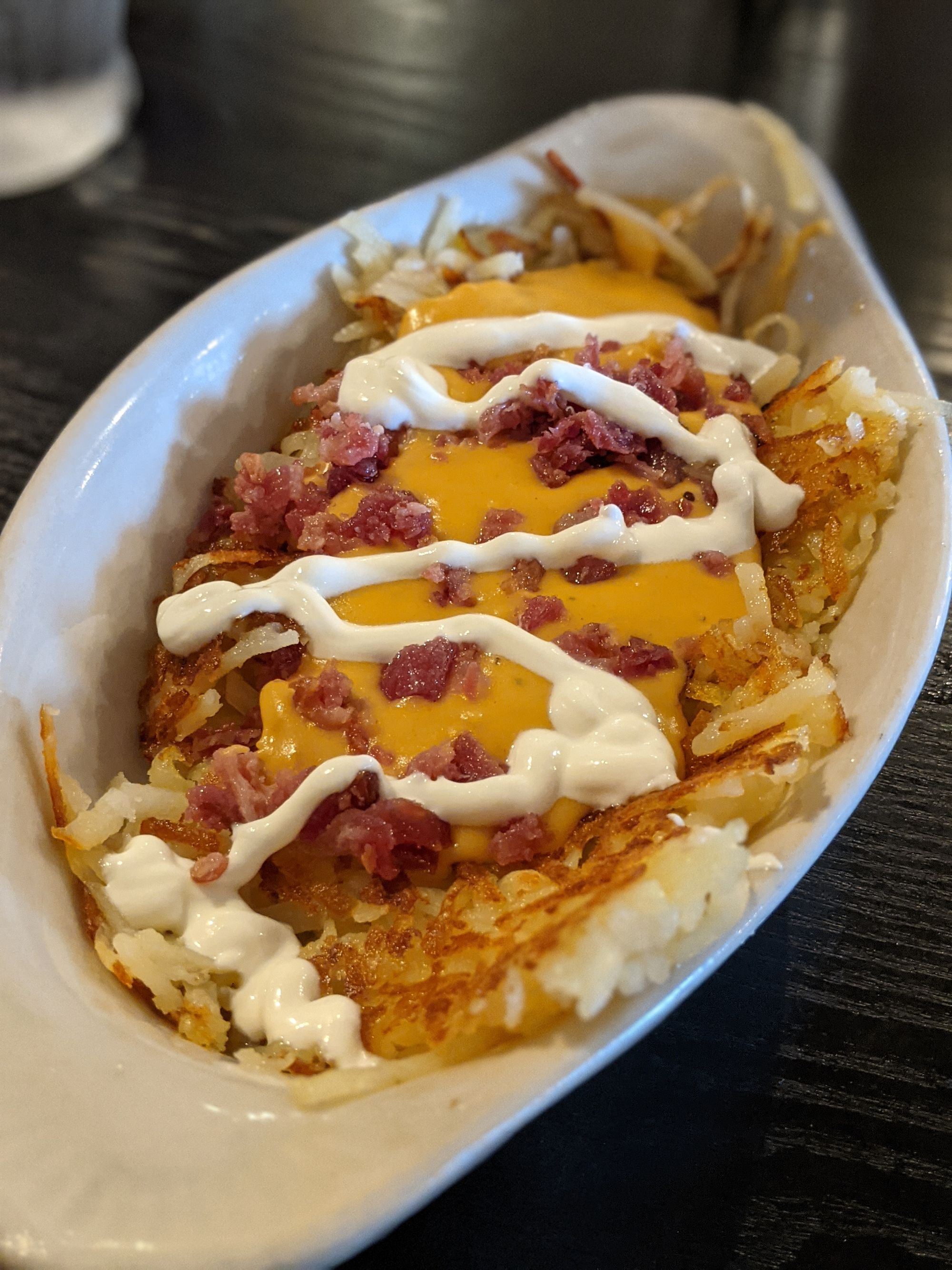 It was a fantastic trip and we were so glad to create some lasting memories for us and the kids. Thanks for following along!