Disclosure: Some links on this page below are affiliate links, meaning, at no additional cost to you, we will earn a commission if you click through and purchase. Read our disclosure for more info.
As part of my Christmas gift-giving this year, I really wanted to decrease the amount we spent. We have quite a few friends and family members we care for deeply and want to get gifts for. Because I've been doing so many crafts, I felt like a crafty holiday would be much more special and unique than buying gift cards or something.
For my friend Sara (@foundbysara), I knew I wanted to make a cross stitch. I looked around on Pinterest but didn't see much (they do not currently have a Masked Singer cross stitch, unfortunately). The one thing I knew that Sara really, really loved is space. She wears a lot of space and galaxy-themed clothing, and we even got her a constellation blanket last year for Christmas.
Again, I searched Pinterest hoping to find something that would work. Unfortunately, I couldn't find anything that really seemed to pop out to me. I was sad that I couldn't create something interesting for Sara. I mean, the lady loves space so much that she has a space-themed 8-bit website where she makes space pixel art!
...
Oh!
It was the perfect idea! The space pictures are in 8-bit form, so they make the perfect charts for cross-stitching. I looked through the pictures and chose the Pinwheel Galaxy. It's such a cool and whimsical presentation of a galaxy. I really admire my friend's ability to do art like this. Like I've said before, the only type of art I really feel confident in for myself is fiber arts. I am truly in awe of someone like Sara who can create things like this!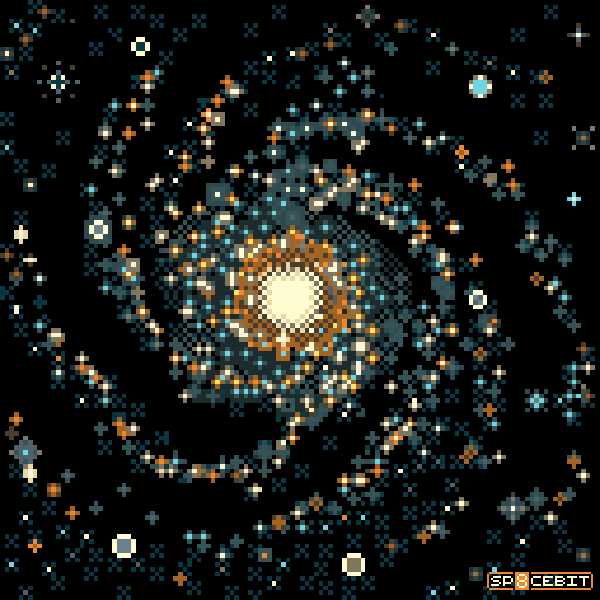 So really, the only work I had to do was to transfer the dots to my cross-stitch! I had to change a few colors just due to the colors I had available (most notably, I had to change the baby blue to red). I think it still held up though, to be honest. The work was mostly easy, though of course the center is very dense, which made for some interesting attempts to zoom in on my iPhone. Also, because some of the pinwheels are far apart from each other, I really had to be careful about my spacing. An enterprising and hawk-eyed viewer will surely see my many mistakes.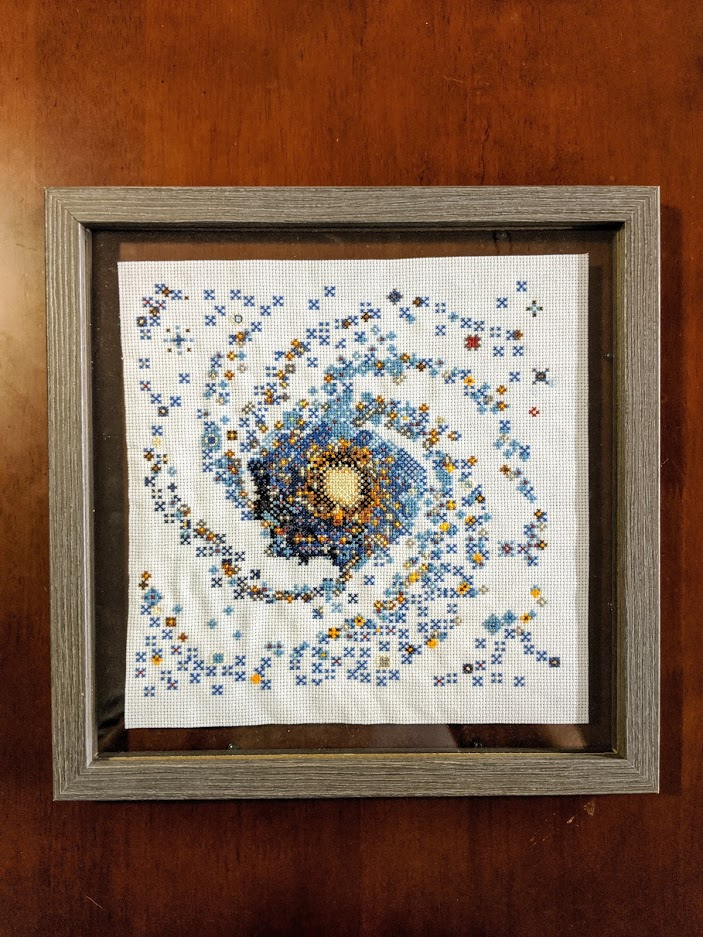 We presented our presents to each other before Christmas, and I was a little nervous Sara wouldn't recognize her artwork. Kamran, who works on designs often, said he was certain she would know it was hers.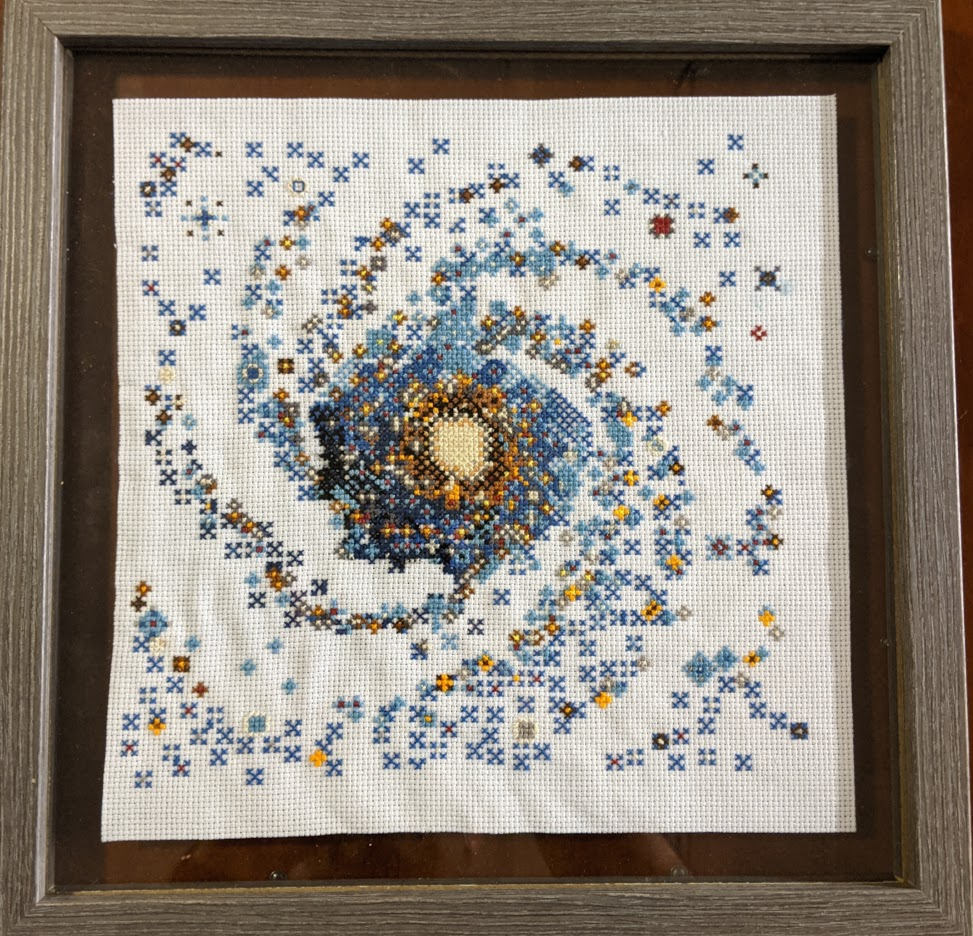 When I gave Sara the cross stitch, she of course immediately knew the source! I think she really liked it, and it was awesome to be able to provide a special gift like this. It was a tough project, with so many different colors and lots of space in between. But I think it turned out great, and I would love to take a look at more of Sara's 8-bit space pictures as a source for beautiful outer space cross stitch designs.
Please check out Sara's website for more beautiful space pictures and follow her on Twitter! I especially enjoy and appreciate her Space Tourism pictures, which look like the National Park posters you can find at all our lovely National Parks.