Disclosure: Some links on this page below are affiliate links, meaning, at no additional cost to you, we will earn a commission if you click through and purchase. Read our disclosure for more info.
When we started this blog back in September, I didn't really plan to be posting recipes but here we are (guess we're officially a food blog now?).
All of Cassie's talk of family traditions got me thinking! If we are going to be writing about things we enjoy doing around the house then cooking has to be featured!
In a hurry? Jump down to the recipe below!
What's so great about this dish?
Uh, hello, it's DELICIOUS. It's a huge hit at home and at any gathering I bring it to (perfect for Friendsgivings). Also this is a frugal blog so of course it's a fav because the ingredients are cheap. The most expensive things are the daal itself and any protein you add but the best part is sometimes we simply leave it out for a vegetarian dish. It also makes a ton of food, like after our family of 4 is done eating we have at least 4-5 tupperwares filled to the brim.
The cost should work out to be less than $1 per serving, check our our Meal Breakdown spreadsheet for a more detailed breakdown:
Keep in mind the Pakistani ingredients are priced higher online than in your local Asian grocer. Shop local for extra savings! There are at least 3 Indian grocers near us here in Minnesota.
The taste of home
My dad is from Pakistan so when he moved here to Minnesota, I grew up with a lot of influence from that side of the family. We'd all get together with friends and have huge gatherings with tons of homemade food. All the aunts and uncles would be making something and it was all amazing. My dad would cook food at home for us and I have fond memories of that so of course I'd like to keep the tradition going (Rami already says his favorite food is "Pakitani" food 🤩). To be honest, I basically have about 5 recipes or so that I cook day-to-day because they're easy weeknight dishes to make. I'm all about efficiency, baby.
What differentiates Indian from Pakistani cooking? I'd say the salin (or "sauce") base. In Urdu the word for curry directly translates to salin but in our household we never called it curry, it was always just the sauce. I hardly ever use yogurt in the sauce-making process, it's always a base of onions, and typically has a tomato or two thrown in (tomato paste is a fine substitute).
Here's the best part: once you memorize how to make the sauce base you can make tons of other dishes. Don't worry, it isn't hard!
Have a protein preference?
The best part about Pakistani dishes is typically you can swap things out depending on your taste preferences. For example, for this recipe you can choose any protein you like because it gets combined at the end. In fact, leave out any protein for a vegetarian dish. Fancy some beef? Use beef stew meat or ribeye. Typically I use chicken because it cooks quickly.
The key is to cook the protein in the same spices while the lentils cook. I typically split the spice into two parts, some to throw in the Instant Pot with the onions and lentils and the other into the dutch oven that's cooking the chicken.
If you use something that needs a longer cook time like beef stew meat, you could cook it in the pressure cooker as well! If you did that to something like chicken, I don't think it'd turn out well.
Instant pot-friendly but not required
You can make this recipe in an Instant pot. We don't have one exactly but it's the similar Cuisinart pressure cooker. It does the same thing and we got one in 2012 or so as a gift. We love it so I can definitely see why Instant Pot has grown in popularity but it just shows you the power of good marketing I guess.
If you are doing the vegetarian option, then the pressure cooker is the only thing you need.
If you are cooking with protein you will need a separate pot like a Dutch oven to cook it separately while the lentils cook. Alternatively, if you use beef stew meat, you could get away cooking it with the lentils.
If you don't have an Instant Pot no worries! The Daal just needs to cook a little longer in whatever pot you use, I recommend this large 7.5 quart Lodge dutch oven. We use it ALL THE TIME for big meals. You should be tasting the food often, once the Daal is cooked it'll be soft but shouldn't smush totally between your fingers.
Choosing the right spice mix
I would argue the most important part of any Pakistani or Indian dish is choosing the spices. Now remember, I'm an efficiencer so I'm not going to be listing 12 spices you need to go out and buy to make your own desi spice mix. Presumably you bought an Instant Pot because you're not a gourmet chef and need good food in a hurry.
I'm just going to straight up tell you what to get from your local Indian grocer (or Amazon):
Buy all this in bulk and you'll be all set. Each mix should be less than $2 in-store and one box should make at least 3 dishes. They each have recipes on there so feel free to check those out but I'll tell you I don't think you need to use an entire packet for one meal, more like a third.
Now I swear by the Shan brand, it's hands-down my favorite. However, a close second is one I've recently started using, called Aachi. I recommend the Aachi Meat Masala and Aachi Chicken Curry Masala mixes, both are quite good (not as good as Shan but serviceable!). If you go to a local grocer and can't find Shan mixes, Aachi is a good alternative.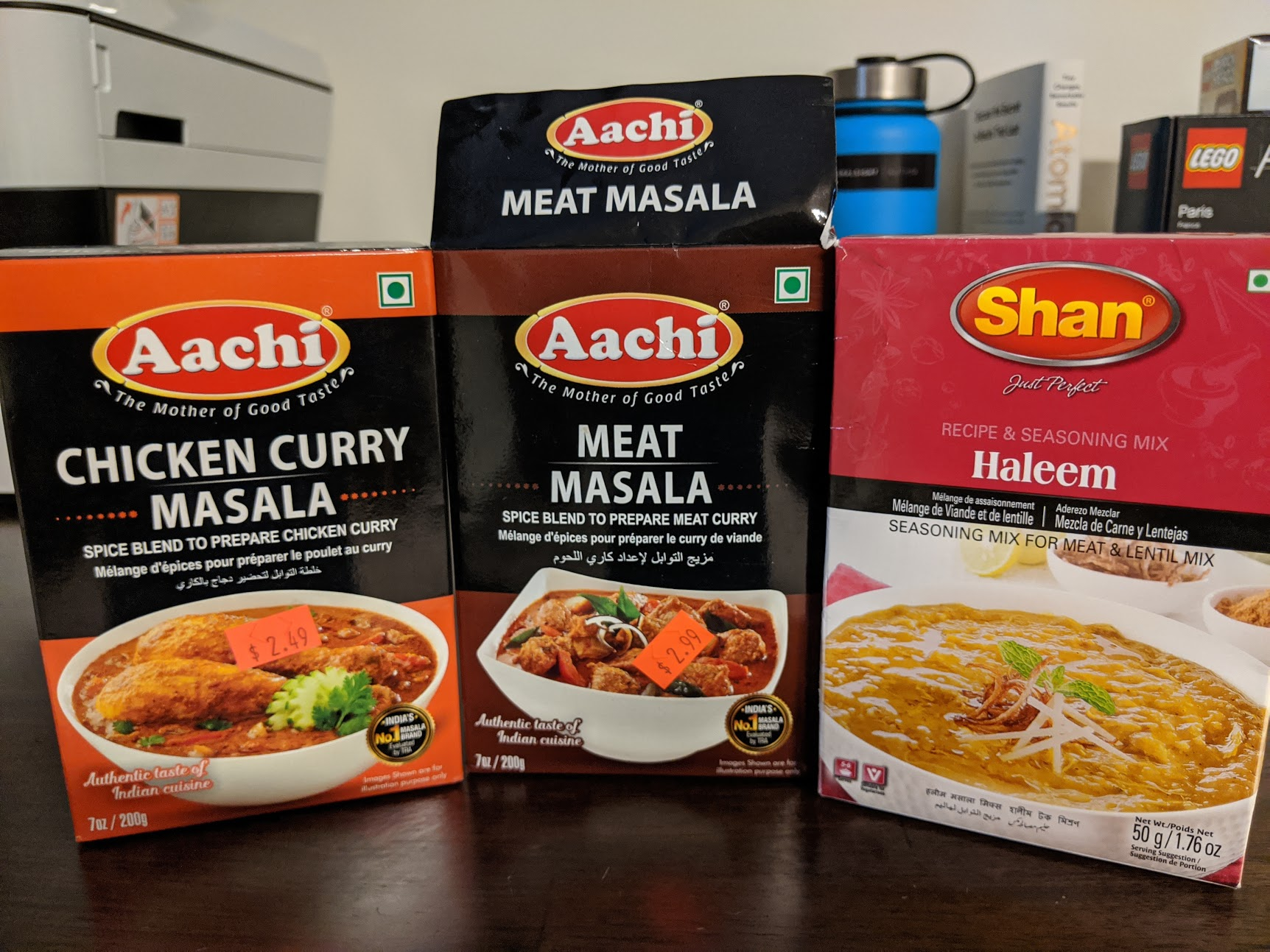 Serving with rice
We often serve this with rice. That presents a small issue if you cook with the Instant Pot because usually I use it as my rice cooker.
You have a couple options: you don't need to cook this in an Instant Pot but cooking the daal will just take a bit longer (25 minutes or so).
Alternatively, you can cook basmati rice on the stovetop with the following recipe I personally use.
Finally, you can cook one after the other. Cook the dish normally in the Instant Pot, transfer to a large pot on the stove and just let it simmer while you cook the rice next.
If you're not interested in the additional carbs, add a bit more water to the recipe and you've got some tasty daal soup! We often eat this as a leftover without any rice.
Instant Pot Pakistani Daal (Yellow Split Pea) Recipe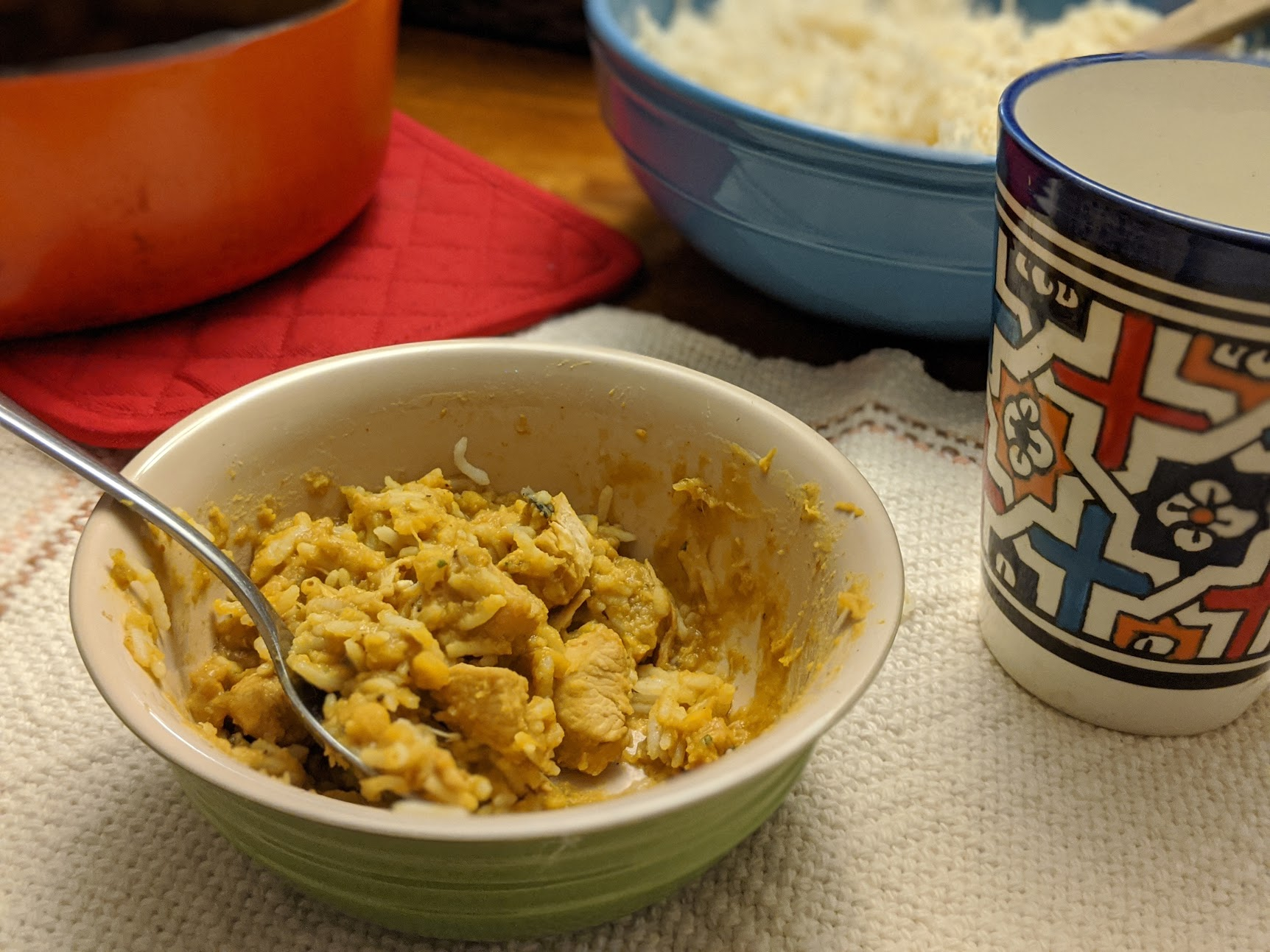 Prep Time: 15 minutes, Cook Time: 45 minutes, Servings: 8-10
Ingredients
5 tbsp cooking oil or ghee (clarified butter)
1 large sweet yellow onion, diced
3 tsp minced garlic (or ginger and garlic paste)
2 roma tomatoes, diced (substitute 2 tbsp tomato paste)
1/2 tsp salt
1/2 tsp pepper
1/3 packet of Shan Daal Masala mix, split
2 cups dried Swad Chana Dal (Desi split-peas)
5 cups water
Protein of choice, typically 2 chicken breasts, diced into cubes
2 cups white basmati rice, cooked (optional)
Steps
Pour 2 tablespoons of oil into the Instant Pot
Set the cooker to Saute and add diced onions to pot with salt and pepper and saute until starting to brown, about 5 minutes
Add tomatoes and stir to combine and cook for an additional 3-4 minutes until tomatoes start to cook down and create a sauce
Add the first half of the Shan spice mix, saving the other half for later and stir to combine. Cook for about 1 minute.
Add 1 cup water to prevent spice from burning and cook an additional 4-5 minutes
If cooking with protein, pour half the sauce into another pot like a Dutch oven and cook the protein in the sauce until cooked through, then let simmer while daal cooks
Add the daal, 3 tbsp oil, second half of the Shan mix, and 4 cups water to the Instant Pot. Mix well. Add more water for a more soupy-consistency (great without rice!).
Set Instant Pot manually on High for 6 minutes
Once Instant Pot beeps, allow to naturally release pressure for about 10 minutes. The longer you wait, the more soupy it'll become. Daal is done when it's soft.
Release the pressure and remove lid.
If cooking with protein, combine both into Instant Pot or separate pot if cooking rice, and simmer for an additional 10 minutes or so. Taste it, the Daal should be cooked and the protein should be flavorful.
Serve hot over white basmati rice or enjoy as a soup.
That's it, we hope you enjoy this dish as much as we do and I have more dishes to share soon!