Disclosure: Some links on this page below are affiliate links, meaning, at no additional cost to you, we will earn a commission if you click through and purchase. Read our disclosure for more info.
For Christmas this year, I really wanted to try to do a lot of DIY gifts. I like the idea of saving money on materials (though of course my labor itself is worth a lot more than what I would be spending if I just purchased these things, but it's the thought and time that puts so much into these gifts!) but I also just enjoy sewing and crafting, so making gifts for others is naturally an easy way to practice and develop these skills.
The first Christmas gift I made this year, I started working on in July! I knew it would take me a lot of time to complete everything I wanted to make, and I had almost all of my projects done by October or early November. I started with an easy project, a pair of leggings for my niece.
I found a simple, free pattern from Scattered Thoughts of a Crafty Mom, who makes a lot of adorable "girl" projects from toddler to preteen sizes. I appreciate her range, and enjoy trying out her interesting projects. I loved the Yoga Waistband Leggings, and wanted to try them out.
My niece is 12, but I wanted to size up so she could hold onto the leggings for some time. After completing the project, I'm actually somewhat worried they will be way too big. Who knows, though, kids grow so quickly!
I bought a cute pineapple fabric from Girl Charlee at an excellent price, and got to work!
The fabric is very soft, and will be really comfortable in the form of leggings. The fabric is also on a really great sale at Girl Charlee, and I recommend it!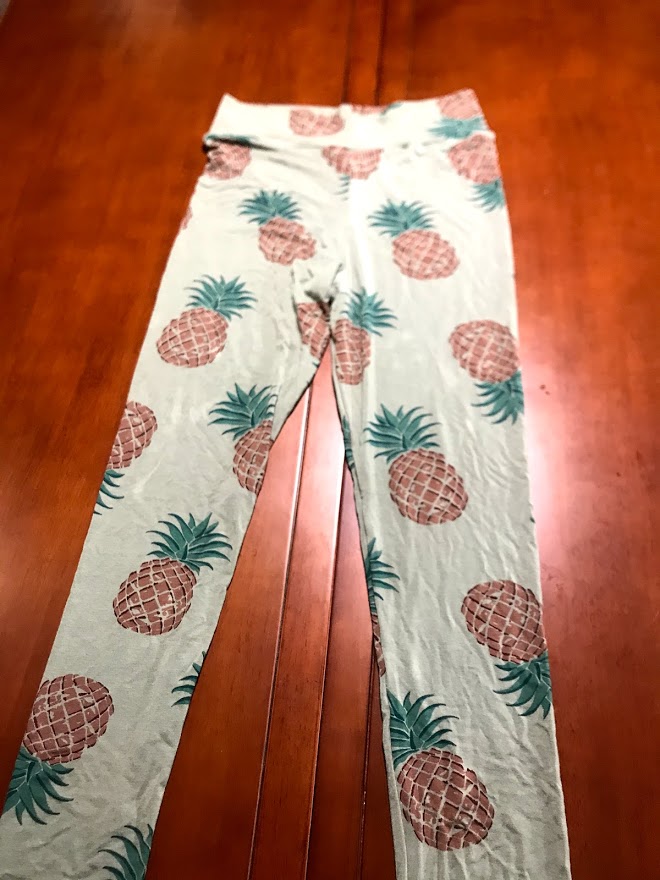 The pattern was easy - I just lined everything up, cut it out, and used my serger to sew it all together. The most interesting part was the yoga waistband, which is really just a long band folded in half, then sewn on to match with the wrong side. Very easy - the whole project took me about an hour total, while listening to podcasts and chatting on the phone (not all at the same time).
If my niece likes these leggings, I will definitely make her more! These are a nice pattern for a cheap knit fabric, and because they are so fast, could be easy to make a pile of as a Christmas or birthday gift! I'll update with a picture of her wearing the leggings after Christmas!