Disclosure: Some links on this page below are affiliate links, meaning, at no additional cost to you, we will earn a commission if you click through and purchase. Read our disclosure for more info.
The last time I took the kids to Joann Fabrics, I decided I would make a One-Yard Twirly Dress for Saira and a friend's 2-year-old. We are hoping to see them this summer (while also being mindful of Covid), and I thought it would be cute to make them matching dresses. I also wanted to make a romper of the same fabric, for that friend's newborn baby.
These are both patterns I've used before, so I was happy to get more uses out of the printed patterns. Since Saira and the other girl are almost the same age, I figured the free 3T pattern would work perfectly for them both. For the little one, I wanted to still use the 1T pattern, because I figured it would be a while until they would have used a romper anyway.
With my patterns decided upon, I took Saira to Joann's and let her look at all the fabrics. I told her she could pick anything she wanted. I was initially nervous because she was hovering around some weird Christmas dinosaur fabrics (these were supposed to be spring dresses!) but she eventually saw the flower fabrics and chose a cute daisy fabric.
From that point on, she was obsessed with the daisy fabric. She also noticed that a lot of my dresses have pockets, so her go-to phrase became: "Daisy dress! Pockets!"
And wouldn't you know it, the dress pattern does not have pockets. I decided to adapt it to fit Saira's needs, and took out my Jordan Joggers pattern to examine the pocket. The Jordan Joggers have a sort of built in pocket, with the fabric behind the pocket showing somewhat, rather than a fully separate. (Google tells me this is called an inset pocket). I thought an inset pocket would look nice on this dress, so I set to work cutting off a piece of each side of the front skirt, then cutting out the pocket pieces. I only had to slightly alter the shape of the Jordan Joggers pockets to more accurately fit the cut of the dress.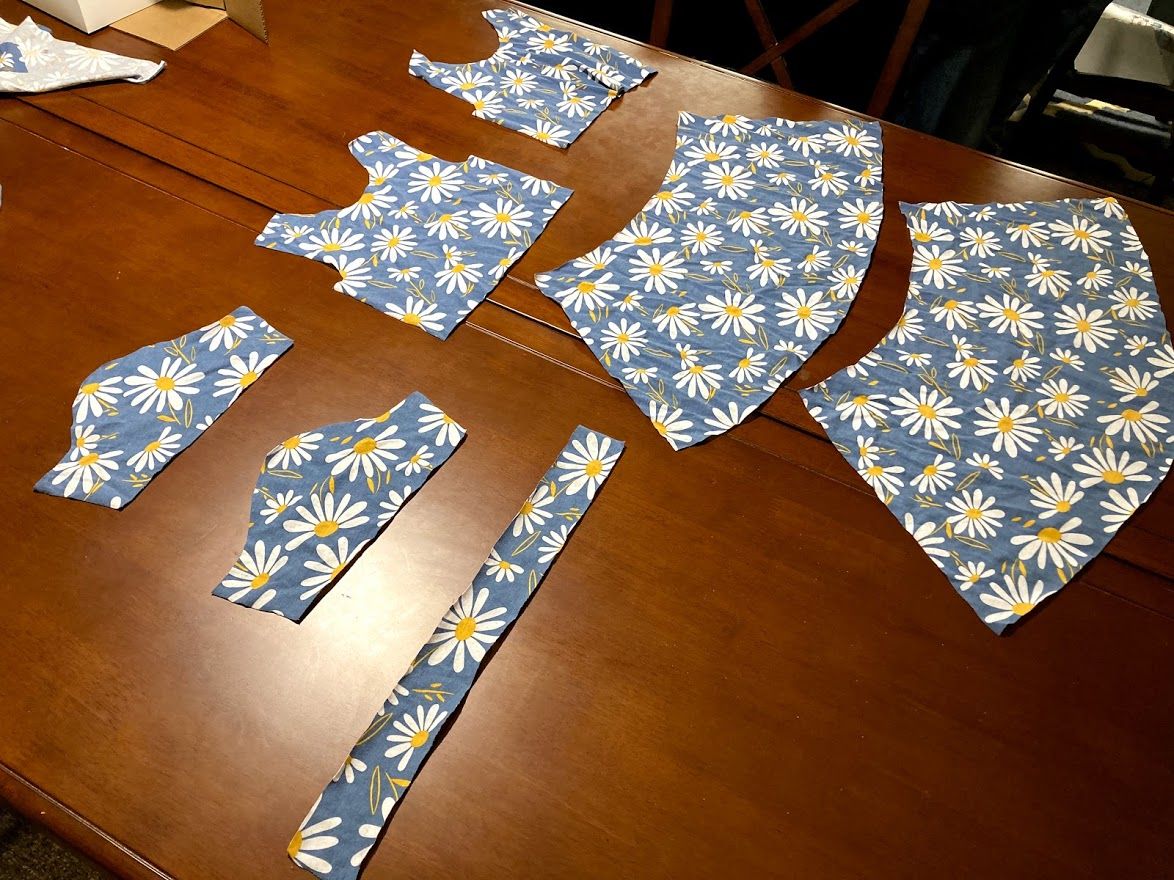 I was excited to add these pockets, both as a way to surprise Saira but also as a way to continue my growth as a seamstress. I like the idea of slightly changing a pattern to fit what I want, and I like that I am increasing my ability to do that. I know with knitting I've always felt really constrained because I don't really feel like I understand the pattern-writing aspect or how to make those tweaks to make the pattern work for me. I think I have a much better conceptualization of sewing, and it makes more sense in my head how the patterns work and how I could adapt them when necessary.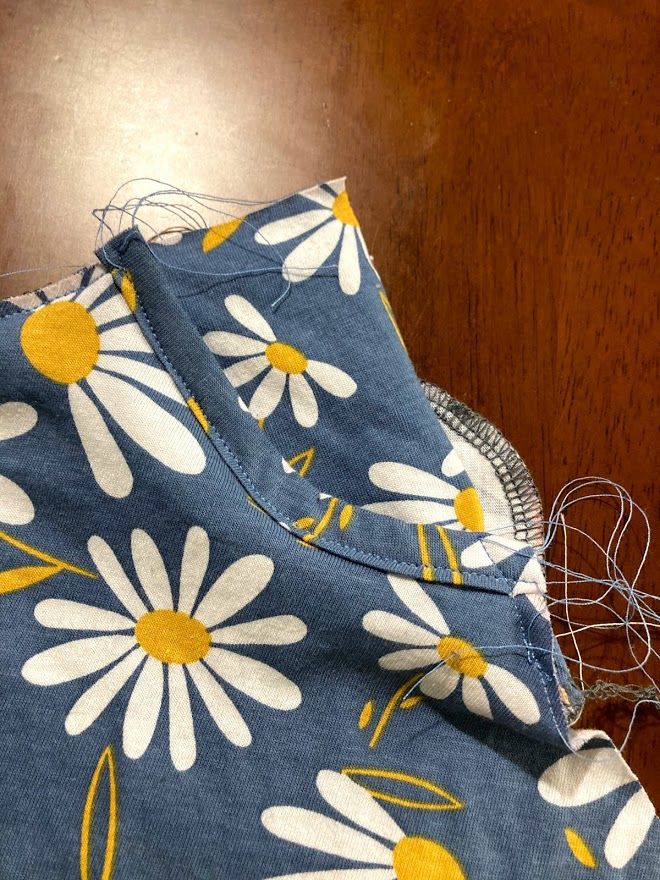 The rest of the sewing went as usual. This is a great pattern to sew up in about 2 hours, and goes by so quick and easy that it's really pretty fun. I made two of these pocketed twirly dresses so that each girl would have one, then I got going on the romper for the baby. I've made the romper before, so I won't go through the details on this one, except to say that while it is an easy project, I do not know how to do snaps yet. My aunt got me a snap maker for Christmas this year, and I was excited to try it out. I basically made a bunch of holes in some practice fabric and filled them up with twisted pieces of metal. Oops. I tried for about an hour, then decided I didn't get it and used buttons instead. I'm hopeful that my friends will still use the romper, even though I remember hating buttons on baby clothes and preferring snaps myself. I hope to someday learn the subtleties of not destroying a piece of fabric and wanting to chuck the snap maker across the room.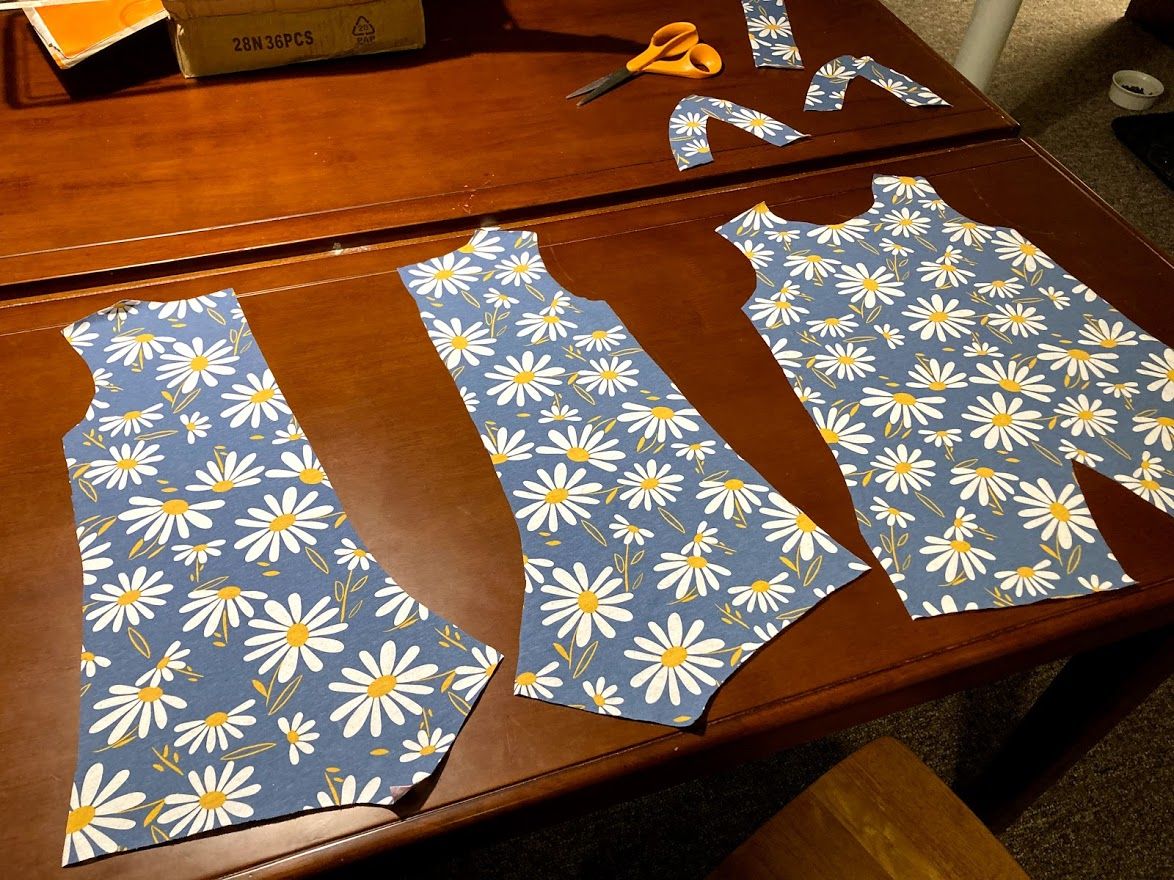 I think the buttons turned out nice, and I went for a tank-top on this romper rather than the sleeves. I hope we will be able to get a picture of the three girls together this summer, wearing their daisy dresses and romper! But for now, enjoy these daisy dress (with pockets!) pictures of Saira.