Disclosure: Some links on this page below are affiliate links, meaning, at no additional cost to you, we will earn a commission if you click through and purchase. Read our disclosure for more info.
At some point, we all must confront our own human frailty. Our failures may loom heavy in our hearts, the pictures illuminated for us like bolts of lightning. It happens to all creators, and now it has happened to me.
I had such great intentions to make cute lilac dresses for Saira and I! I had matched the Moneta pattern and Twirly-Dress pattern so we would look the same. I picked the soft purple fabric because I once wanted a dress of the same color and a similar cut from Downeast Basics, only to have it sell out and have to buy a gray one instead (the gray dress, while less cute than the purple, has still served me well!). I started by purchasing 2 yards of the purple fabric from Girl Charlee (I bet you can already see what I did wrong here).
Why, oh why, did I believe I could make an adult dress and a 3T dress with only 2 yards?! The hubris! I cut my bodice pieces first, and as I started on the front skirt piece, I realized I had made a mistake.
Uh oh, I thought. This is not going to work.
Instead of getting mad, which is what I would have normally done, I quickly cut out the pieces for the entire 1-yard Twirly dress (the needed amount of fabric is right there in the name! Seriously, what was I thinking!) and put the whole dress together.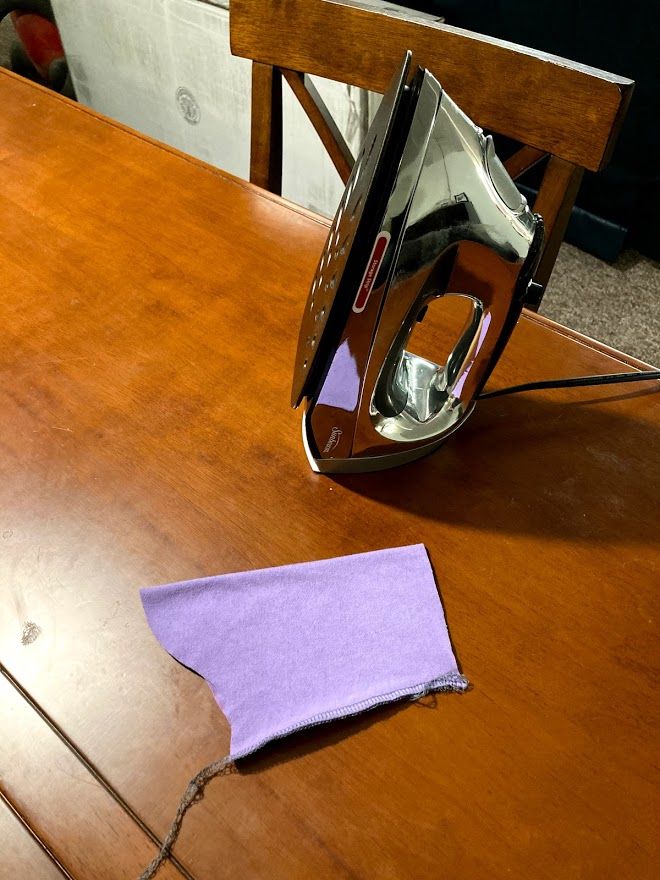 I was on top of the world, with such a cute little purple dress for Saira! At that point, I figured I could order another yard from Girl Charlee, and I would have enough to finish the whole thing. While I waited for my yard of fabric to arrive, I quickly sewed up the bodice of the adult Moneta dress. Easy peasy!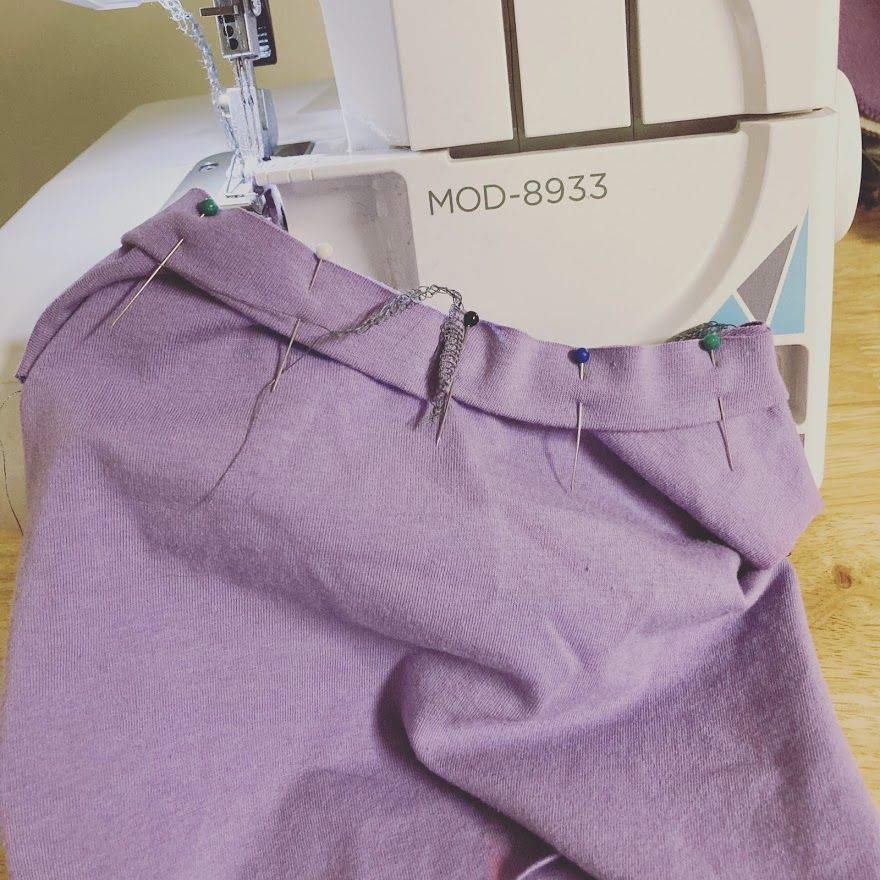 Finally, the extra yard had arrived. My savior! I opened it up, and put it next to the bodice, to measure out the last skirt piece.
Oh no. How did I mess up this bad?!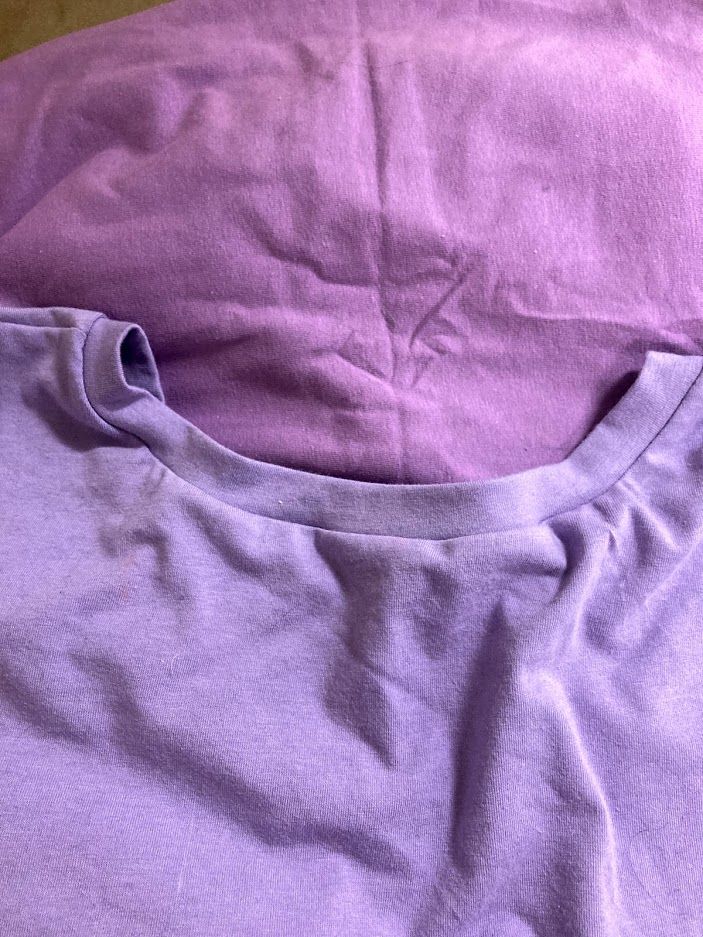 Yes, the fabric is just off enough that it is truly not the same color. I even washed it to make sure that wasn't the reason they looked so different! I went back and double-checked that they were the same fabrics and the same colors. Yes, I ordered the exact same fabric. I'm guessing that because this is a smaller seller, they can't necessarily promise the exact same color each time.
I spent about 20 minutes stewing. When something like this happens with a project, I will basically stew and fret and go back and forth about it until I make a decision. Once I make a decision, I am completely happy and have no issue of further concern. Until that moment, I am unable to think of anything but the problem at hand.
After the 20 minutes, I realized I didn't have to make a Mommy and Me dress to use the fabric, or to match anything. I could use the remaining fabric to make something for Rami instead! I set out to find a pattern for a t-shirt that would fit Rami.
I found the Boys T-Shirt pattern from Melly Sews. The pattern is simple and it was designed for ages 2 to 4. Rami is 4, so even though I like to always size up for maximum wearability, I was willing to make a 4t shirt for him this time.
I cut the pieces out of my remaining fabric as well as from the Moneta bodice I had started. I actually had to cut the back from two separate pieces, so there is a line across the back. It's hardly noticeable now that the project is done, though. At least I think so!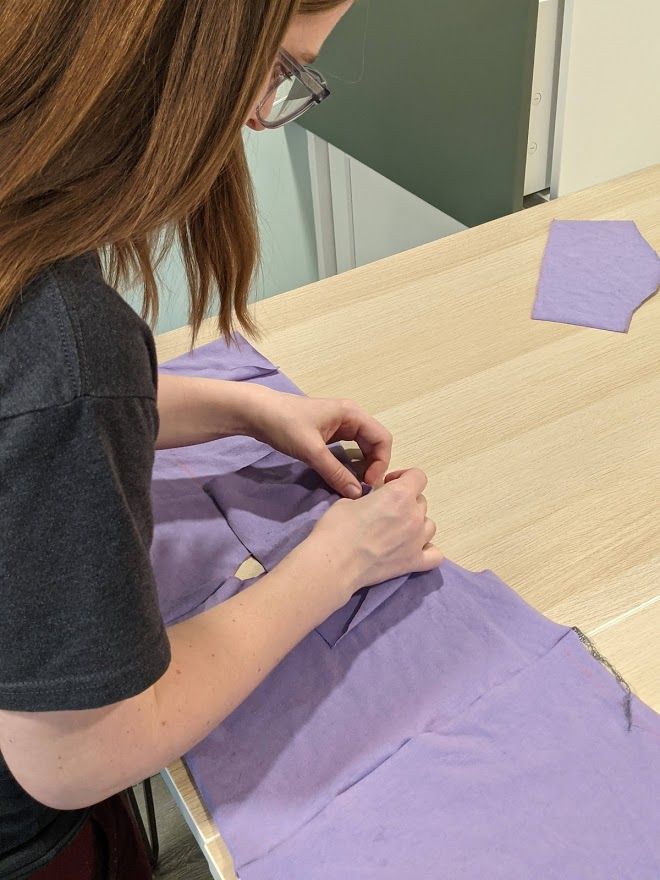 After I finished the t-shirt itself, I put the two completed projects next to each other and knew that there was still something missing. I wasn't sure what it was, but I started to think an applique of some kind would be sort of interesting. I looked through all my scrap fabric and really didn't see anything that would match the lilac purple of the projects. I started to think about what shape I would want to use. My sister and I brainstormed and landed on either an elephant or a dinosaur. I wanted something that both kids would like and that would look interesting with the color purple. I even visited Joann Fabrics with the kids to look at fabrics for the applique. I really found nothing. Although I will also say that may have been because the kids were starting to get antsy after already stopping by Target and Goodwill for some errands.
I went home and continued thinking and brainstorming. Finally, I realized that probably Joann's sells appliques. Of course they do! I went back (without the kids this time, so much easier!) and looked through the row of appliques. Hmmm...a donut would be interesting? A flamingo maybe...sunglasses? No, nothing really made sense. Then I gazed upon the llama and knew that was the one I wanted.
Bright colors, matches nicely with purple, good size. Perfect! I went straight home and sewed on the llama patches. I put Saira's in the center of the dress, and I put Rami's at the corner, like it was a cool new brand signature he was trying out.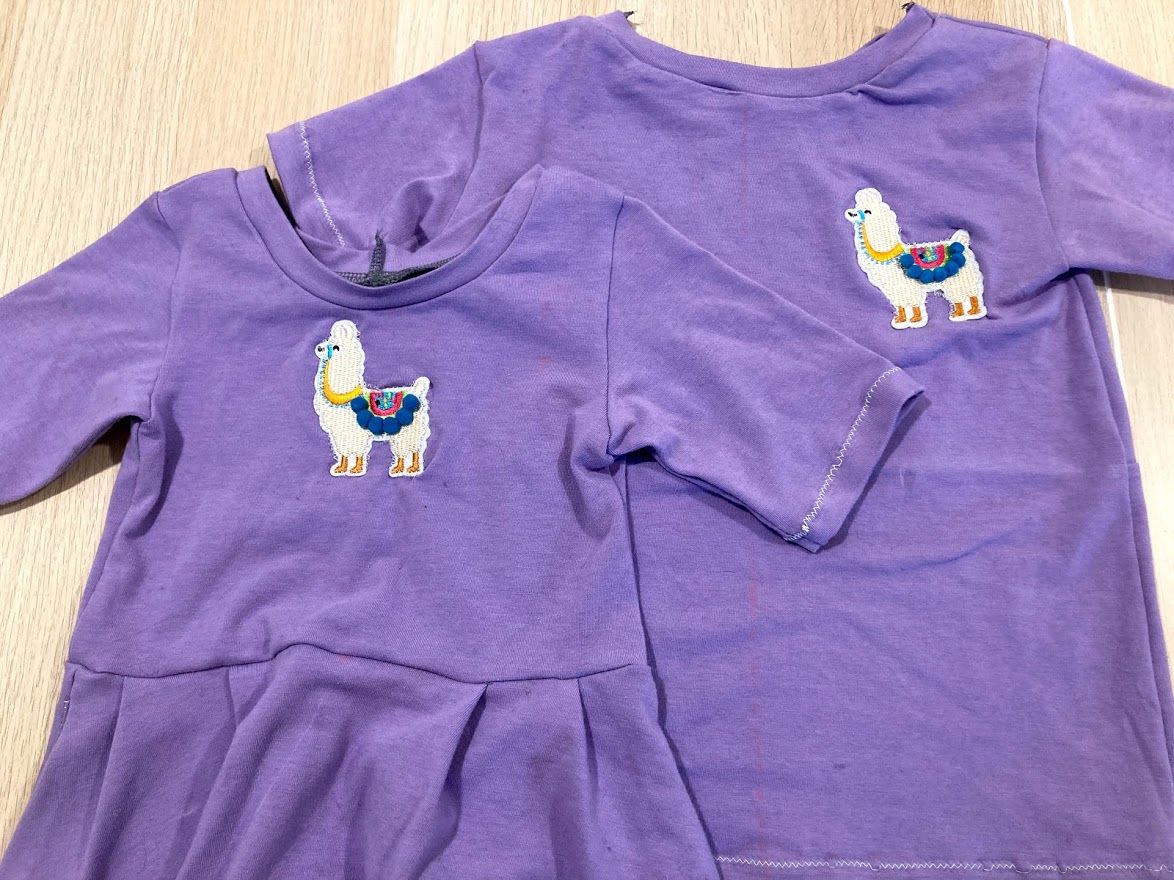 Now the projects were complete. I told the kids they would have matching clothes and they were so excited! I'm glad they are in the phase where they would enjoy that and want to match. I'm going to go into a period of mourning when they are teenagers and no longer love each other.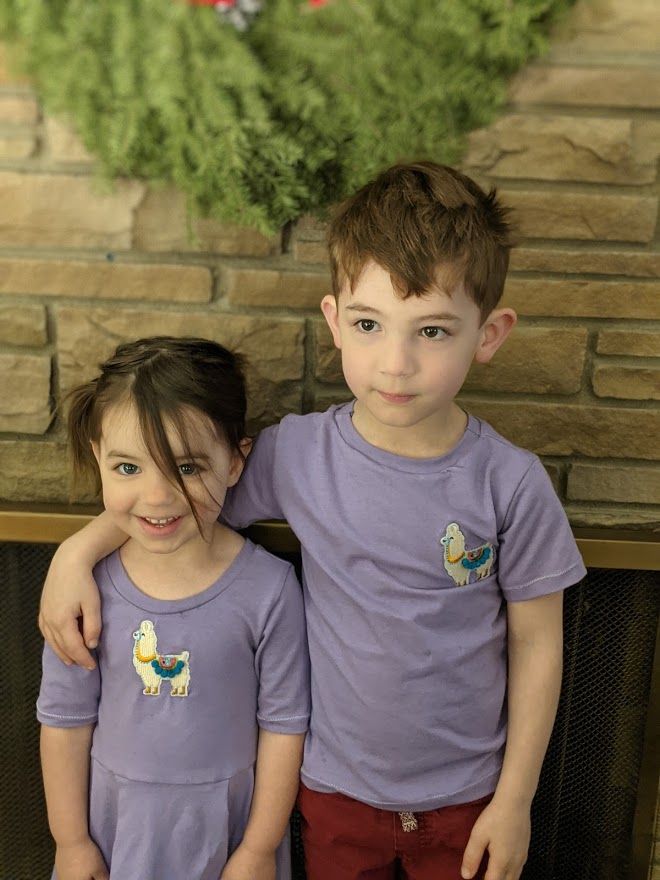 Saira was ecstatic about the pockets in her dress (I adapted the 1 Yard Twirly Dress to include pockets again). Rami loved the llama and the lovely purple color. The daycare teachers were tickled by the two coming in matching. Of course, after taking the pictures, the kids immediately got dirty from playing at the lake, and Saira spilled honey down her front. It's the little things.
I'm actually really glad that this project was a "failure." I think in both my sewing and just as a person, I need to be more willing to embrace and work through failure. As a former "smart kid," I have a hard time failing and being wrong. I have been able to counteract that as an adult to some extent, but I notice myself getting frustrated easily when things like sewing projects are not working. This was a major breakthrough for me. I was able to think it through without giving up. That's a lesson I want to pass onto my kids, even more than just the projects I make for them.