Disclosure: Some links on this page below are affiliate links, meaning, at no additional cost to you, we will earn a commission if you click through and purchase. Read our disclosure for more info.
I've been in the market for a serger for about 3 months now, and looking for one online and at garage sales and estate sales. I actually saw a really good price on one at Joann Fabrics once, but was too chicken to actually move forward and buy it. I have this morbid fear that once I actually "commit" to sewing by buying a bunch of fabric and notions, I'll suddenly stop wanting to do it. I'm basically worried I'll sink all this time and money into a hobby like sewing, with nothing to show for it. I'm not sure why I'm afraid of that. I don't really have a history of doing that, although I do have a history of feeling guilty or ashamed when I quit something or when I feel like I'm not using an item enough. (For example, when I quit piano lessons. Or when I feel like I'm not using my sewing machine enough!)
But a couple of months ago, a friend of mine texted me and said that Zulily had a sale on Janome sergers! She knew I was looking for a serger, and the deal was really amazing ($300 off??) I talked to another friend of mine, who said if I didn't buy it, he was going to buy it for me and make me pay him back. He knows I don't like to spend money!
But this really was too good a deal to pass up. So I created an account and ordered my serger! It took about a month to get to our house, and Rami and I excitedly opened it. Right away, he asked me, "Are you going to start serging?"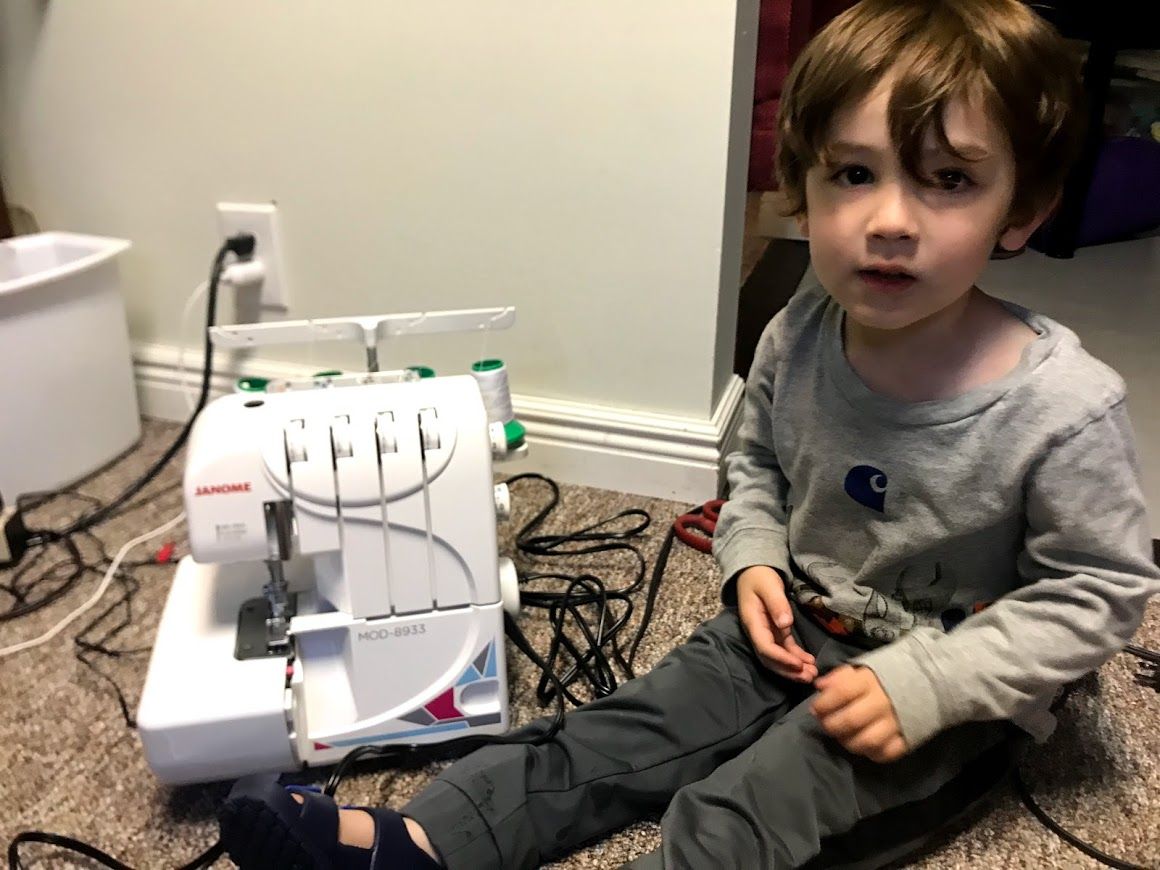 It's a Janome Model 8933 serger. It's honestly kinda cute, it's so small compared to my mammoth old Singer sewing machine. Even though it's small, it's definitely powerful. I tried it out on some scrap cloth and got a good feel for how to use it.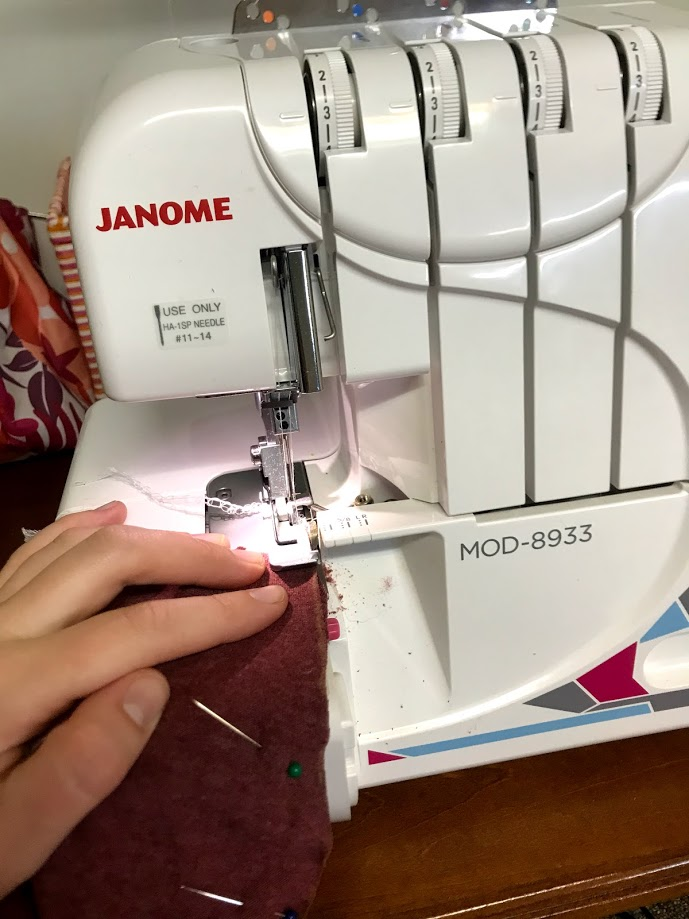 Unfortunately, as I started to sew, I eventually had something mess up, and the threads stopped looping correctly, which meant it stopped sewing up so nicely. I sat and tried it several times, turned some dials, to no avail. I was trying to avoid re-threading it because I hadn't read the manual yet, and I was nervous to try! But eventually I realized, it had to be done. So I took a deep breath and got going.
Surprisingly, re-threading my machine was pretty simple. I pulled all the threads out, and just went through them one by one, according to the diagrams below: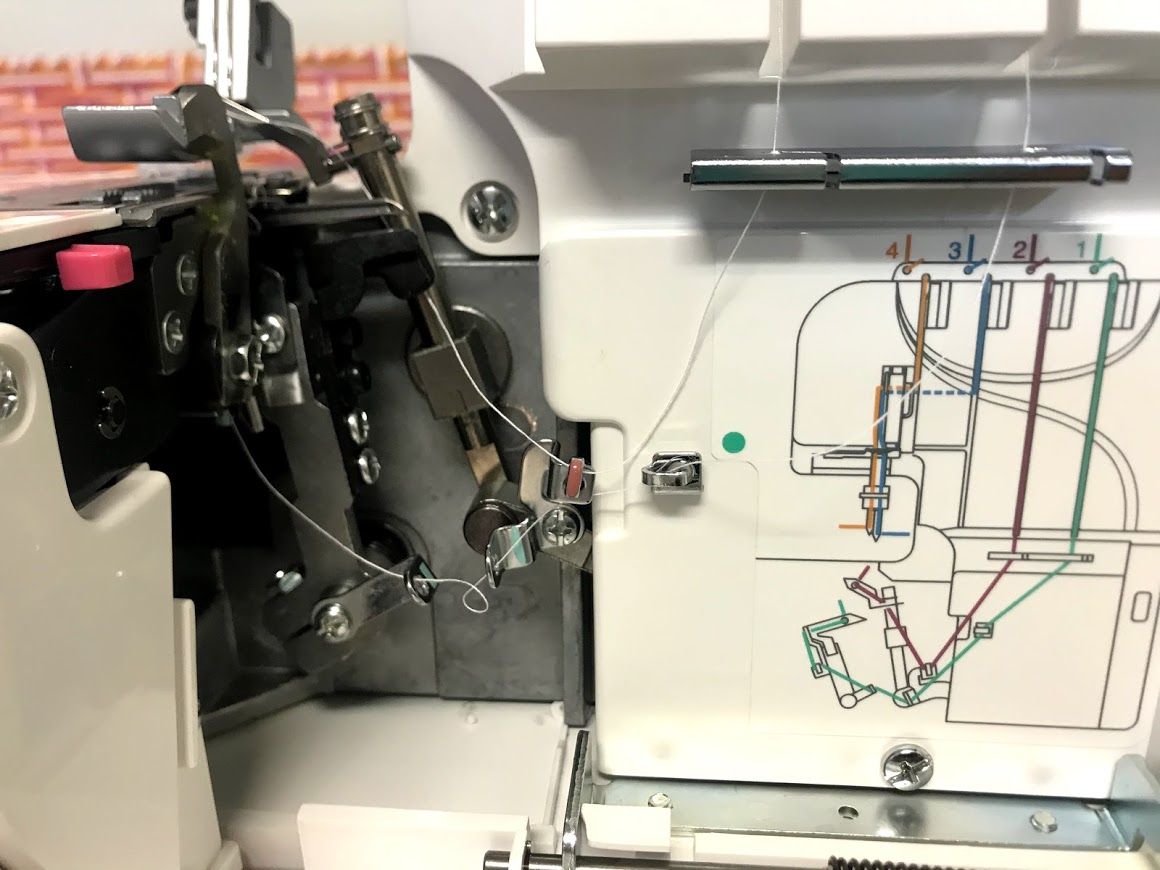 I ended up reading the entire manual, and marking some pages I thought might come in handy. I've now had to re-thread my machine twice, and both times it worked again immediately. I've had a few problems here and there (like learning how to blind hem!) but overall, I am so happy with this purchase. I actually feel weird using my regular sewing machine now. The serger loops look so beautiful and professional, it's hard to go back to my uneven hems!
I have several fun projects in the works, and I'll be writing them up for this blog. I'm especially excited about some new patterns I'll be putting up. I even have one pattern coming up that I did once on my sewing machine, and once on my serger, and I'll compare the results! It's going to be a fun summer, learning to use my serger and getting more practice with sewing!