Disclosure: Some links on this page below are affiliate links, meaning, at no additional cost to you, we will earn a commission if you click through and purchase. Read our disclosure for more info.
Our kids have almost no screen time. For Christmas this year, Rami watched How the Grinch Stole Christmas, and some of The Wizard of Oz. We don't have our house set up to watch TV; we only have one TV and it's in the basement. We never have it on when the kids are awake. We don't own an iPad. Of course, we have our phones and we occasionally let Rami watched a 2-3 minute video with us. But we just have not incorporated screens into our kids' lives at this point. I'm sure we will eventually, but we are so busy with other things that we haven't really had to use screens with them.
That being said...there are times where I just want the kids to sit quietly and keep themselves busy. We have always built in "bored time" to the day, where the kids are expected to keep themselves busy and think of their own activities. One thing I notice (I work with kids) is that there are lots of kids who have no idea how to just "be bored" and find something to do. I even notice myself struggling to just sit quietly in a waiting room without resorting to using my phone. Things are definitely different with the ubiquitous nature of screens and technology.
Knowing all of this, I decided to make some fun quiet book pages for my kids to use in the car (again, no screen time for road trips, and my mom lives 9 hours away!) I started researching some fun little pages that Rami might enjoy, and bought a package of felt at Michael's, similar to this one: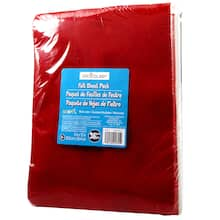 Felt is usually pretty durable, and it sort of sticks to itself, so I knew that any little characters or creatures I might sew would fit together nicely.
The first page I created was an animal circus train, due to a book Rami owns called "Animal Train." Oddly enough, it was my mom's book when she was a kid! I used a pattern for a Circus Train from Imagine Our Life.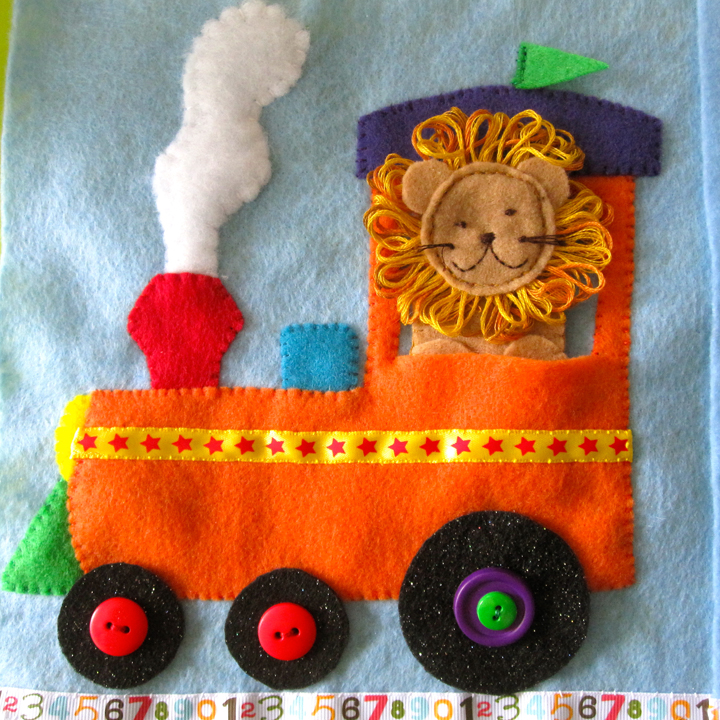 This was an easy and cute concept. I thought the characters were pretty easy to create and could be used for interesting and imaginative stories.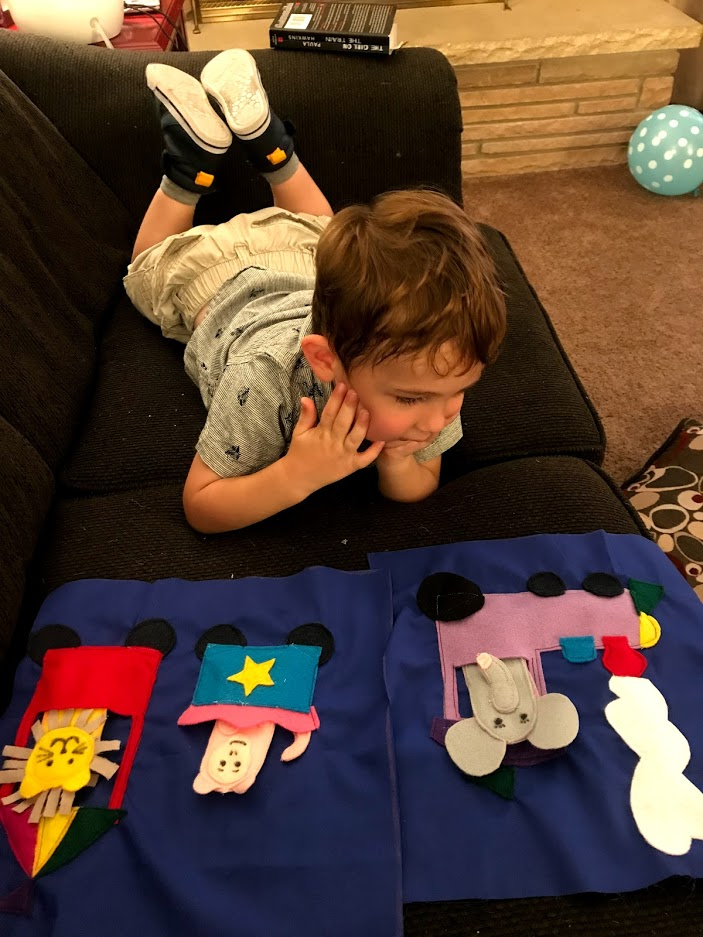 Both Rami and Saira have played with these little guys. As you can maybe see, I did not have any brown in the felt pack I bought for some reason, so the lion is yellow and the monkey is pink. Rami has not commented on this yet!
For my next quiet book page, I wanted to make something by myself. Rami requested a farm scene. He and I sat down at our dining table and I used a Sharpie marker to draw out the scene. As he requested animals and items, I added on to the scene. I had initially thought I would create a little field for the tractor to plow. However, Rami's request was for a big apple tree, with a ladder for the farmer to climb to get to his apples!
It was really fun using that time to design the project together. I ended up just cutting everything out with my very simple drawings, rather than making anything fancy or even cleaning it up much. You can certainly use my freehand drawings as a guide, or just make your own.
👉 Download Free Printable PDF of Farm Cutouts Example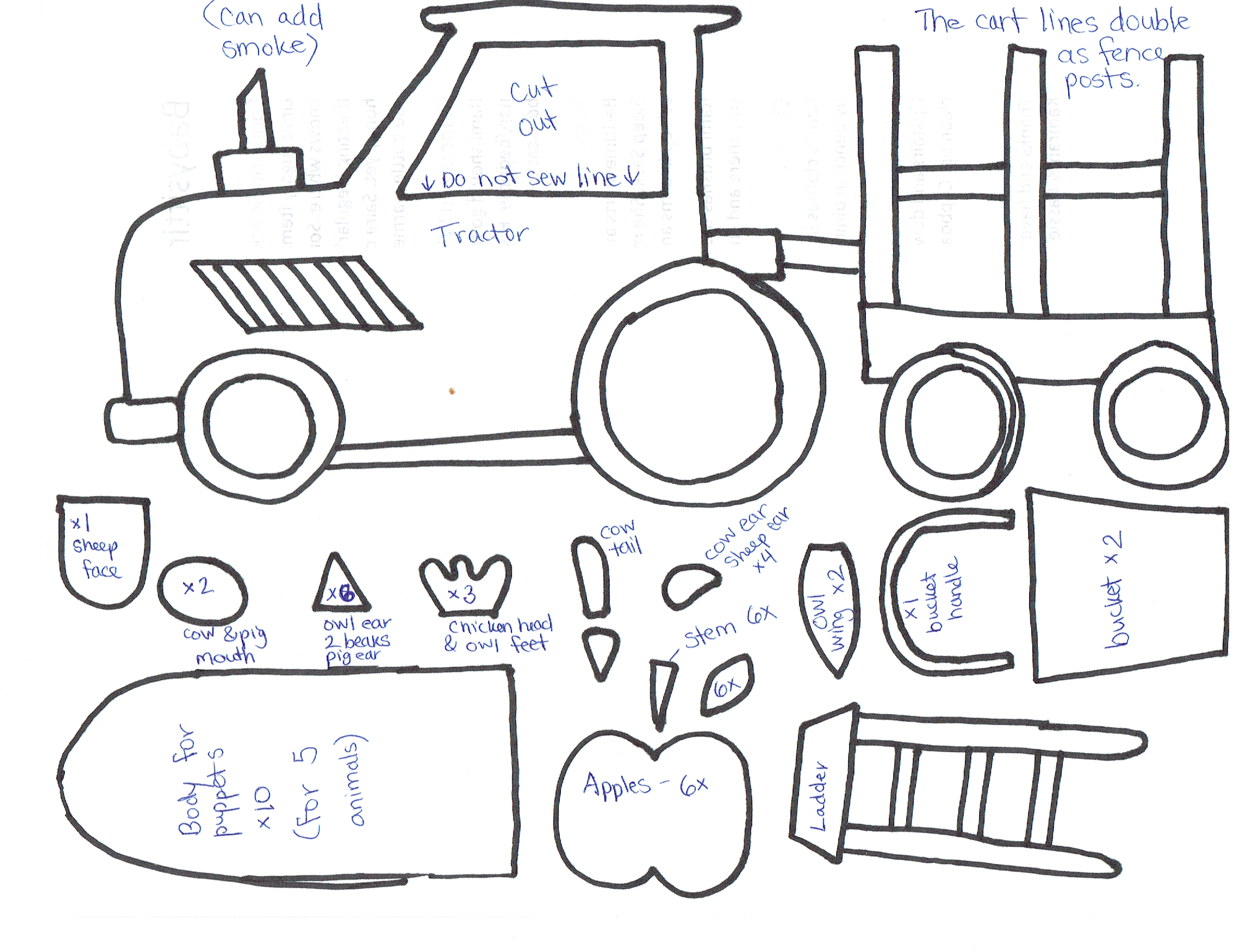 Honestly, if you are designing a quiet book, please trust that you can make something on your own that your kids will love, even if your artistic ability is somewhat lacking. I am not a great artist at all, but we sat together for 30 minutes making a little scene together. Rami loved telling me what to draw and we both enjoyed seeing how it turned out. Give it a try, I promise you'll at least love the bonding time.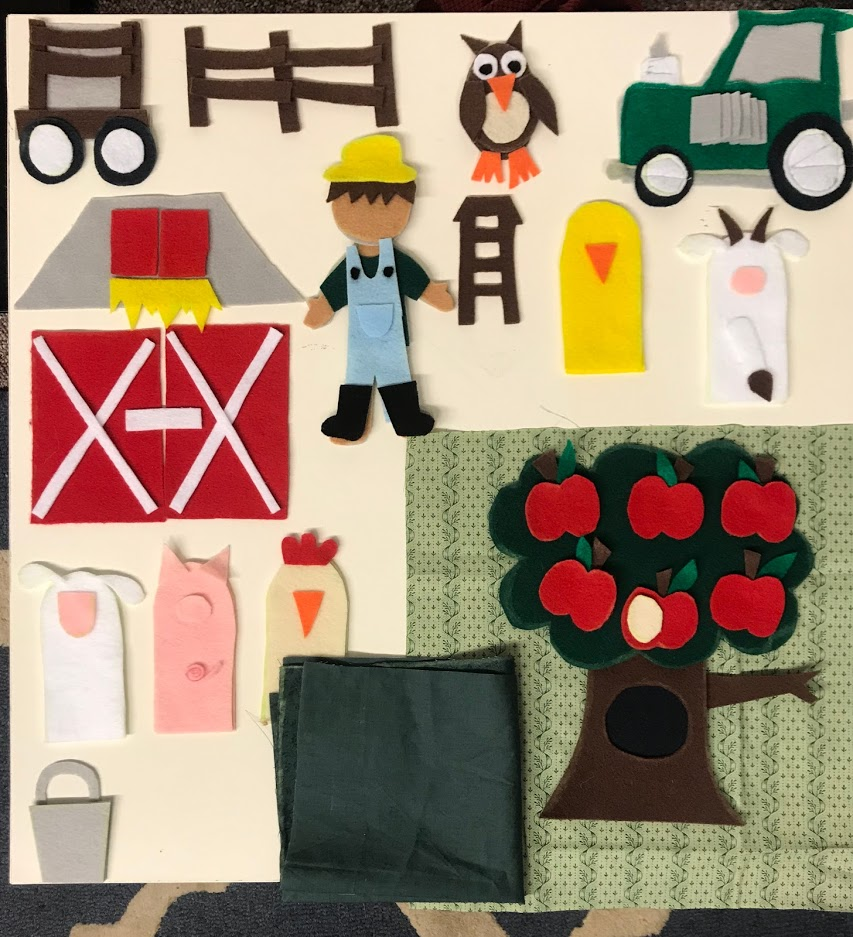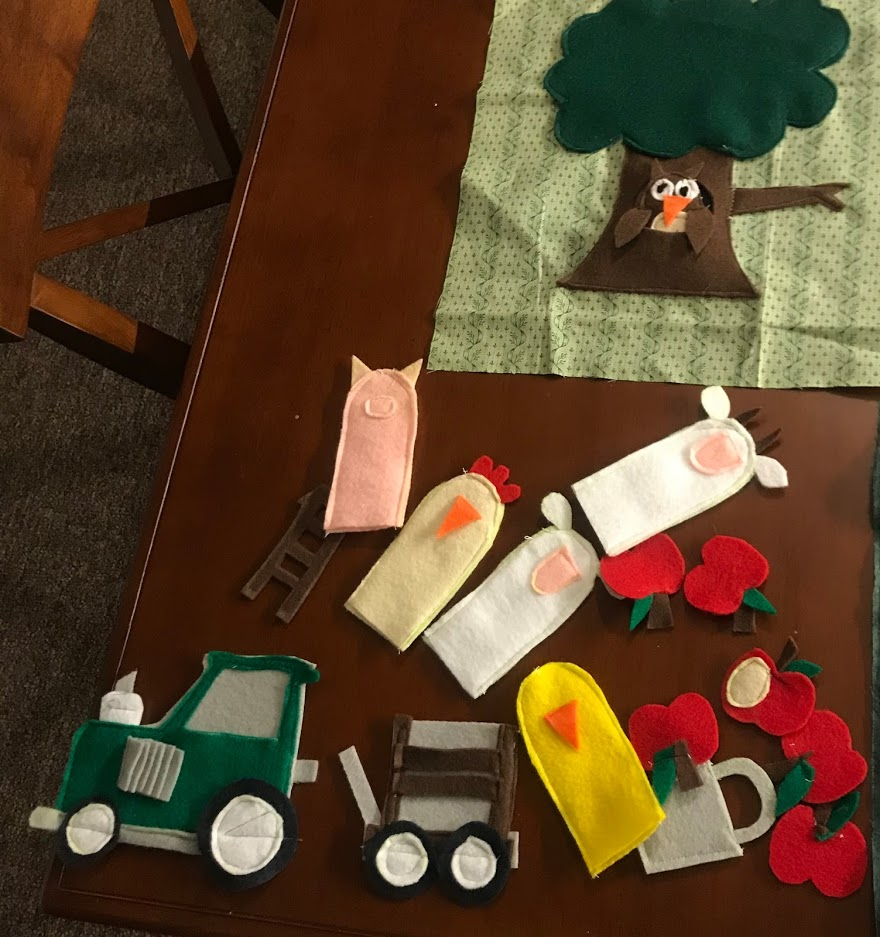 One tip I have for creating some of the single-sided items: line the back with the harder "recycled plastic" felt that you can find at Michael's and Joann Fabrics. It's a stronger, heftier felt and will hold it up when kids are playing with it. In the picture below, I added the silver backing to my tractor so that the kids could play with it without having to rely on a surface.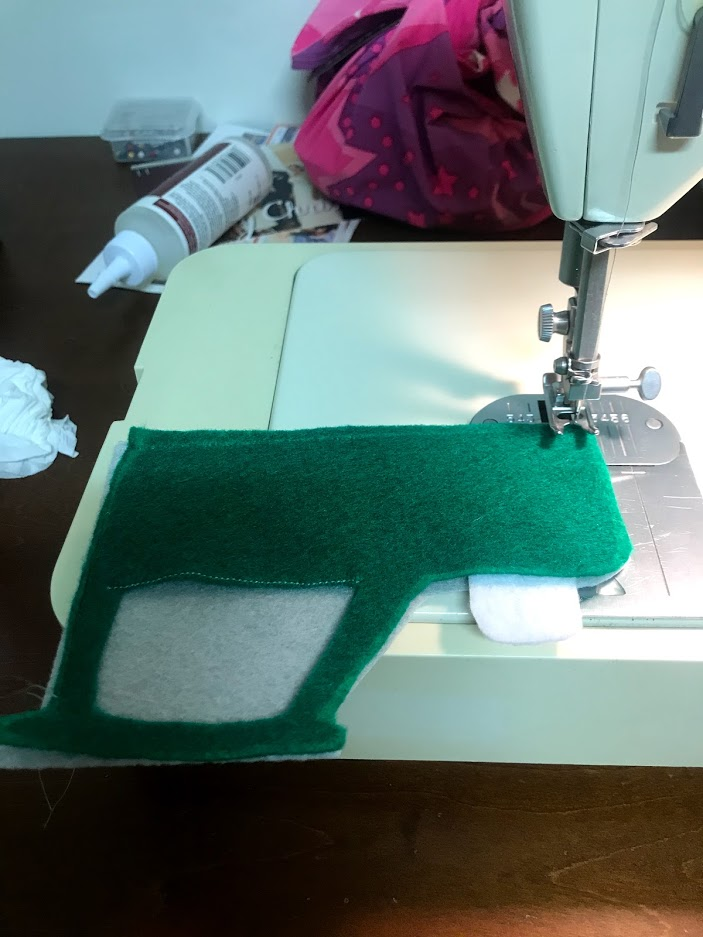 Once everything was all done, and I drew the eyes and mouths on the farmer and the animals, Rami had a blast making a little farm scene. I'm envisioning these little scenes as an easy toy to bring on road trips for both kids to play with. They're easy to cart along, and soft so they can't throw the pieces at each other! Well, they can throw them but they probably won't actually hurt each other.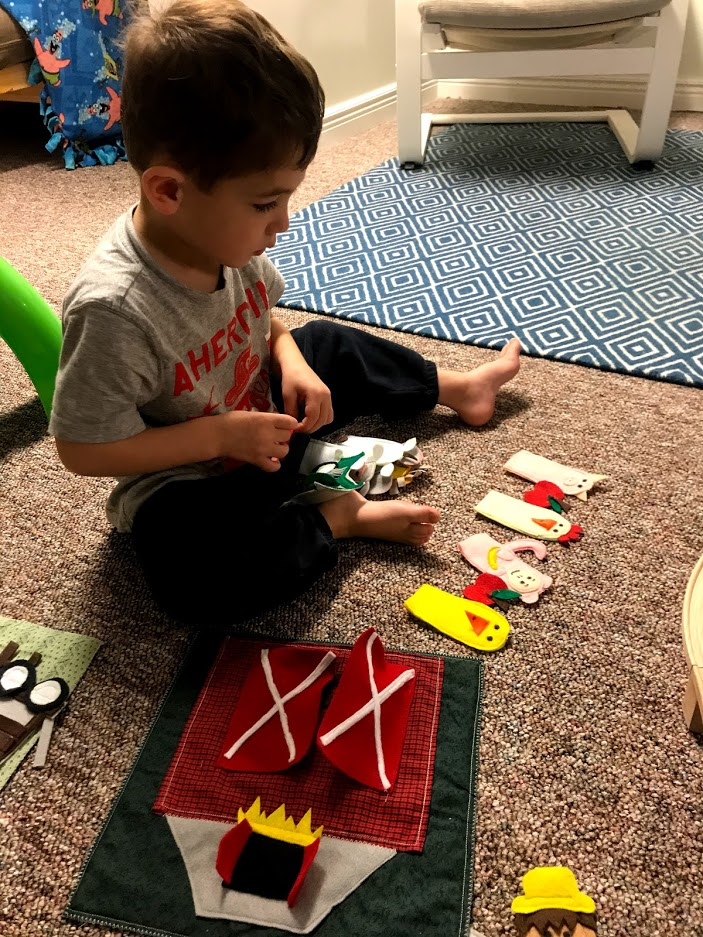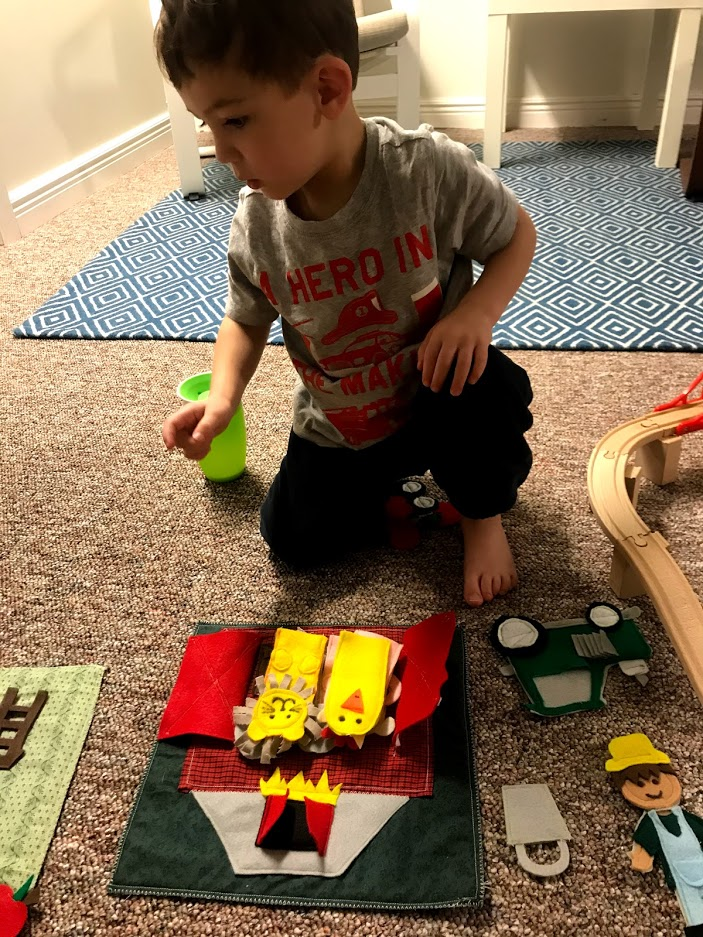 I love watching my kids' imaginations develop. It's amazing how young it happens, and how truly fascinating it is to see them make little stories and play out how the world works through their eyes. I'm reminded of one of my favorite quotes, from Mr. Rogers: