Disclosure: Some links on this page below are affiliate links, meaning, at no additional cost to you, we will earn a commission if you click through and purchase. Read our disclosure for more info.
I recently purchased the Java Joggers for Women pattern from Etsy. It had an incredible number of reviews (7448 at the time of me writing this!) with a perfect 5 star rating. After scouring Pinterest for way too long looking for a nice women's joggers pattern, I decided to take the plunge and buy the Java Joggers pattern!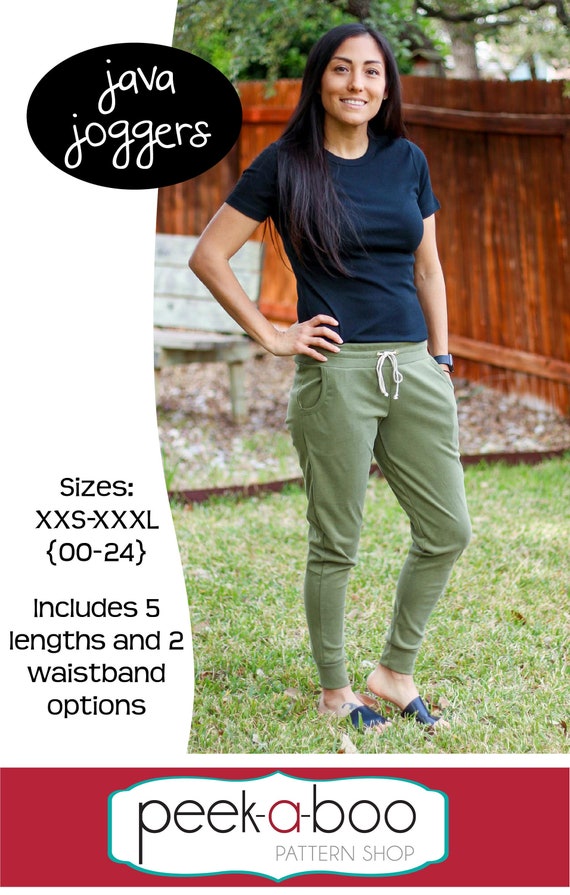 I was so excited to get this pattern, because I have wanted some nice, high quality joggers to wear and because it's nice to have a pattern like this for any time I might need it. I especially love the fact that the pattern includes so many sizing choices and can be sort of customizable: you can choose between pants, capris, and shorts, with two styles of pockets, and with either a yoga waistband or a more traditional elastic waistband.
To start, I wanted to make my sister a pair of joggers for Christmas. I asked her for her sizing and she decided on a size large. So I printed the pattern and cut it to a size large. While I was working through Rami's Captain America costume, I thought it might be fun to make myself some quick jogger shorts. After all, I had just made so many items for Christmas presents and for the kids, didn't I deserve something too?
I had purchased one yard of flamingo fabric from the scrap bin at Joann's for literally $1. ONE DOLLAR. Unfortunately, Joann's no longer has this cute flamingo fabric. But, you can definitely use any sort of sweatshirt fabric for this project. You really can't go wrong with the Girl Charlee fabric above. I think I'd like to get it in the Caramello Brown next.
I decided to just use the large pattern for my jogger shorts, as I had already cut the pattern to that specification and I feel like my sister and I are not too far off from each other in size. However...the flamingo fabric did not translate well to a larger size, as it was sort of stretchy and the shorts ended up being insanely large. They actually felt like they were size XXL rather than just a large.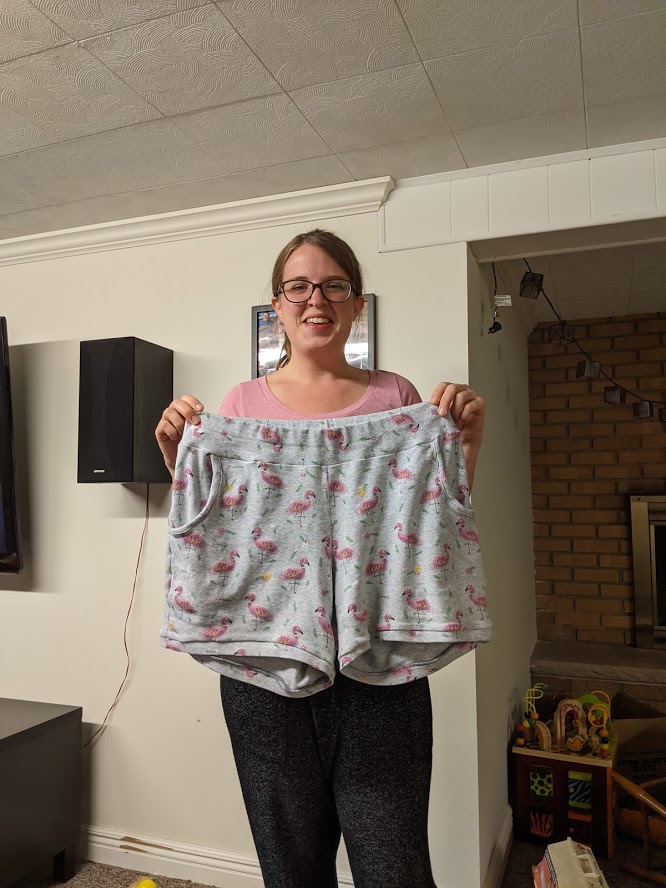 The Java Joggers pattern itself is fantastic, and I can see why it's so popular! I'll write up a longer review about my experience making the full joggers with yoga waistband for my sister, in a future post.
Even though I had already washed the fabric before making the shorts, I held out hope that I could still shrink the shorts by washing them. No such luck. I was stuck with incredibly baggy shorts that fit along the waistband but looked like shorts that boys wore in middle school.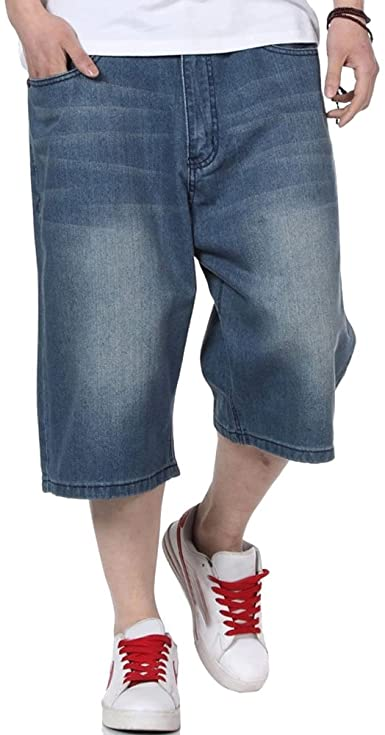 So I decided to try to salvage them by resizing my own creation!
I basically just took the large-sized joggers and measured out how much I wanted to chop off the sides. I was slightly worried because the java joggers pattern has a lovely pocket situation, and I didn't want to end up cutting off too much of the pockets. I decided to cut off 1 inch along the top 3/4 of the shorts, then gradually cut in at an angle to 2 inches at the bottom. The bottoms of the shorts were the baggiest area, and could stand to lose a little more fabric. Plus, the bottoms being thinner would not affect the pocket sizing.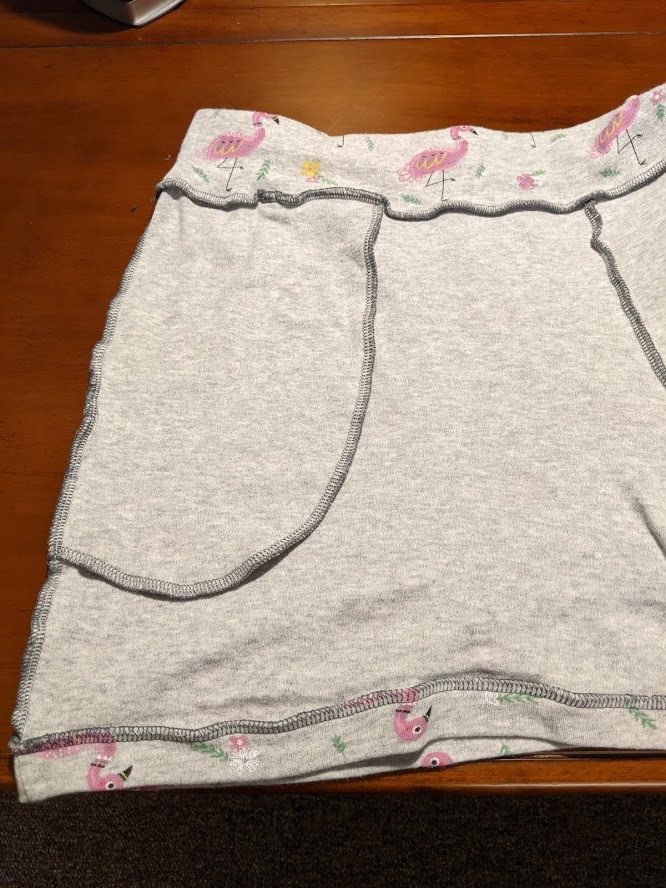 I took a breath and made my cuts - okay, it turned out fine!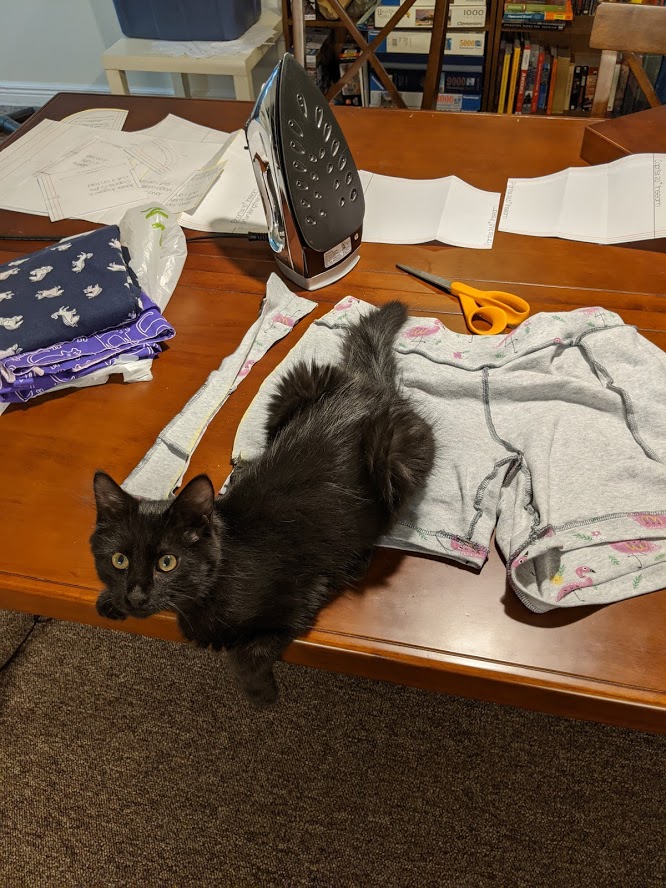 I sewed up the sides after cutting, and had to re-sew the pouch for the elastic, as I had cut right through that as well, including cutting off some of the elastic as well. I figured that would be the best way to do it, because the elastic also seemed to be too big. I like how the bottoms cinch in now, with the additional half-inch cut toward the bottom.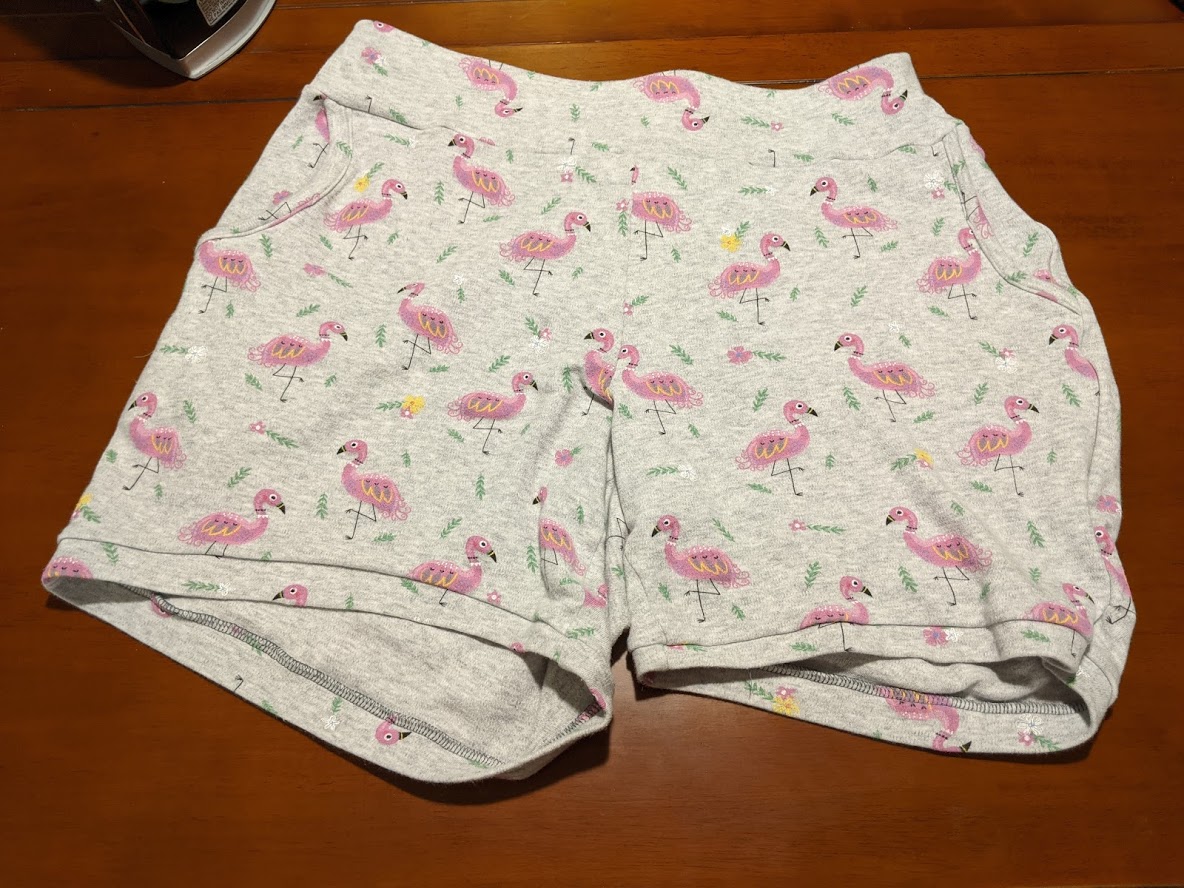 The shorts turned out really well and I'm so happy I made the cuts. While the shorts technically fit me initially, they were far too baggy to be truly comfortable in, and I didn't like the way I looked while wearing them. I'm really happy I took the plunge of trying something new and resizing something I myself made. I actually don't think I've ever "resized" anything, so this gives me some hope that I could do this again for future purchases (or mistakes in my own sewing!)