Disclosure: Some links on this page below are affiliate links, meaning, at no additional cost to you, we will earn a commission if you click through and purchase. Read our disclosure for more info.
As a Halloween bonus, I thought I would include a little post about a Captain America-themed sweatshirt I made for Rami. After my previous Batman sweatshirt for Rami, he kept asking me for a Captain America sweatshirt. Even though I kind of figured he has enough costumes for a 3.5 year old boy, I relented. I was excited to reuse the Brindille and Twig pattern for a hooded raglan sweatshirt.
I found some cheap sweatshirt fabric in a pretty blue color at Joann Fabrics to start with. I knew I would use white felt for the star on Captain America's chest and the "A" on his hood. But I needed the red and white striped fabric for the torso. I looked everywhere before I finally found some Witching Hour costume fabric at Joann Fabric. Unfortunately, it wasn't vertical stripes, which was what I wanted. I had to make horizontal stripes work! I also found blue matching fabric with silver stars (like the flag) that I thought I could incorporate somehow.
I basically took the same steps as the last time, for reference see my previous post: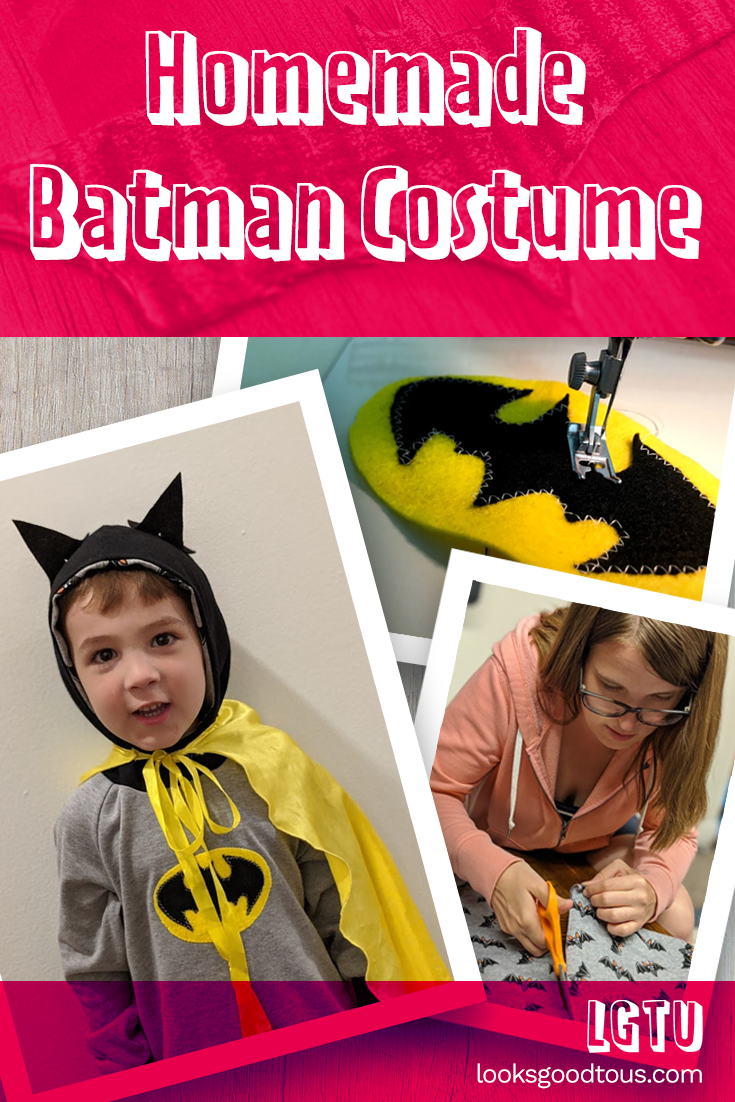 Instead of cutting full pieces from one color for the torso and sleeves, I cut half pieces in one color and half in the other.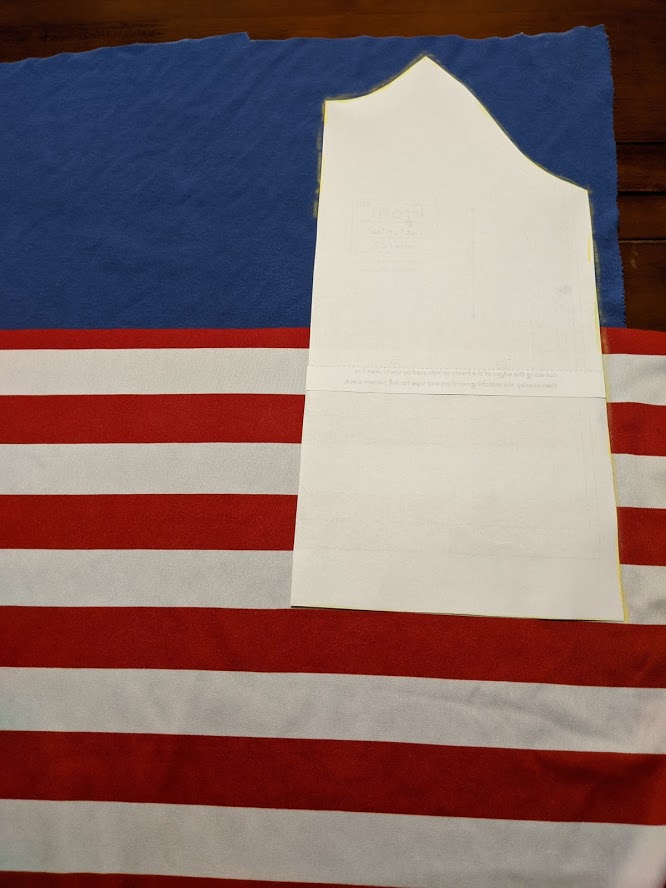 As you can see, I used my serger to connect the color and measured to make sure they were the same on both sides. I ended up deciding to do the red and white stripes for the torso and some silver stars on blue for the edges of the sleeves. Because the Witching Hour fabric was more like a spandex feel, I decided to use the sweatshirt fabric to make the ends of the sleeves and the band on the bottom.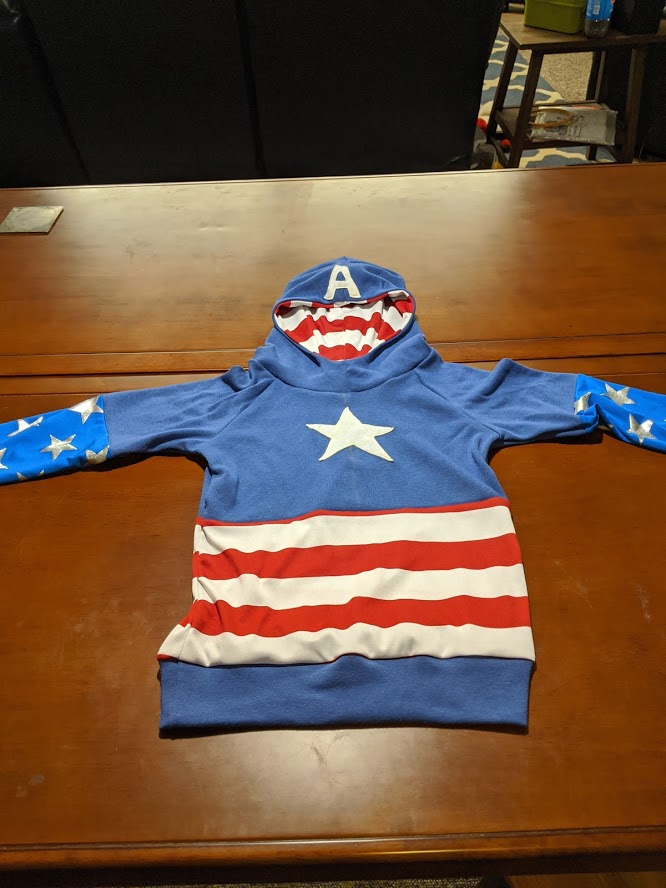 I also used the red and white stripes inside the hood, which I think really made everything pop and come together well. This was an easy sweatshirt to make, even with the stripes facing the "wrong" direction. I think a lot of these Marvel superheroes would be very easy to adapt onto this sweatshirt pattern. I've considered Iron Man next, and I'm sure Rami would love that. I've also been thinking outside of the superhero realm, and would love to make a sweatshirt for Kristoff from Frozen or even Olaf. I could even do something like Thomas the Tank Engine or an animal sweatshirt. I think the possibilities are kind of endless, depending on what the kids are interested in at that moment.
I saved the best part for last: here are some pictures of Rami wearing and enjoying his new Captain America sweatshirt. He LOVES wearing it and gets lots of compliments at preschool. He was so proud to have it on. He makes us call him either Captain America or Steve Rogers when he wears it!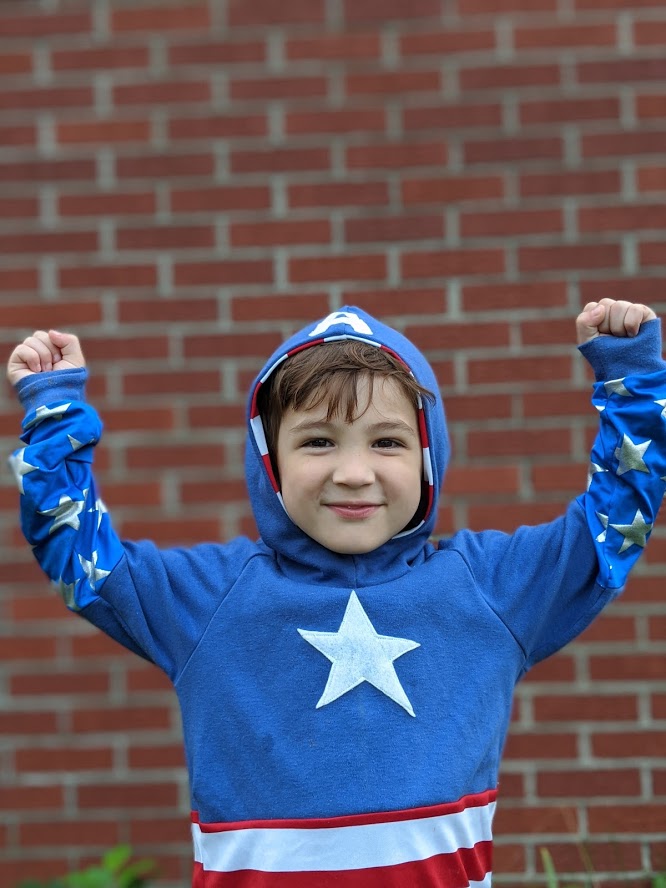 He is so dang cute. He's a very serious super hero and loves to run around saving the day!