Disclosure: Some links on this page below are affiliate links, meaning, at no additional cost to you, we will earn a commission if you click through and purchase. Read our disclosure for more info.
I can't believe I'm already working on Halloween costumes for 2020. I'm hoping that we can at least have a somewhat normal Halloween, despite Covid changing most social things in life right now. I had actually planned on doing Peter Pan costumes for pretty much the entire year, since Rami mentioned it as a possibility last Halloween. We had even narrowed down our roles: I would be Tinkerbell, Saira would be Wendy, Rami would be Peter Pan, and Kamran would be Captain Hook. I attempted to convince Rami to be Captain Hook several times, because I felt daunted by making a huge red cloak for Kamran. Alas, he could not be persuaded away from Peter Pan.
Until my sister bought him a Batman storybook.
After reading stories about Batman and Robin fighting The Penguin, Poison Ivy, and of course Joker and Harley Quinn, Rami was convinced that we needed to be Batman characters for Halloween. I initially balked at this; I sometimes feel like when I've been expecting a certain thing, I'm not able to switch gears to something else. I also feel like Batman can be very violent and is associated with an unsavory aspect of law enforcement and vigilantism. I think too much. I was Batman for Halloween (yes, Batman) when I was 3. Rami is more interested in stories than in the fighting or violence of it all. Plus Batman costumes seemed like they would be easier to sew myself. I was convinced.
Batman
I started with Rami's Batman costume, of course. I knew he would be the most excited, so I wanted to get his done first so he could also use it for playtime and dress-up over the summer. I happened to be at Joann Fabrics for some other fabrics, and found a cute batty pattern that was super cheap.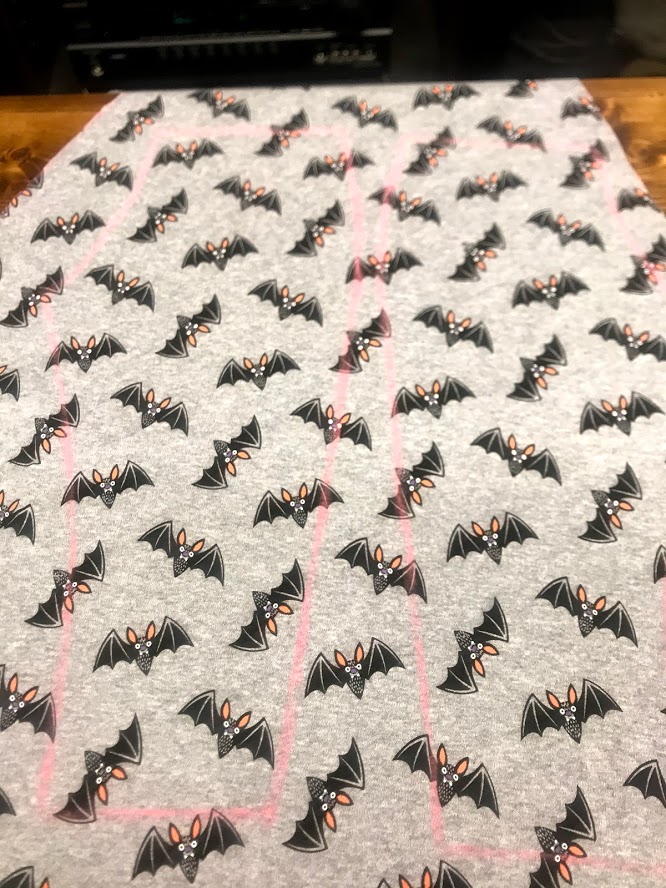 (They no longer have the exact pattern, so here is a similar pattern that I would probably get if I had to find a substitute!)
I know, I know, Batman doesn't have a cutesy bat pattern at all, but I'm not going to clothe my kid like Christian Bale or George Clooney.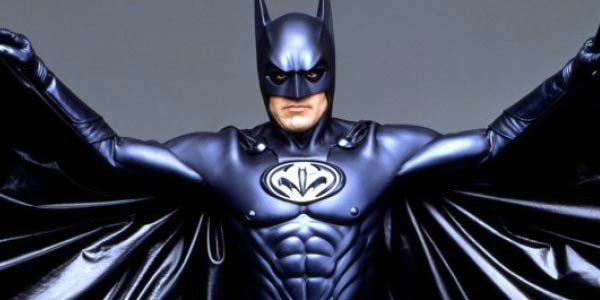 I'm hoping for closer to the spirit of Adam West's Batman.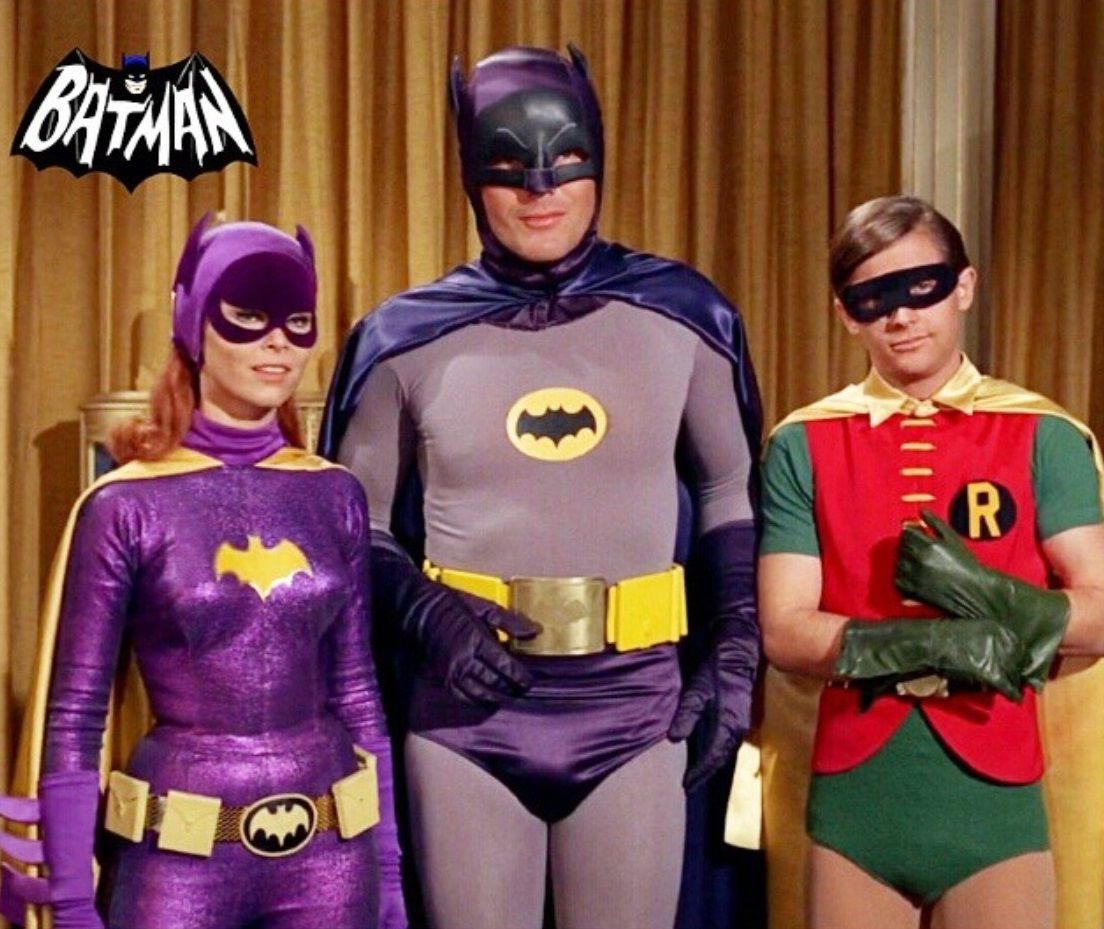 So, I basically remade the Toddler jogger pattern that I made before, for both Rami and Saira. I cut my pieces out from the pattern, making them slightly larger for Rami, and and quickly whipped everything together. I honestly think I got both pairs of joggers done in an afternoon.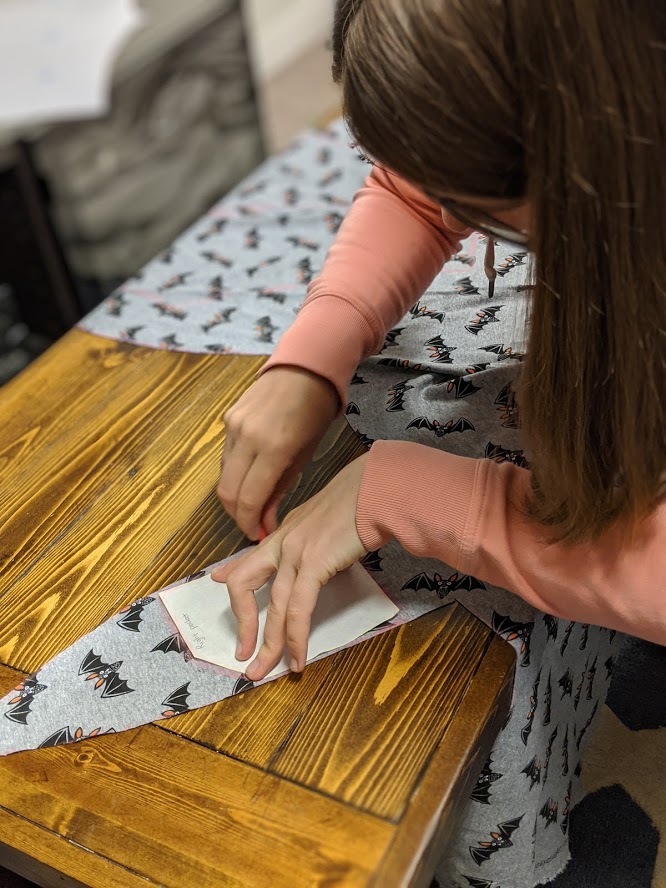 Cutting the pieces was fairly easy, and so was everything using my serger!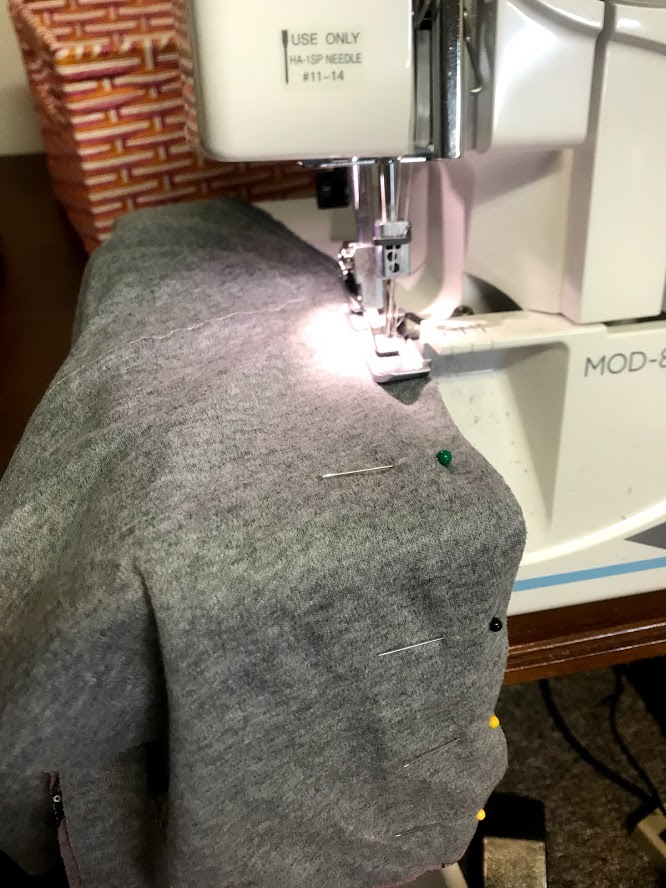 The final products were great! However...when I put Rami's new bat joggers in the wash and dried them, they shrunk! I'm pretty sure I prewashed them, but I guess maybe I didn't if they shrunk? So we ended up deciding to just have him wear a pair of black pants for Halloween. I did not have the patience to make more joggers at that point. I guess Saira gets two pairs of bat joggers now!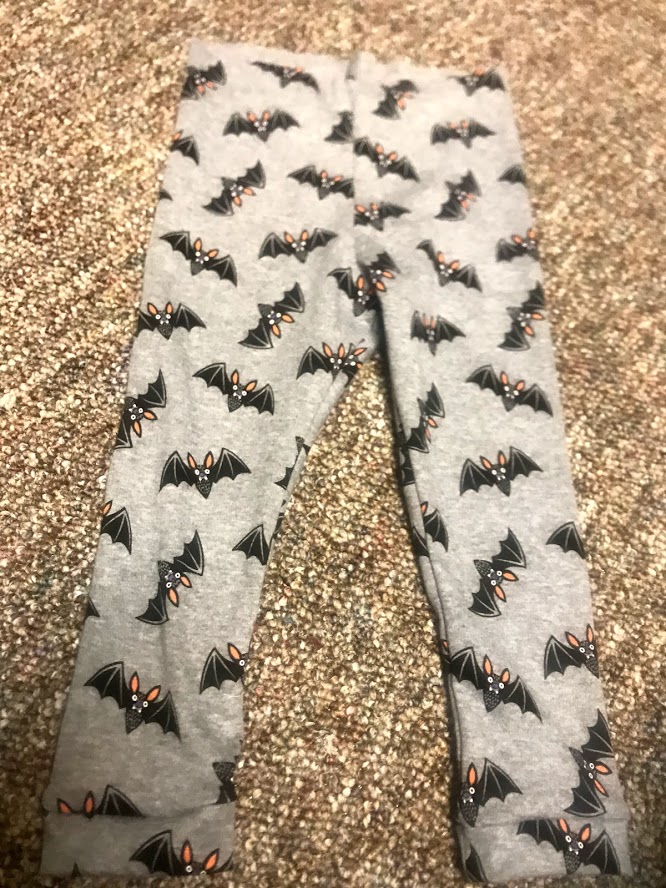 Next, I cut out the bat signal for his shirt. I googled for "bat signal stencil" and found a perfect one. I then printed it, traced, and cut it out.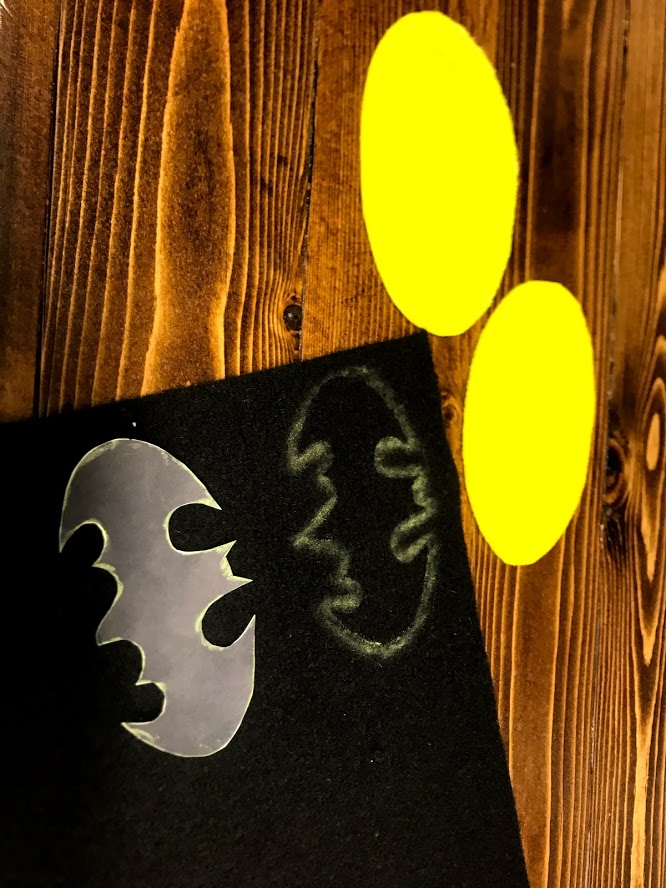 Pretty easy! I sewed it together with a zigzag stitch and light-colored thread because I wanted to give it a cute homemade look. I won't get away with that once he's older, so I wanted to ham it up a little now.
I went back and forth about how I would make the full Batman costume, honestly. Should I make a full batsuit, with a zipper or buttons? Kind of hard for a preschooler to put on and take off, maybe? Do I make a long-sleeved t-shirt? Finally, I found a great sweatshirt pattern from Brindille & Twig that worked well for what I wanted, and seemed easy enough to do!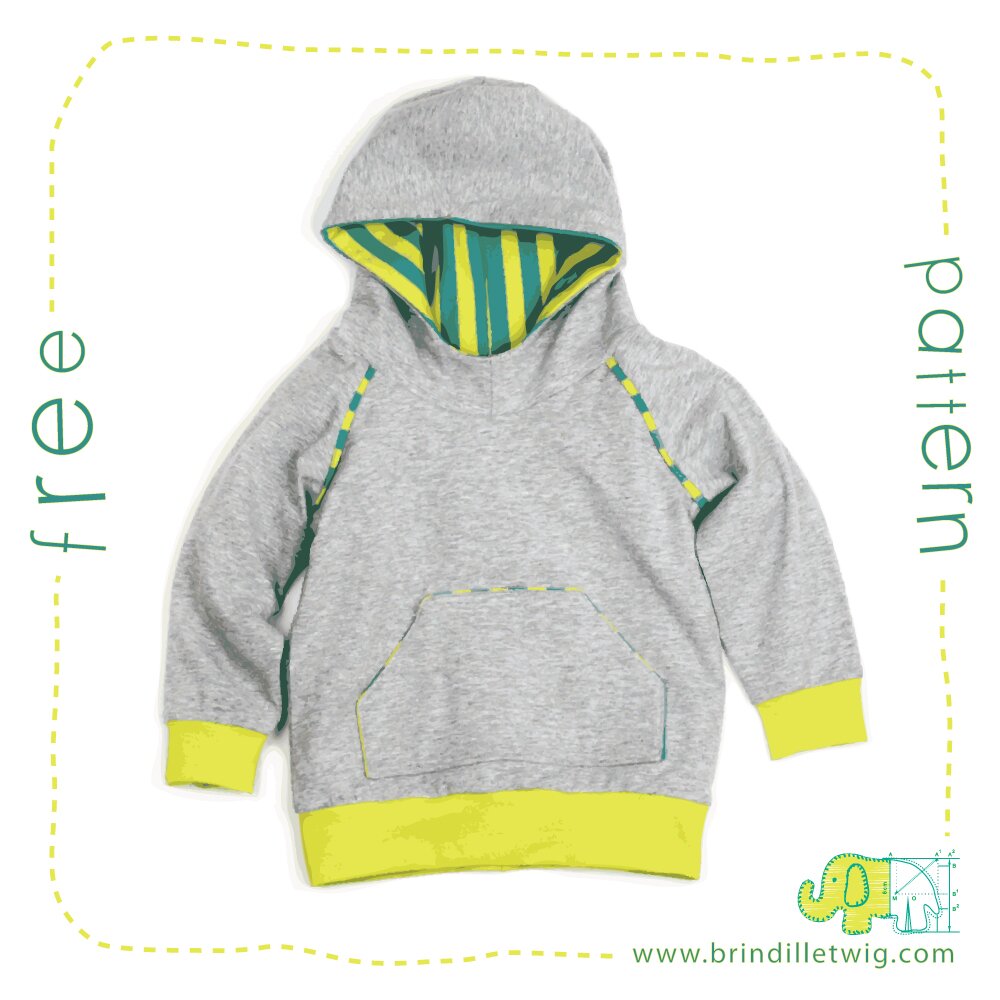 To start, I printed out the pattern and cut out my pieces. I went with the 5T pattern, even though my son is 3.5. I want this to fit him for awhile, so he can get some good use and enjoyment out of it!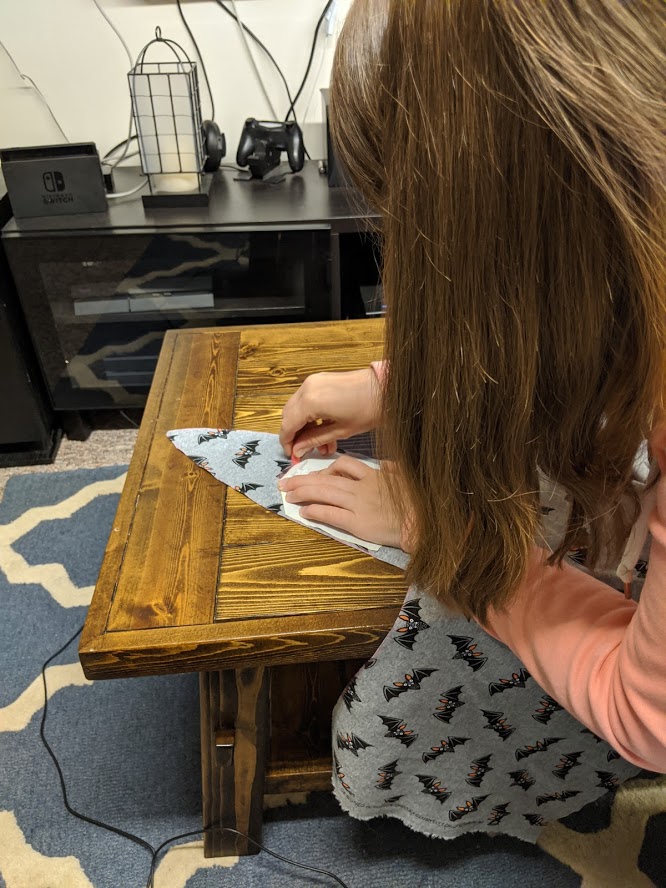 I decided that the hoodie lining and the bottom band would be the same bat fabric, for some consistency and a little flair. I had some gray sweatshirt fabric that I got from the Joann scrap bin for two dollars one time, and the black fabric is actually from an old t-shirt that belonged to Kamran. I'm really trying to keep these costumes as cheap as possible!
First, I attached the Batman logo to the front of the sweatshirt.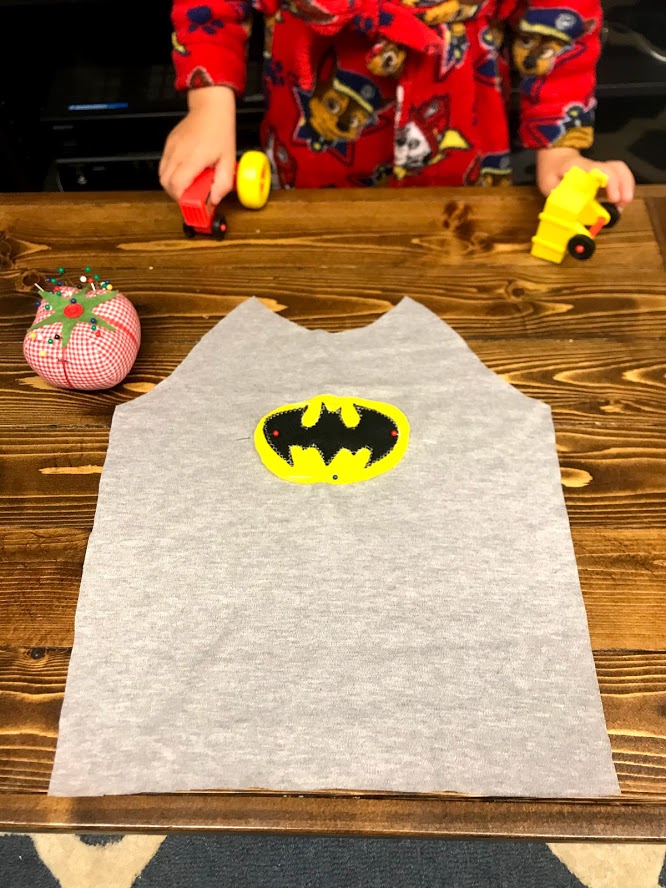 Next, I attached the sleeves to the front and back piece. This was pretty simple; however, the sleeves are measured and cut to have a "front and back" edge of the sleeve. The directions were actually kind of unclear about which side was which (They say "the lower side," but it's unclear what that means...or I'm just not as literate with sewing patterns as I could be!). The pieces could be better labeled, but ultimately I can't tell the difference, even though I'm 100% sure I have one sleeve on backwards!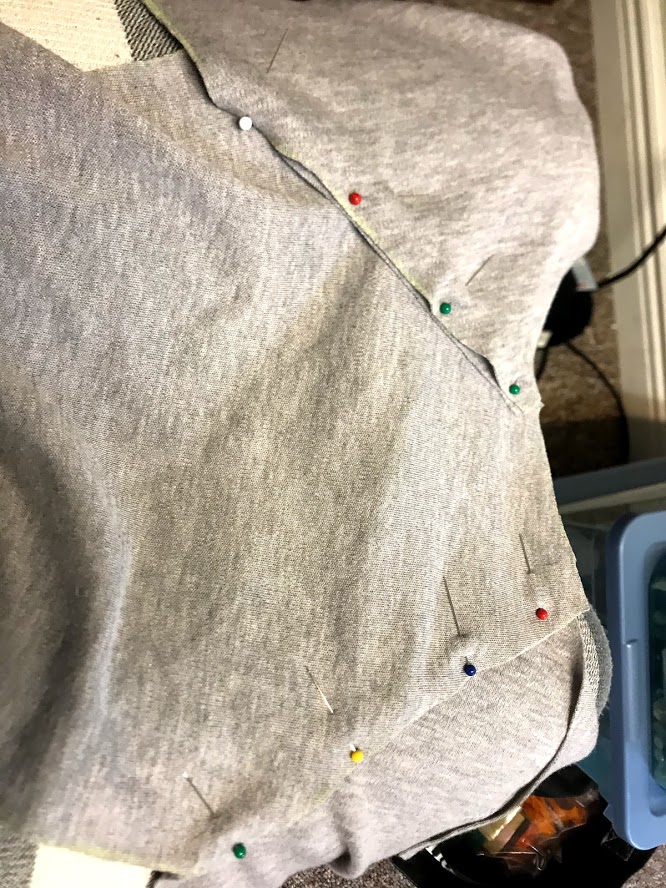 After I attached the sleeves and had a pretty good sweatshirt shape, Rami was ecstatic! He basically decided his costume was done and ready, and wanted to wear it around the house.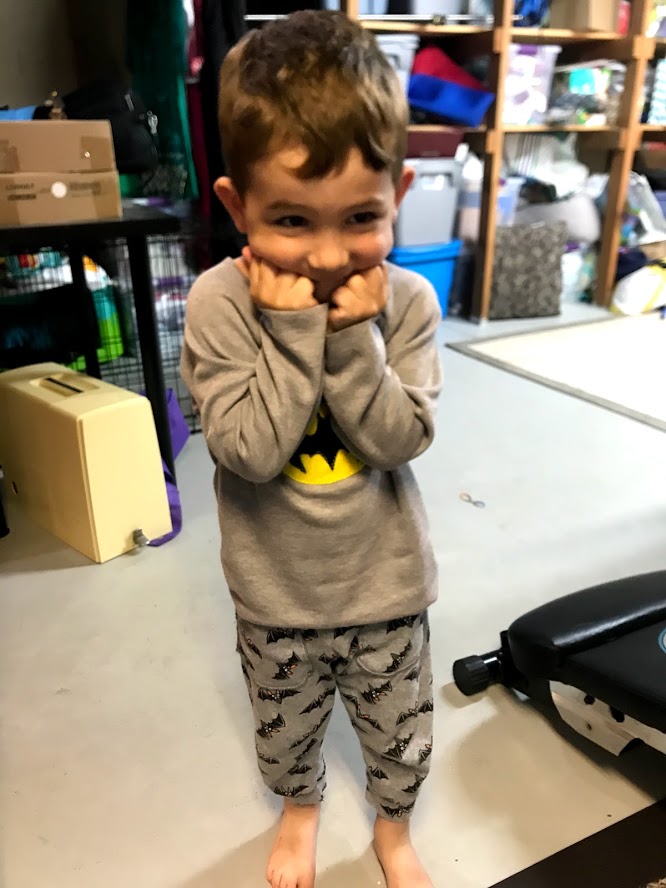 Next, I attached the cuffs to the sweatshirt. This was fairly easy, and I think the black really started to pull it together.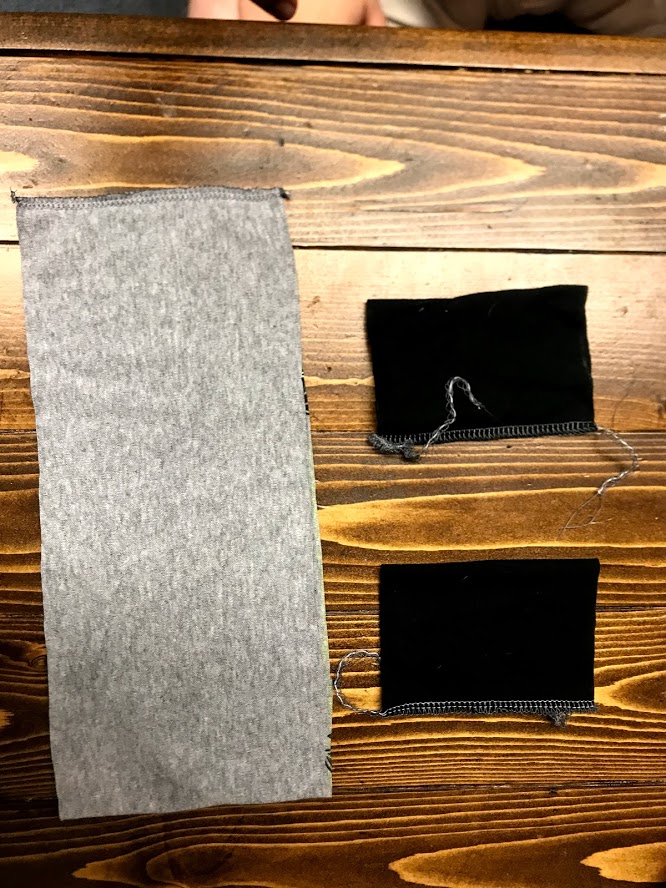 Next comes the bottom band! I was on a roll, this was a really fun pattern, and it was pretty entertaining to watch Rami try it on after every alteration.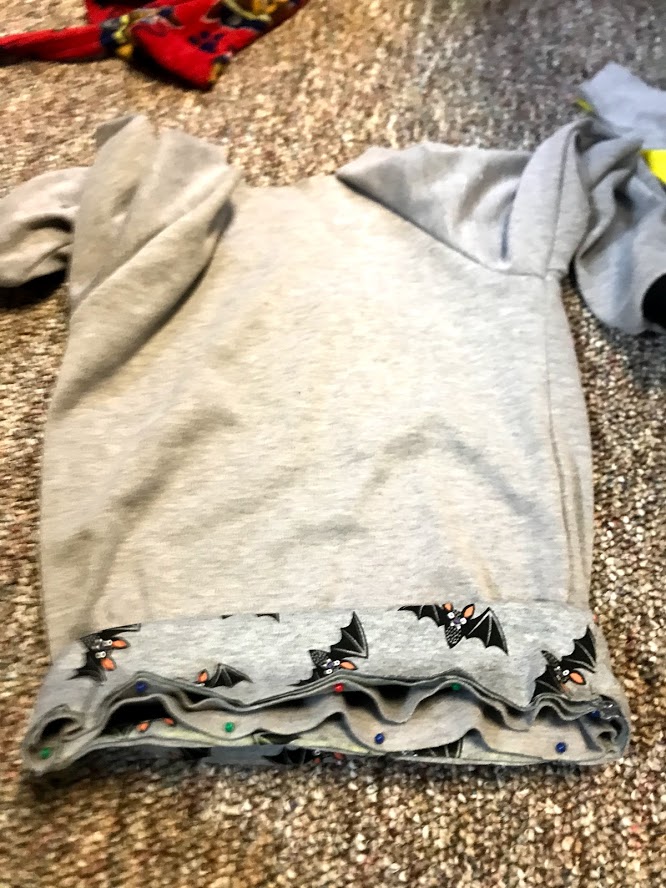 And lastly, the hood. It was pretty simple, sewn with right sides facing then slipped inside out for the very last part. It ended up being a super soft hoodie fabric, and just pulled the whole look together so well. And of course I had to add some felt ears to the top!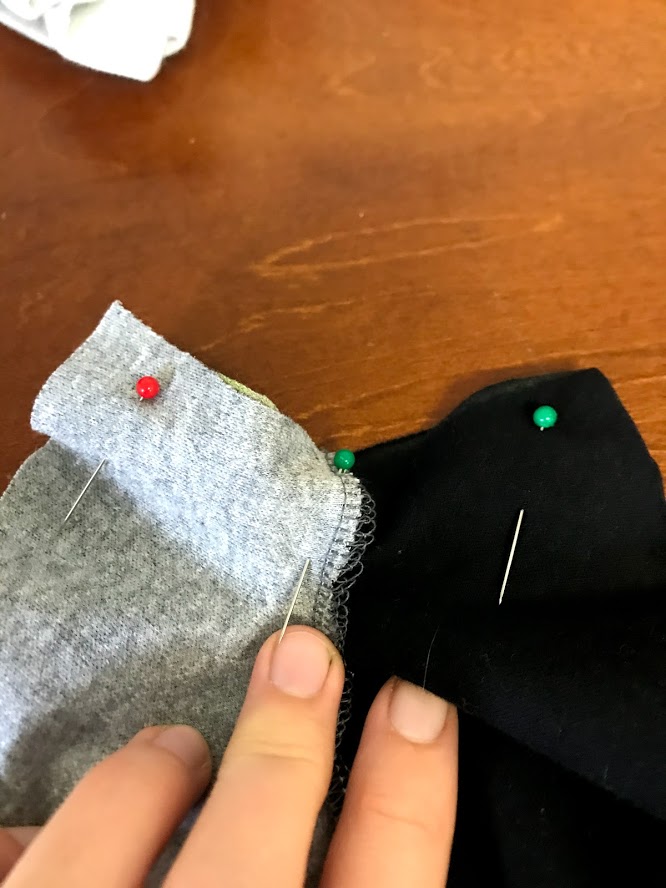 Rami was in love! He basically wore his Batman sweatshirt for a week and refused to wear anything else! This was of course in the middle of a hot Minnesota summer, so it was slightly problematic, but we made it work. I ended up designing a utility belt using gold elastic and a large parachute buckle. I cut out pieces of felt for the backs of the pockets and used a glossy gold fabric for the front. I sewed all the pieces together, and hand-sewed the pockets on to the belt. I think it was pretty nifty!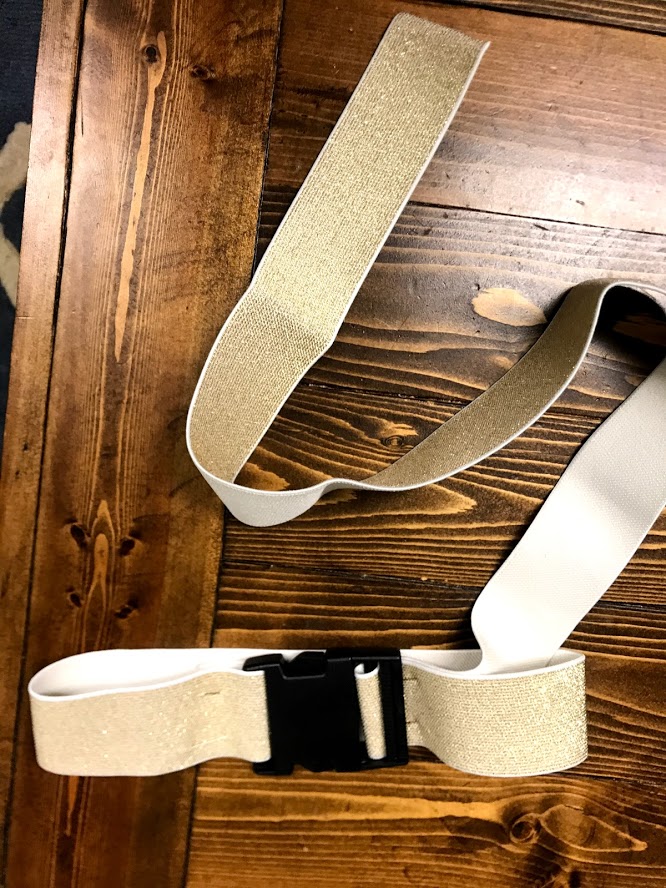 All of the fabrics can be found here:
Buckle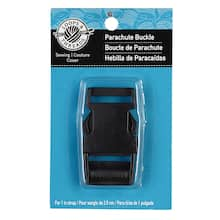 Belt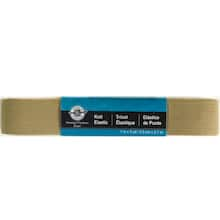 Fabric
Felt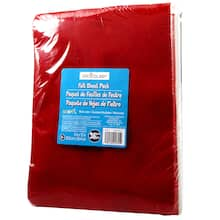 Kamran used the bat symbol stencil to cut out and color some cardboard Batarangs: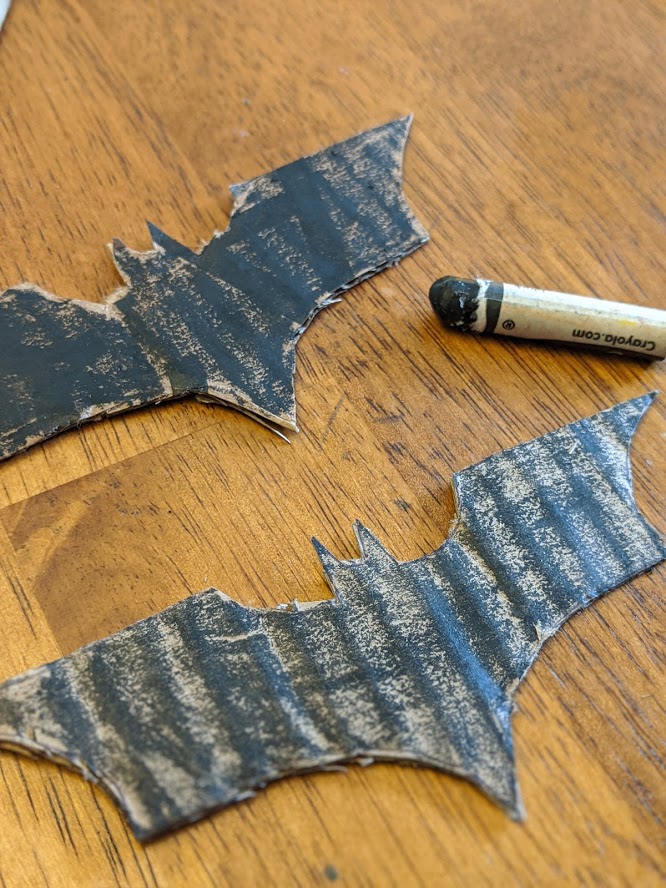 Rami was so excited and happy to have a completed Batman costume. He has really gotten into pretend play recently, and wants to constantly play out different stories. Many of them involve superheroes, like Batman, Catboy or Gecko from PJ Masks, and of course Spider-Man. It's pretty amazing to watch kids use their imaginations, and discover what they can dream up!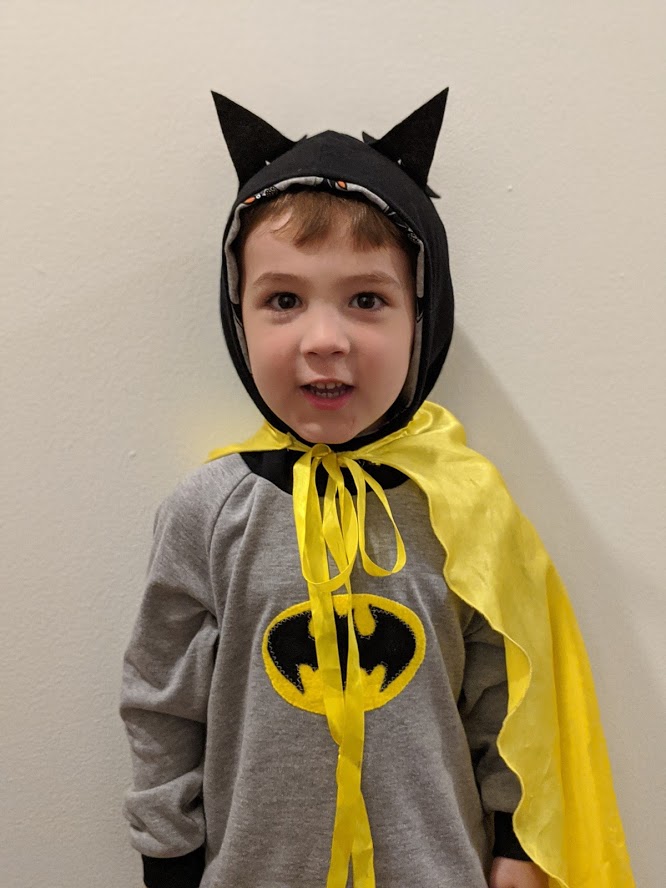 I'll continue with the rest of our family costumes in two weeks. Tune in next time,
SAME BAT TIME!
SAME BAT CHANNEL!