Disclosure: Some links on this page below are affiliate links, meaning, at no additional cost to you, we will earn a commission if you click through and purchase. Read our disclosure for more info.
For Christmas, my aunt got me a bunch of fabric, thread, and elastic to make the kids some pajama pants. I was excited for a short and sweet project, so I began looking around for pajama patterns using woven fabric. A lot of the comfy jogger-style pajamas I've found patterns for obvioiusly require knit fabric, so I needed something that suited the flannel fabrics I was given.
I ended up finding a free sewing pattern from Sew Jereli, which I located through AllFreeSewing. The pattern was super easy; just print and put it together! Easy for a beginner, and very quick. I sewed up both pairs in two nights after the kids went to bed (for reference, that means I start around 8 and finish around 10. That is, if Saira is cooperating and will go to sleep right away!)
Fair warning, the pattern is pretty baggy. It really has to be, since the fabric is woven, and it does look extremely cute to watch Saira toddle around in her big MC Hammer pants. I started with Rami's pants, and documented them a little more closely, so I will start there.
First, I printed out the pattern, assembled and cut out, and then cut out the fabric.
I was excited about this fabric - Rami recently watched Finding Nemo (he has now seen like 5 movies total; we have started to have "movie nights" due to quarantine, though usually we have no screen time for the kids). It was fun to watch Rami name all the Nemo characters he could find on the pants - Bruce, Dory, Nemo, Marlin, etc.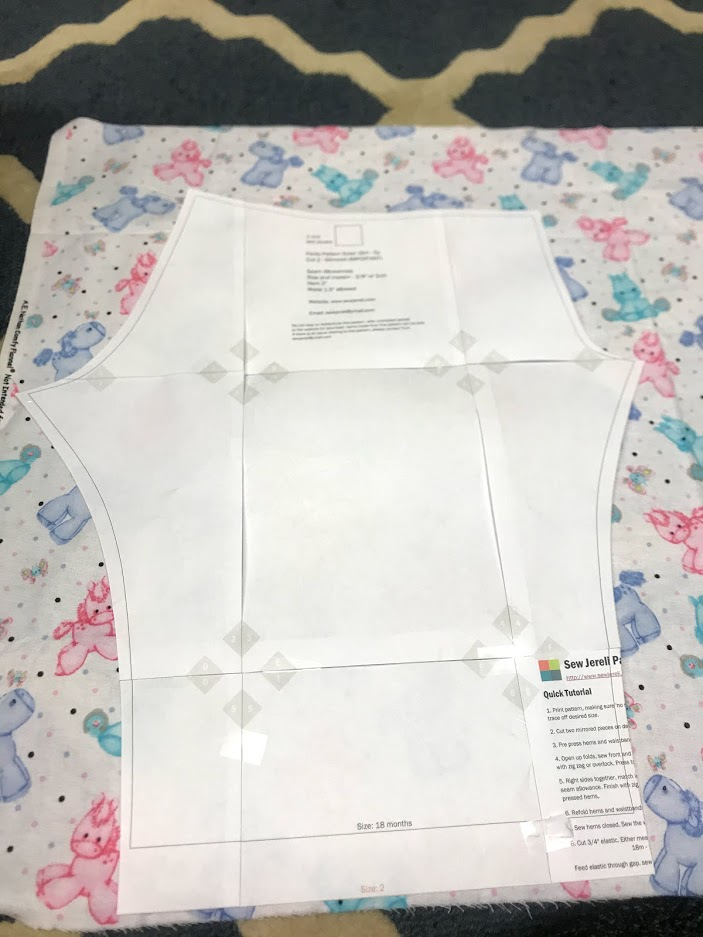 Saira's fabric has cute little horses, which totally fits her. She and Rami both love to cuddle with stuffed animals. Saira has more recently started this, and when she is given her stuffed rabbit Berry (named after her favorite food), she gets such a wide smile when she hugs it!
After cutting out the fabric, I took it over the sewing machine and assembled it. I have to be honest, I sort of stopped reading the directions after cutting out the pattern, because it seemed pretty intuitive to me. I think that speaks to how simply the pattern is put together, and definitely gives it another plus, in my book!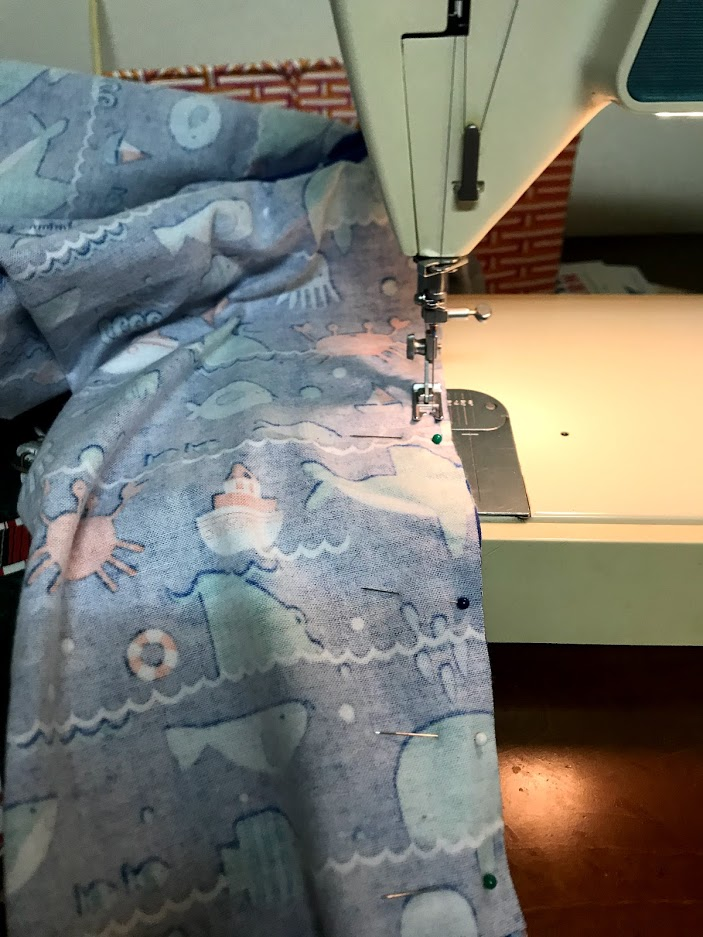 Very simple stitch-up, no big issues here. The fabric was easy to work with and I was able to veg out and listen to podcasts, as per usual. Now I had something that looked like pants, and just needed to hem and add elastic!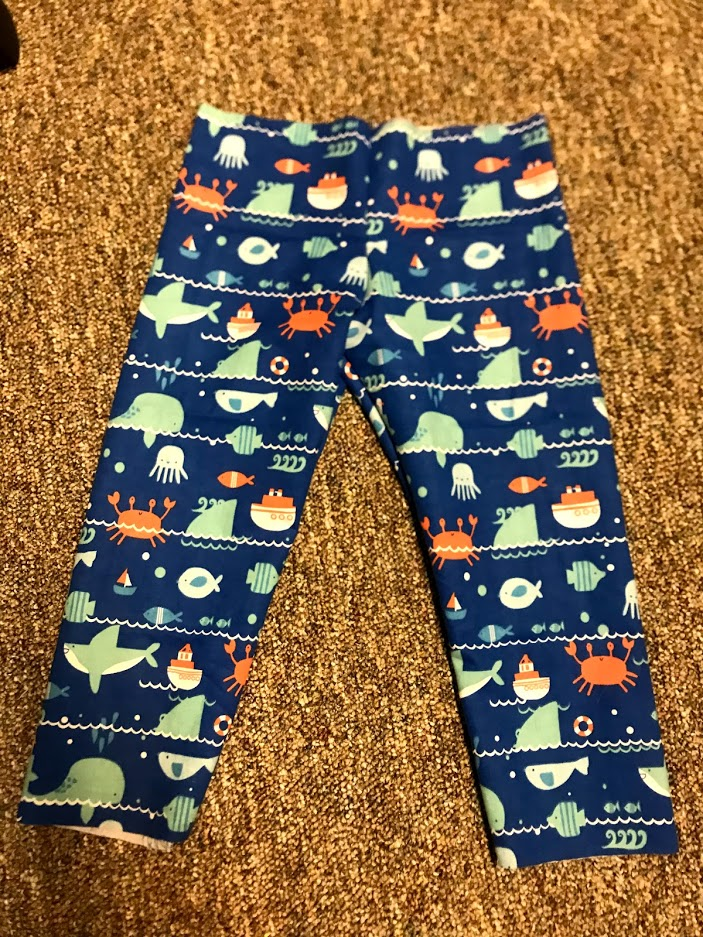 The only thing I would do differently next time is I overcompensated with how much space I left for the elastic, and made the crotch a little too short. It hasn't been a problem for Rami yet, because I made a size 4 and he's still 3. It's still probably fine, but I would measure a little more closely if I were to do it again. In fact, I measured much more closely when I made Saira's.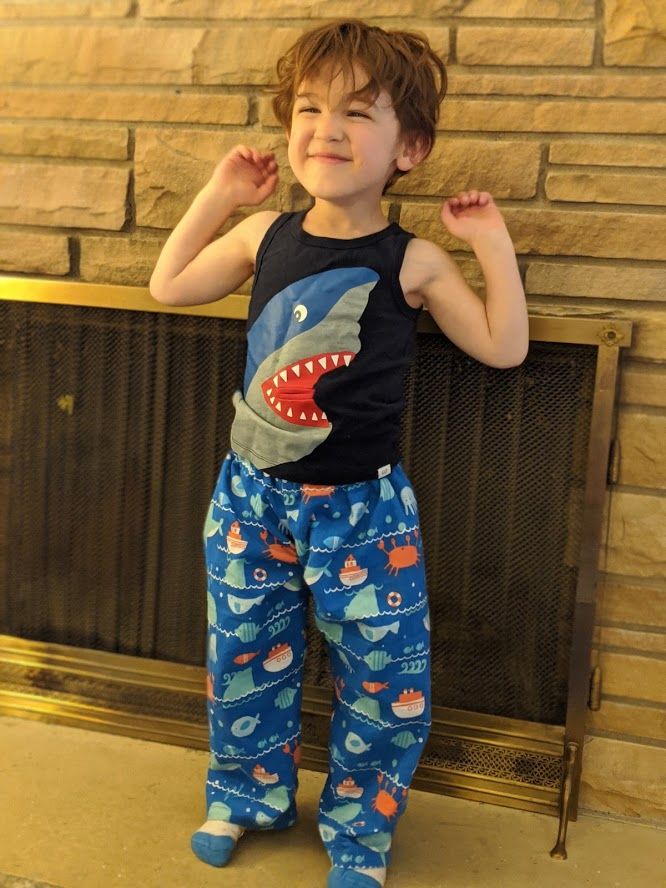 I finished Rami's pants around 10pm, and laid them on his chair at the table because I knew he would see them right away at breakfast. When he came into the room the next morning, he burst into a big grin when he saw the pants and immediately had to change into them. He was so happy! I'm going to have to remember that when he's 12 and telling me "Oh my god mom, don't sew me stuff, it's so lame." I'm going to soak it up while I still can!