Disclosure: Some links on this page below are affiliate links, meaning, at no additional cost to you, we will earn a commission if you click through and purchase. Read our disclosure for more info.
I mentioned in my earlier Flamingo Shorts post that I purchased the Java Joggers pattern from Peekaboo Patterns on Etsy. I thought I would write a longer post about my experience using this pattern and give a review of my thoughts about the ease and readability of the pattern.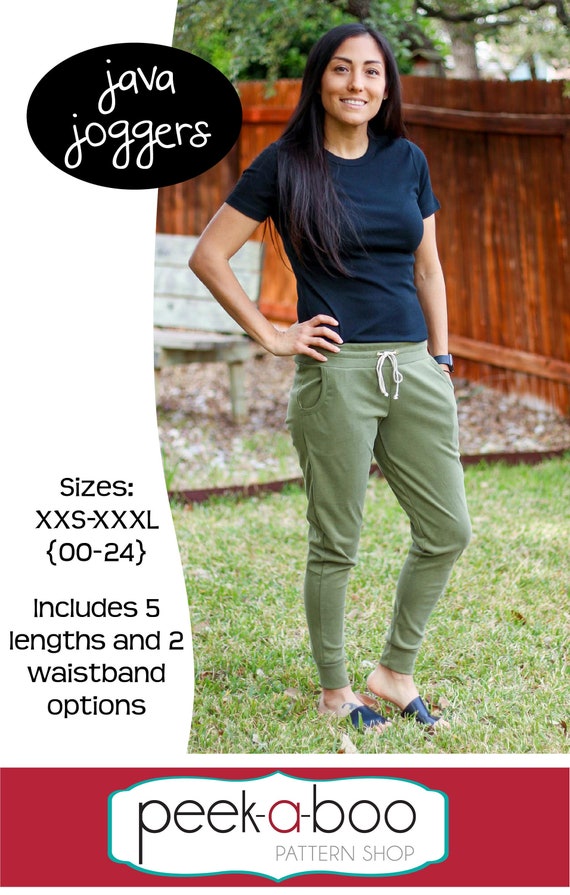 Let me start out by saying that I was honestly kind of skeptical when I first saw the pattern. It really looked like exactly what I was looking for in a sweatpants pattern. I had been searching Pinterest and a few other places for months to find a good joggers pattern before I turned to Etsy. I immediately found the Java Joggers pattern and couldn't believe it. It was just $10 for so many different uses (pants, capris, and shorts), plus it has 5 star reviews? I had to buy it.
I was super excited to get started on the pattern, and wanted to make my sister and I matching pairs for Christmas. I bought some lovely maroon sweatshirt fabric from Girl Charlee (I have since purchased the same fabric in the Delft blue and heather gray).
I printed out the pattern pieces, taped them together, cut them to size large for my sister, and got my pieces cut out.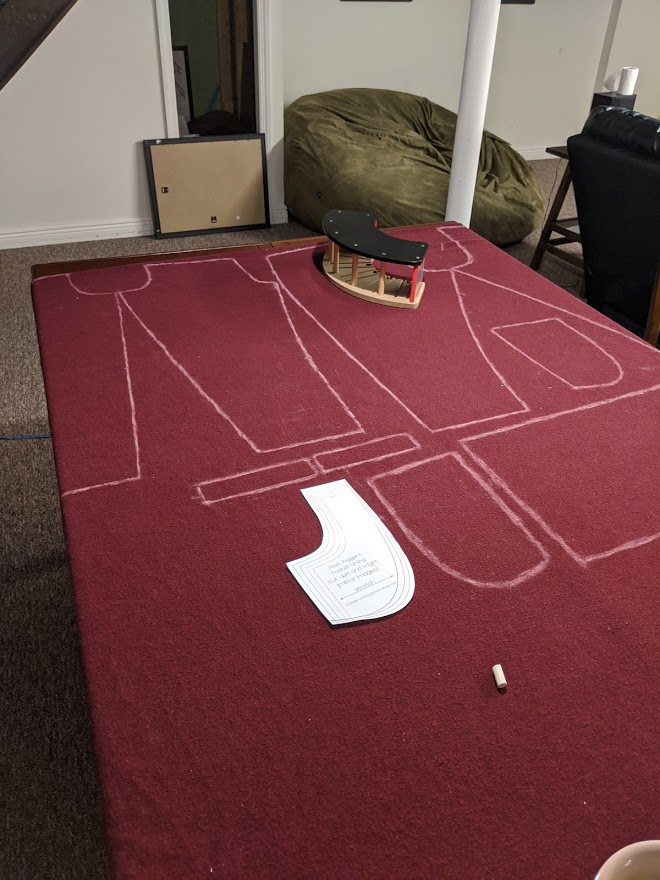 The pattern itself is quite simple, though I was initially not great at the pockets. I think since buying my serger, I have relied on it so often that I feel like regular sewing machine stitches just don't look as nice, fancy, and polished. The pockets use basting stitches to get everything into place, then rely on a piece that is turned into a border. When I first tried it, I only had an orange thread that could work for my maroon pants. I ended up pulling everything out and buying some maroon thread. I usually forget to get similar colored thread when I start a new project, I just don't think of it!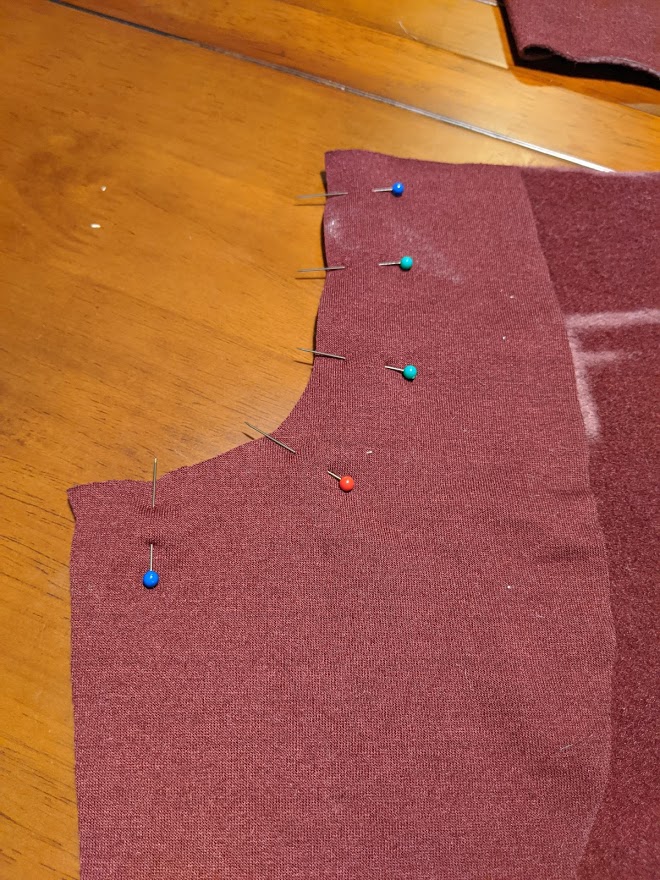 As you can see in the last picture, I bought some maroon thread and redid the entire outward pocket. It ended up looking much better after I tried everything again and ironed the pockets down afterward. I really would recommend the post-sewing ironing.
The next step was to connect each front piece to each back piece, then pin them together, with one inside the other. I actually really appreciated this ingenious little way to attach the pant legs to each other. It was a lot faster and smoother than I've done it in the past when making leggings and sweatpants.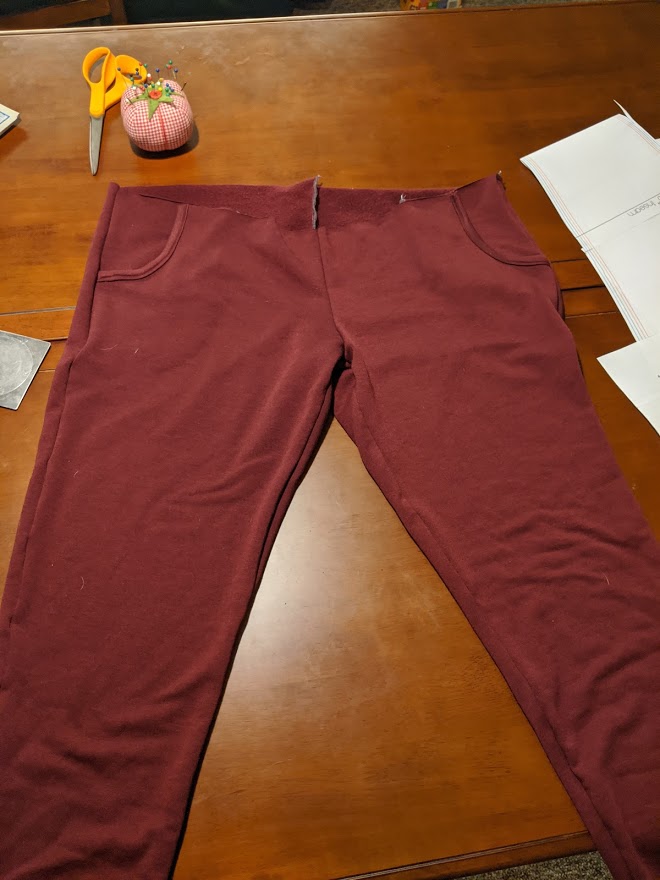 The finishing touches are of course the cuffs and the waistband. The waistband has two styles: yoga pants-style (a large folded piece of fabric) or elastic waistband. My sister wanted the yoga waistband, and when I tried on her pants for style and size, I knew I would want the same. I'm sure the elastic waistband is fine too, but I really like the yoga pants style.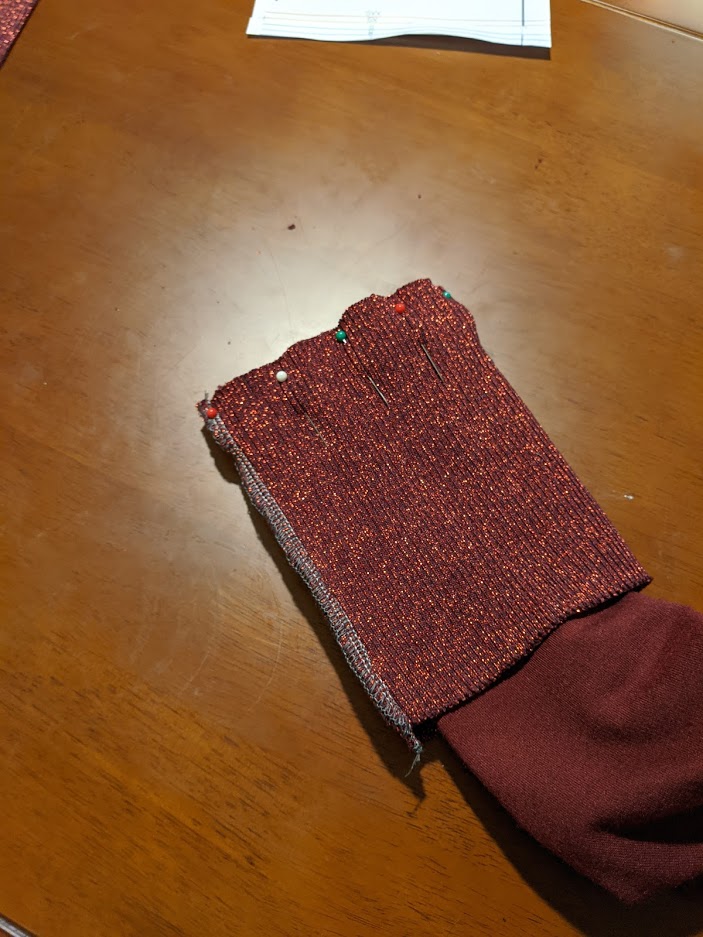 I purchased a cuff fabric from Mood Fabrics, but didn't read the fine print and ended up with a sparkly cuff! The color matched much better than I would have guessed, but the sparkly fabric was really itchy and didn't work for a jogger cuff. I ended up removing it and using the same Girl Charlee sweatshirt fabric. I really do learn a lot from my mistakes!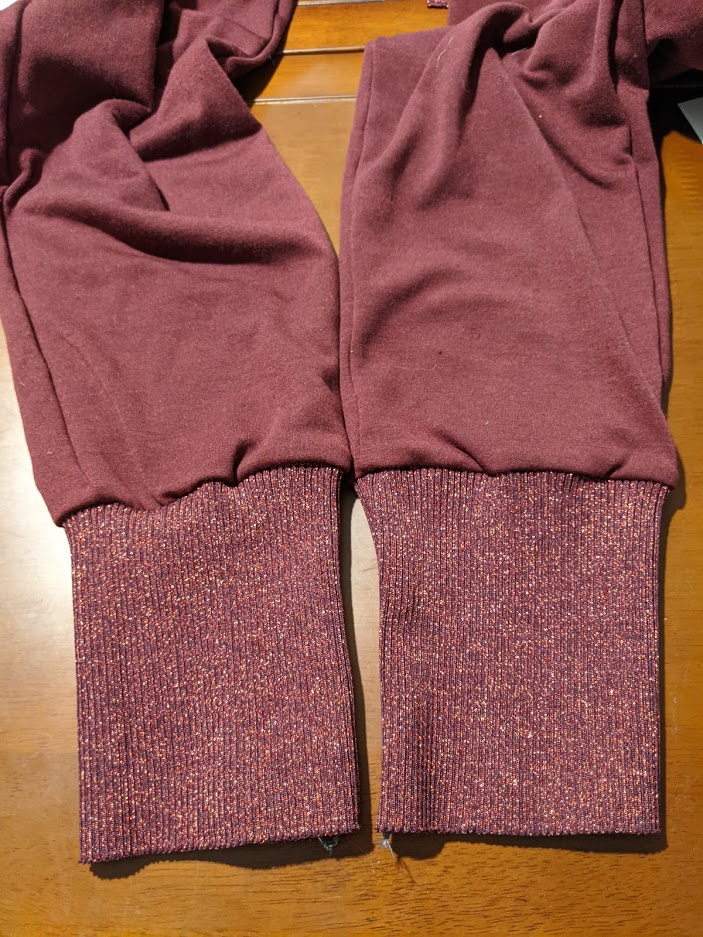 I have now made the Java Joggers pattern three times. Once as a gift for my sister's birthday, and twice for myself. I've worn the maroon joggers probably 15 times, and the blue joggers two or three times. The fabric has held up well, with some pilling around the thigh area (this is more the fault of my thighs than the fabric or the pattern, however!) I am somewhat concerned that I will wear a hole in them more quickly than I would like, but that happened to all of my pants eventually. These just mean more to me because I made them myself!
The Java Joggers pattern absolutely lives up to the hype. 👍 I am kind of hoping to buy more sweatshirt fabric from Girl Charlee on Black Friday, because they will be having a big sale. In fact, I am going to try to buy the Jordan Joggers this weekend to make for Rami and Saira, and I'll follow up by buying the Jackson Joggers for Men to make a pair for Kamran. As I told Kamran, I really hope joggers don't go out of style any time soon!
I'm actually just about to begin working from home again, so I knew I would need some primo jogger sweats to wear so I could work in comfort and style. I am so ready for winter!