Disclosure: Some links on this page below are affiliate links, meaning, at no additional cost to you, we will earn a commission if you click through and purchase. Read our disclosure for more info.
Perusing Pinterest for dress patterns I came across the famous Hinterland Dress. It's beautiful, can be both casual and a little fancy, and lots of people use linen.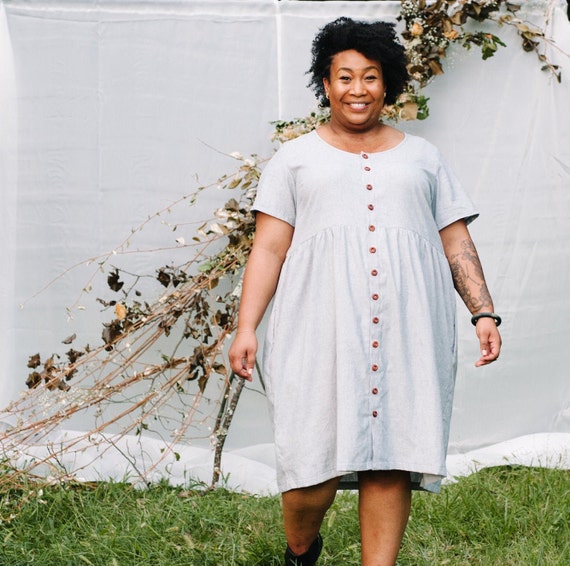 I initially saw the Joann Rainbow Hinterland Dress from Sew Much Ado, and of course fell in love with her interpretation and the use of the Joann Rainbow fabric. I really loved how the fabric flowed around her, and liked the idea of making the version with shorter sleeves and a shorter hem. I tend to get hot or feel uncomfortable with longer sleeves, so I knew I would want to use the short-sleeved version of the pattern. I am really loving these patterns that include multiple styles.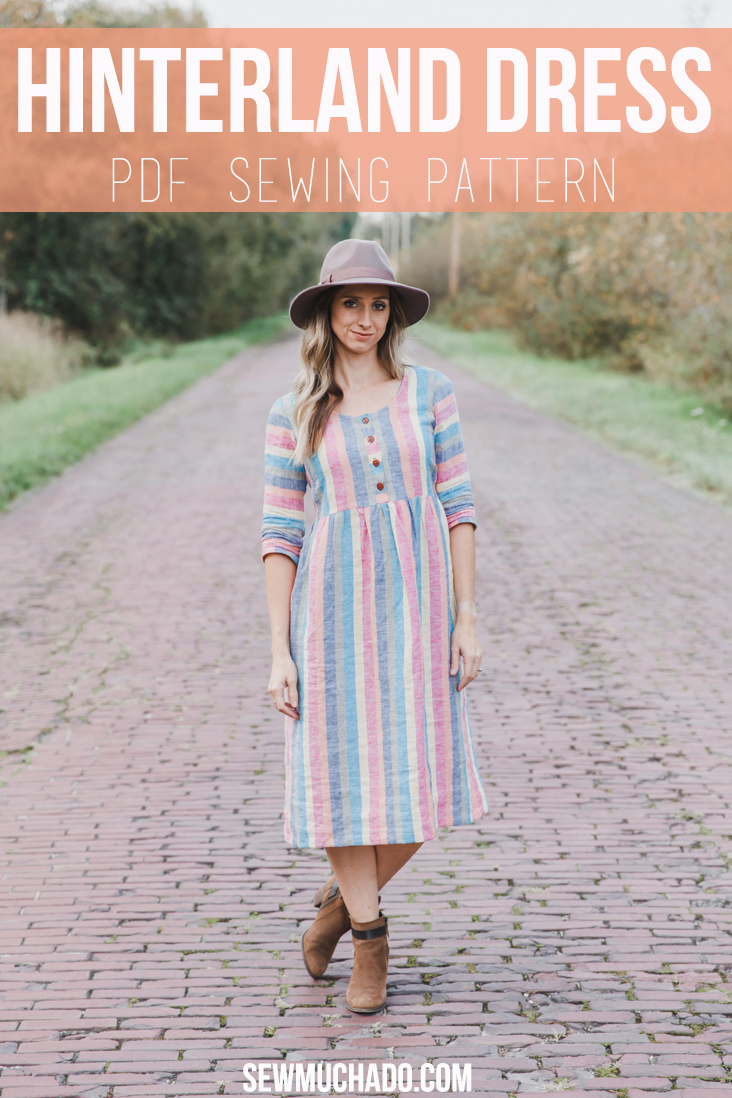 It seems like the Joann Rainbow fabric was really popular in 2019 and into 2020, so I was somewhat nervous that I wouldn't be able to find it at my local Joann. I went online and searched all the stores near me, and of course only one had it, but it was far enough away that I questioned whether I should make the trek for this specific fabric. Then on a whim, I searched my mom's town in North Dakota, and of course they had 3 yards of rainbow linen left! I texted and asked if she would have any time to see if she could get it, and she of course immediately got it right after finishing work for the day. What an angel of a mom.
I was so excited to get my linen. I washed it and stored it away until I was ready, which turned out to be about 4 months. I have this thing where if I get a fabric that I think is too fancy or too special or important, I don't want to use it because I am certain that I will mess it up. I grew increasingly nervous as I knew the day of reckoning was coming. Soon I would have to cut out my beautiful rainbow linen, and then who knows what could happen! I was so worried about sizing that I ended up making a practice muslin out of some junk fabric. I felt a lot better about the pattern after trying it out first, so I think I really should try doing that more often. It seems like a waste of time sometimes, because I only have so much time during the week to sew. With two kids under age 4, finding time for myself is difficult.
I started by cutting out my pieces. I liked having the freedom to cut in any direction, and made my back piece horizontal, while the rest was vertical, similar to Sew Much Ado's Hinterland dress. I actually spent a lot of time ironing all the fabric before cutting it out, and was on a group Zoom call while I did it. My friends were surprised at how much ironing the linen required! As you can see below, I didn't actually get out all the wrinkles.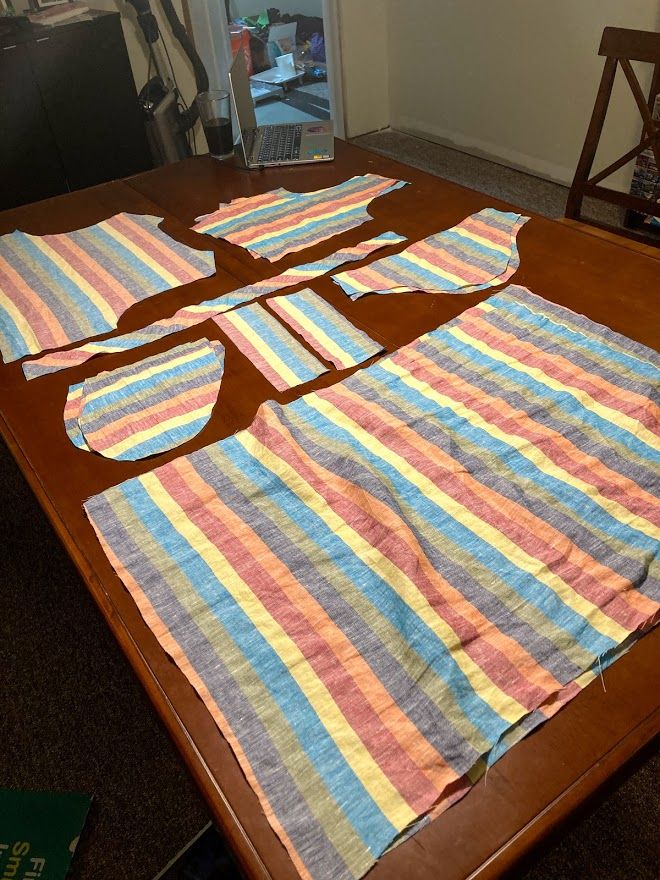 I ironed again after cutting the pieces out.
The pattern starts with the bodice. I put together my front pieces and my back piece, and sewed the shoulder seams and side seams. I had decided I would do a button-placket bodice but a non-buttoned skirt. I was excited to try out a button placket, which I don't believe I've actually done since making the Life Sew Savory School's Out dress. This was also the first time I did bodice darts. They seemed overall pretty straightforward. You can sort of see them below: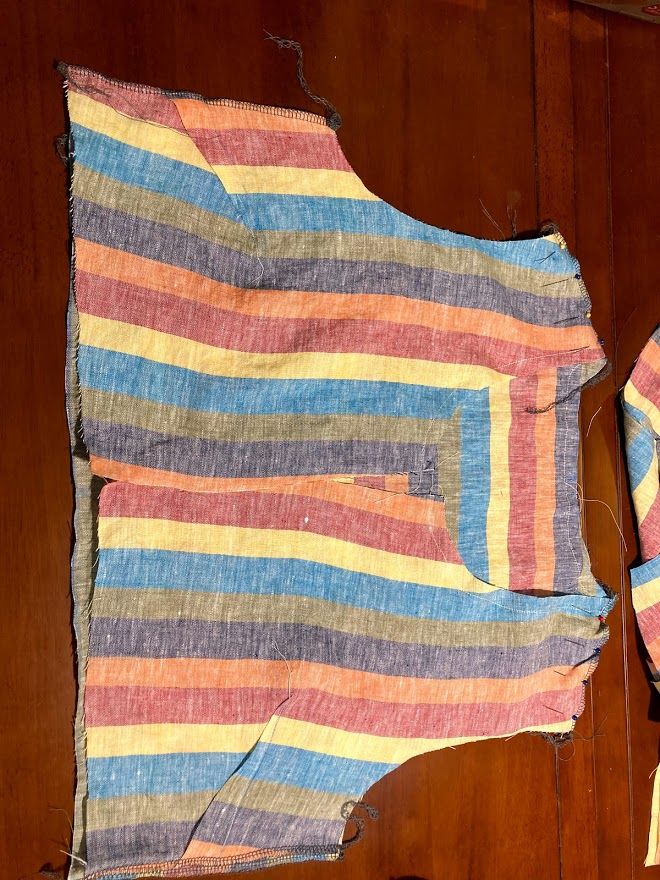 I use chalk when I stencil out my pieces, and had to use the chalk for my darts too. It is sometimes tricky to get the chalk to behave and actually outline what I want to outline, but I was lucky to have figured it out here. I'm sure there's a better way, but I like chalk for this purpose, and change is hard.
Next came the neckline and sleeves. Sleeves are always fairly straightforward, and that was no different here. I decided to serge the edges of the sleeves rather than fold them over twice, which is recommended in the pattern. I like the look and feel of serged fabric so much better. I also find my serger so much easier to use than my 50 year old sewing machine!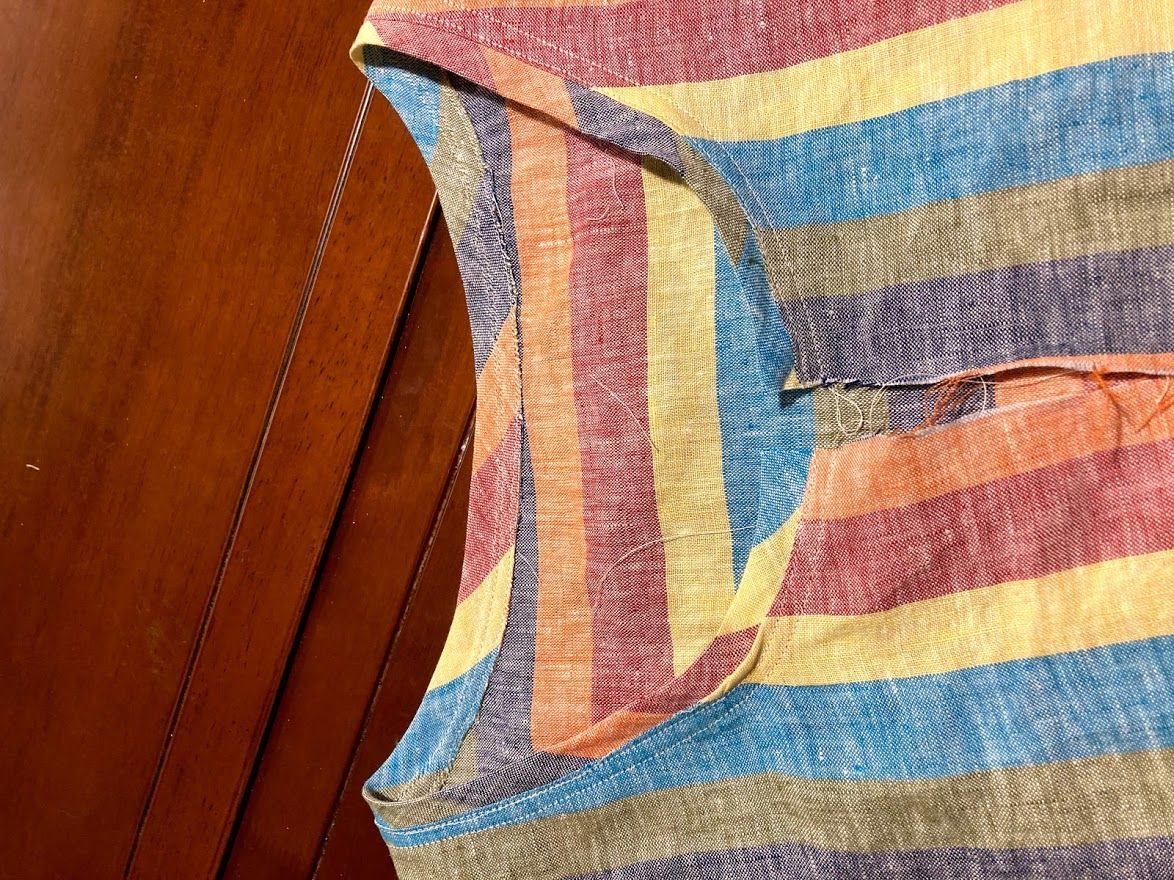 The neckline was more involved than the sleeves. I really think I need a lot more basic work with making straight lines. It's so much harder than it looks! With the serger, everything typically works out, and I don't have to worry about straight lines. With the sewing machine, all my poor line-making is laid bare to the world. I am really glad I practiced this neckline on the muslin, because I wouldn't have known to pull the neckline piece tight as you sew. It makes the neckline come out straighter and it won't "flop" or fold over, which is what happened on the muslin. I took some notes as I sewed the initial muslin, and I really felt like detective figuring out what would work best.
Looking now at my finished neckline, I think it has a professional look. I have gotten tons of compliments on the finished dress, and not one person has ever seemed to figure out it was handmade, unless I told them.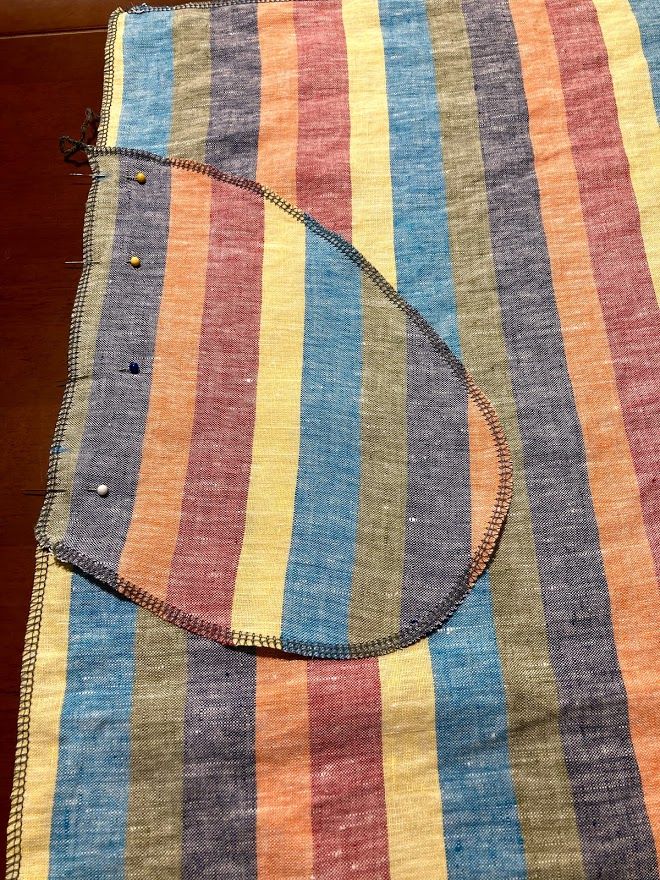 I liked the pocket design here. The pockets on my Moneta Poison Ivy dress often turn inside out, and I feel like I'm constantly pushing them back in (this is more the fault of my sewing ability and the fabric than of the pattern or methods!) I felt much more confident with this linen staying the way it should, with the methods used. The pockets came out clean and lovely, and I just always appreciate a good pocket in a dress. I know everyone talks about how great pockets are in dresses, and really I can't disagree. It's a no-brainer.
For the skirt, the Hinterland pattern calls for making two basted stitches along the top at 3/8 and 5/8 in, then pulling the stitches until the skirt is the same size as the bodice. This always makes me nervous. It seems so chaotic and unpredictable. I prefer to make folds in my skirts, especially in knitwear. But this is a woven dress, and it calls for basting stitches, so basting it much be! It turned out fine, and I had a real groove going with how well I was able to pull in the skirt. You can see in the photo above the slight pinching in the waist where everything came together.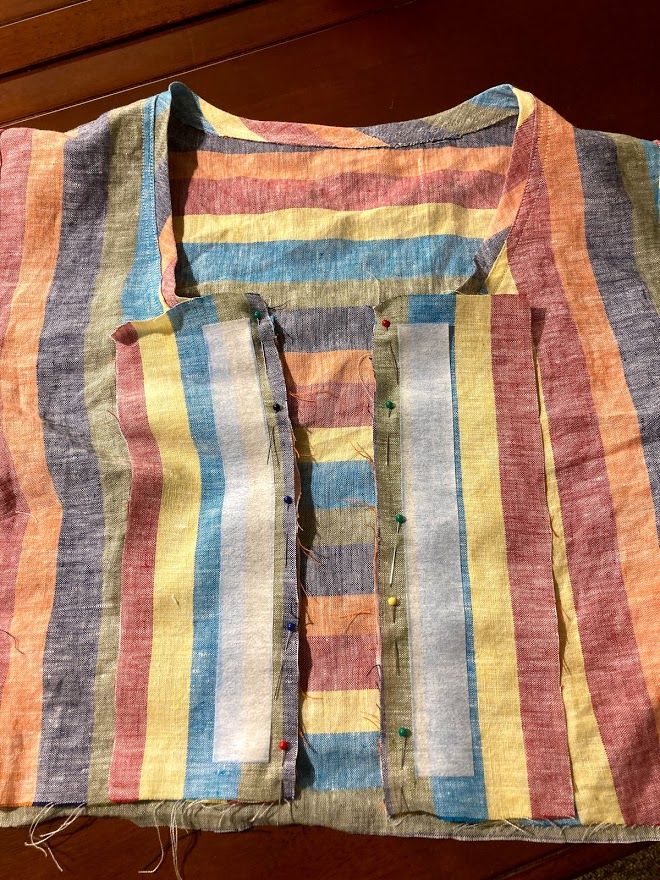 The placket was the last thing to complete before sewing the skirt on. I was both excited and nervous about it. I still don't have a button foot for my machine for some reason, but I think it's okay? Maybe I don't need one? Someone let me know, because this seemed to work out fine with just a regular sewing foot. I did end up hand-stitching the buttons on because I forgot how to use my machine to attach buttons. Oops.
The way the placket was written out in the pattern was mostly really easy, with one or two steps that I had to read several times to figure out. It might just be the typical way to write out plackets and I'm an idiot, though, so I don't necessarily blame the pattern makers. Eventually, I figured it out and honestly...I think my buttons and buttonholes are fantastic. I was really proud of them! I think buttonholes are an easy way to see "oh, that's handmade." I think if you weren't looking too closely, or if you weren't a seamstress yourself, you would not know I did these buttonholes myself. I just feel good about them!
The bodice and skirt sewed up together nicely, with the cinched waist of the skirt fitting perfectly with the bodice. After completing the dress, I definitely prefer to wear a belt with it, as it is somewhat baggy. I don't mind that at all. I think when I make this pattern again, I will add the belt in. It's another skill to learn, and I think it will look nice!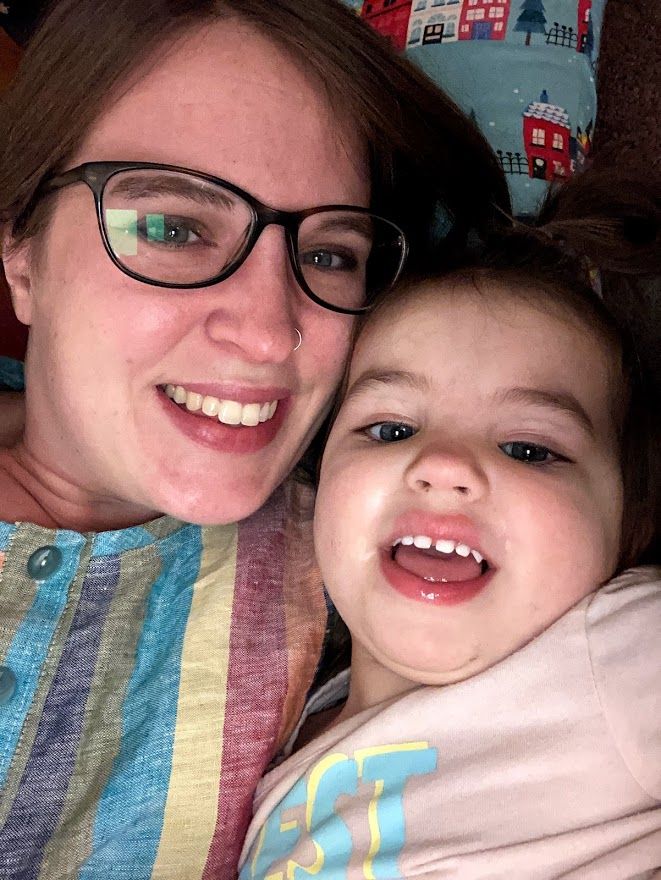 I've worn the dress probably 5 times since I made it, and have gotten a lot of admiration. It's definitely my favorite piece I've sewn so far, and I cannot wait to make another Hinterland dress. This is such a nice basic wardrobe pattern that you really cannot go wrong purchasing it. It will absolutely continue to be a favorite, and I'm so glad I chose to get the rainbow linen for it.
I've been curling my hair after buying myself overnight curlers for Christmas, so here's a bonus curly hair Hinterland picture:
My final verdict: Why haven't you bought this pattern yet?? Get going! You will love it!