Disclosure: Some links on this page below are affiliate links, meaning, at no additional cost to you, we will earn a commission if you click through and purchase. Read our disclosure for more info.
In the previous posts, I covered how I made the Batman and Batgirl costumes for the kids: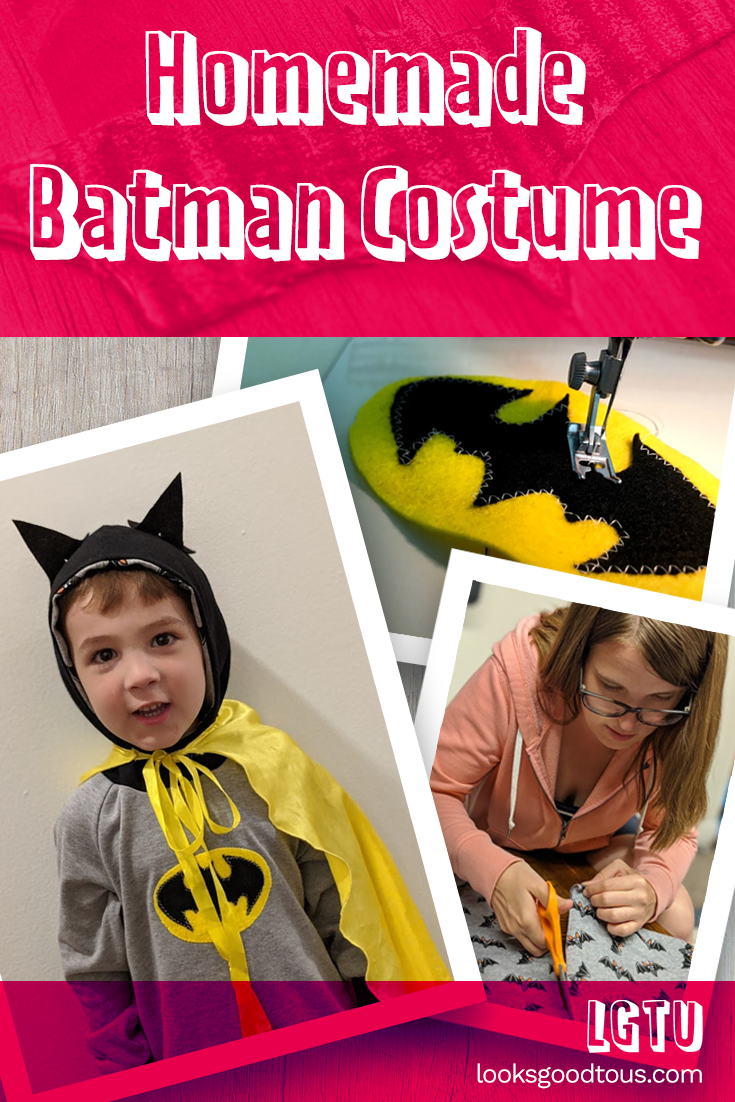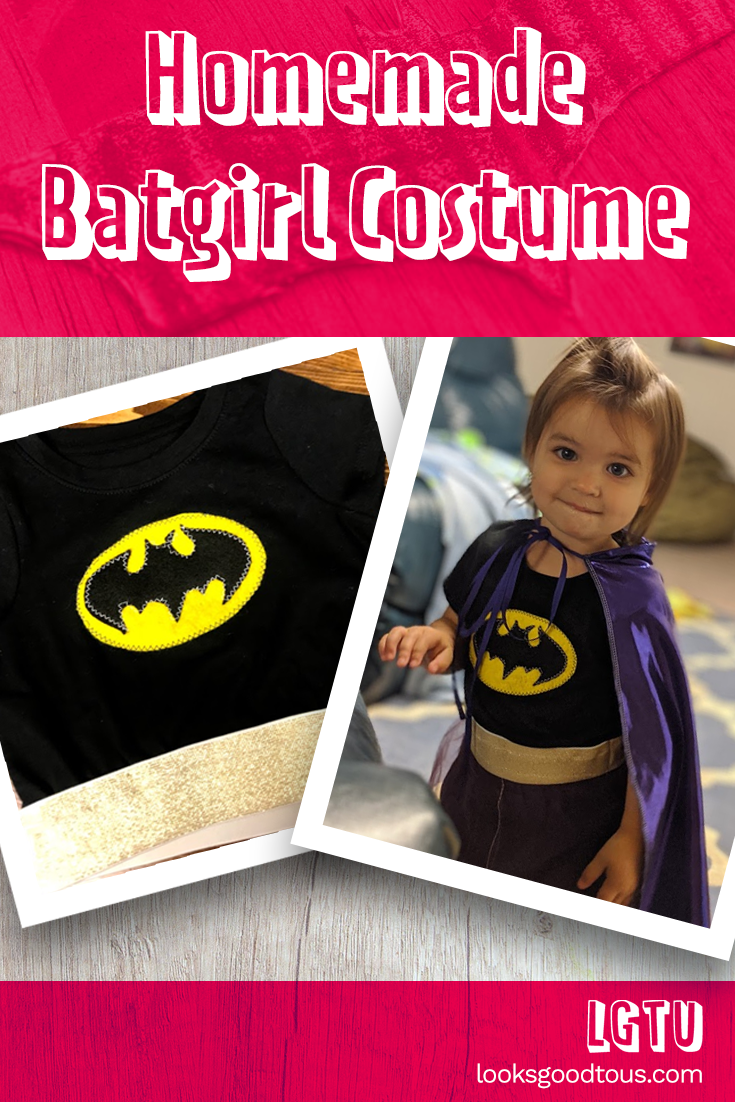 Robin
Last in our Halloween costume series for this year is the costumes for Kamran and I. Rami decided we should dress as Robin (Kamran) and Poison Ivy (me). Somehow I always end up being a villain.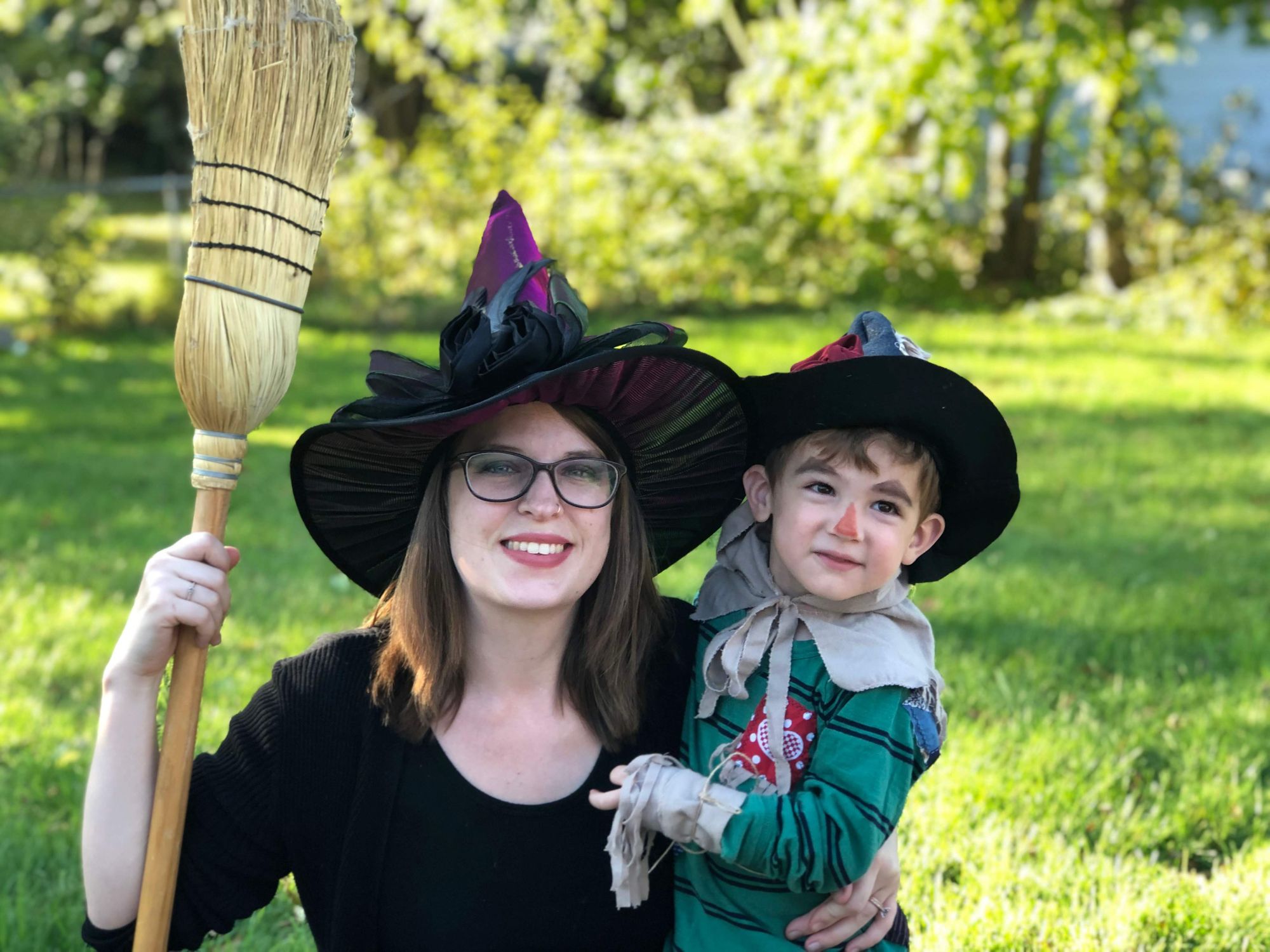 For Kamran's Robin costume, there wasn't much to do. We already had a yellow cape for him and a black mask, so all I really needed was a shirt with an R. I printed and cut out a Robin-style "R," similarly to how I cut out the bat signal for Rami and Sai's costumes.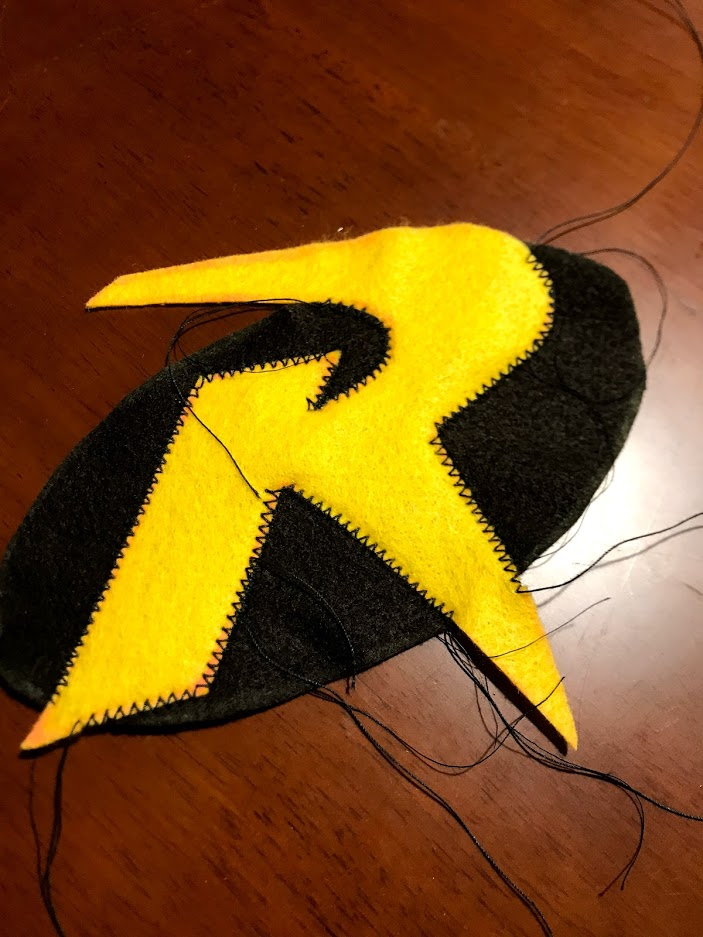 A friend of mine later told me I used a more "modern" Robin logo, so it doesn't exactly go along with my Adam West-style Batman costumes, but I think it still works.
I actually ended up taking no other photos, that's how simple this was! We used a cheap red t-shirt from Target, and I sewed the letter R on. Easy peasy!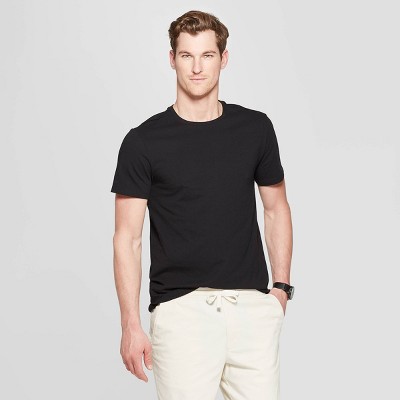 Poison Ivy
My Poison Ivy costume was slightly more difficult but still within reason to finish as a weekend project!
I happened to see a super cute fabric at Joann Fabrics that was green with ferns and other plants on it. I have been looking at Joann's website and haven't seen it, so I don't know that's it's available anymore! So here is a similar fabric (maybe even cuter!) from fabric.com.
But really any green fabric with plants will work. Next, I knew I wanted to make a simple dress. I know that Poison Ivy's usual costume is sort of a sexy leotard and high boots, but I'm not really the type to wear that, so I figured I could just be a different style of Poison Ivy.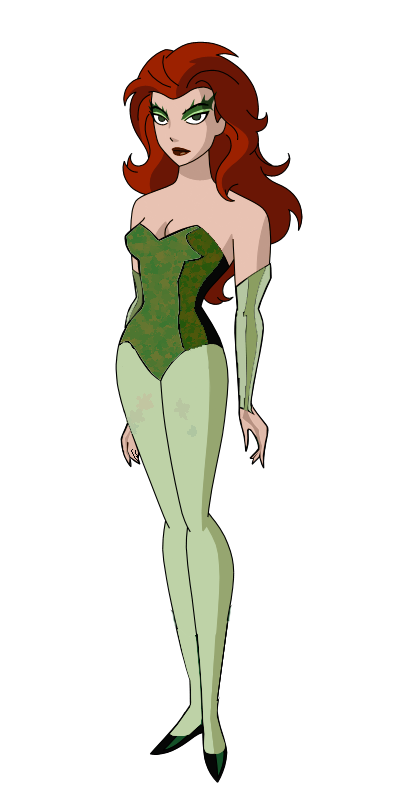 I had been looking at the Moneta dress by Colette Patterns for a long time and decided to finally purchase it and make it!
I chose to cut out the medium size of the pattern and wanted to do the short sleeve version of the dress. I used two yards of fabric and it wasn't quite enough for the original length of the skirt. However, I actually really liked the length I ended up with, and I'm happy with it.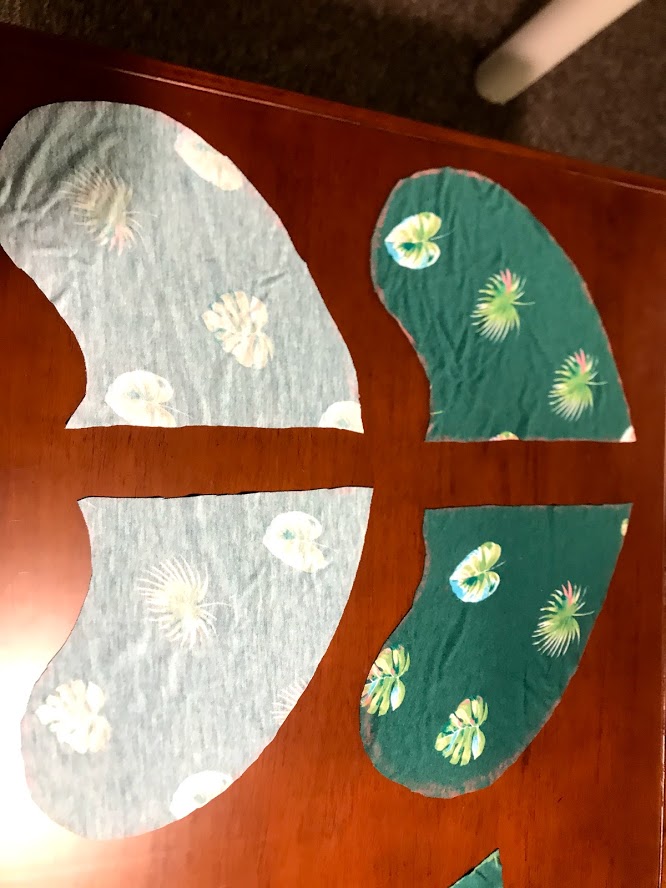 I cut out my pieces and began the construction as outlined in the Moneta pattern. I thought the instructions were well-written and easy to follow. I kind of kicked myself later because I didn't read everything as well as I should have, and didn't know I needed the clear elastic at the end. But to start with, I put together my pockets and used my sewing machine to construct them. I thought the instructions were sort of ingenious, since you have to attach the pieces to each other and also to the dress itself. I think with more practice, this will be easier for me. I ended up with pockets that pop out a lot. I'd like to work on having more "hidden" type pockets for the next time I attempt this pattern.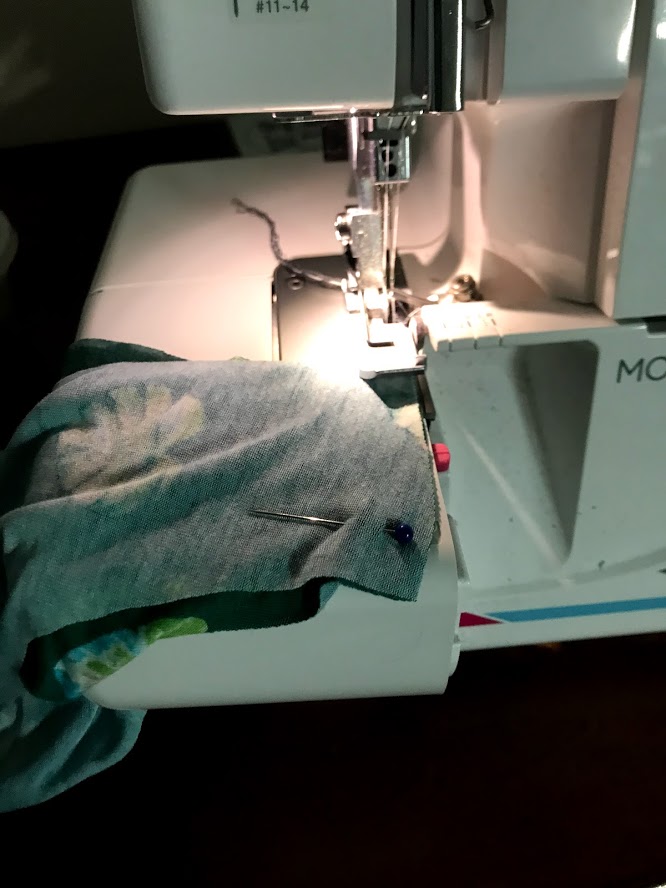 The construction of the dress was pretty simple, as seen above. I enjoyed putting the sleeves on and matching everything up. I again used my typical It's Always Autumn neckline, rather than just folding the neckline over, which with my level of sewing knowledge and skill will not look as good as the t-shirt neckline.
All in all, the dress took a couple of nights to put together, and I've actually worn it day to day, maybe about 4 times. I've gotten lots of compliments! I feel like Ms. Frizzle teaching about plants when I wear it.
For Poison Ivy, I knew I needed some interesting makeup, so I found some green lipstick at Target that fit perfectly: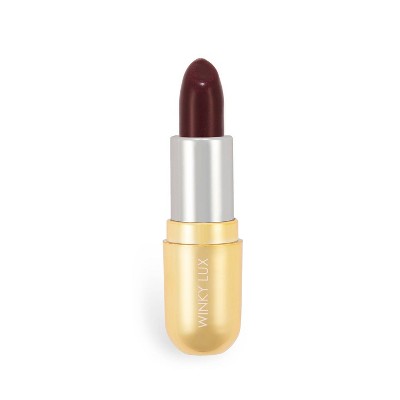 After that, I just needed to put together some vines and flowers to complete the look. I bought a black headband and a vine of ivy leaves, along with a bouquet of purple flowers. I cut about ten leaves off of the ivy vine and hot glued them onto the headband, along with one of the flowers. My kids even helped!
We were excited to try the costumes on!