Disclosure: Some links on this page below are affiliate links, meaning, at no additional cost to you, we will earn a commission if you click through and purchase. Read our disclosure for more info.
Winter is in full force here in Minnesota and DIY projects are slow to progress. While I plan for some of our larger projects I've been doing some small things around the house to make some progress. I also have updates to share on the sump pump situation and how the search is going for a new family hauler.
I got an ecobee smart thermostat
I replaced the thermostat that came with the house (an okay Honeywell one) with a shiny new ecobee3 Lite. Xcel Energy has an excellent instant rebate that ended up being lower than any other big box retailer at $99 so make sure to check that out!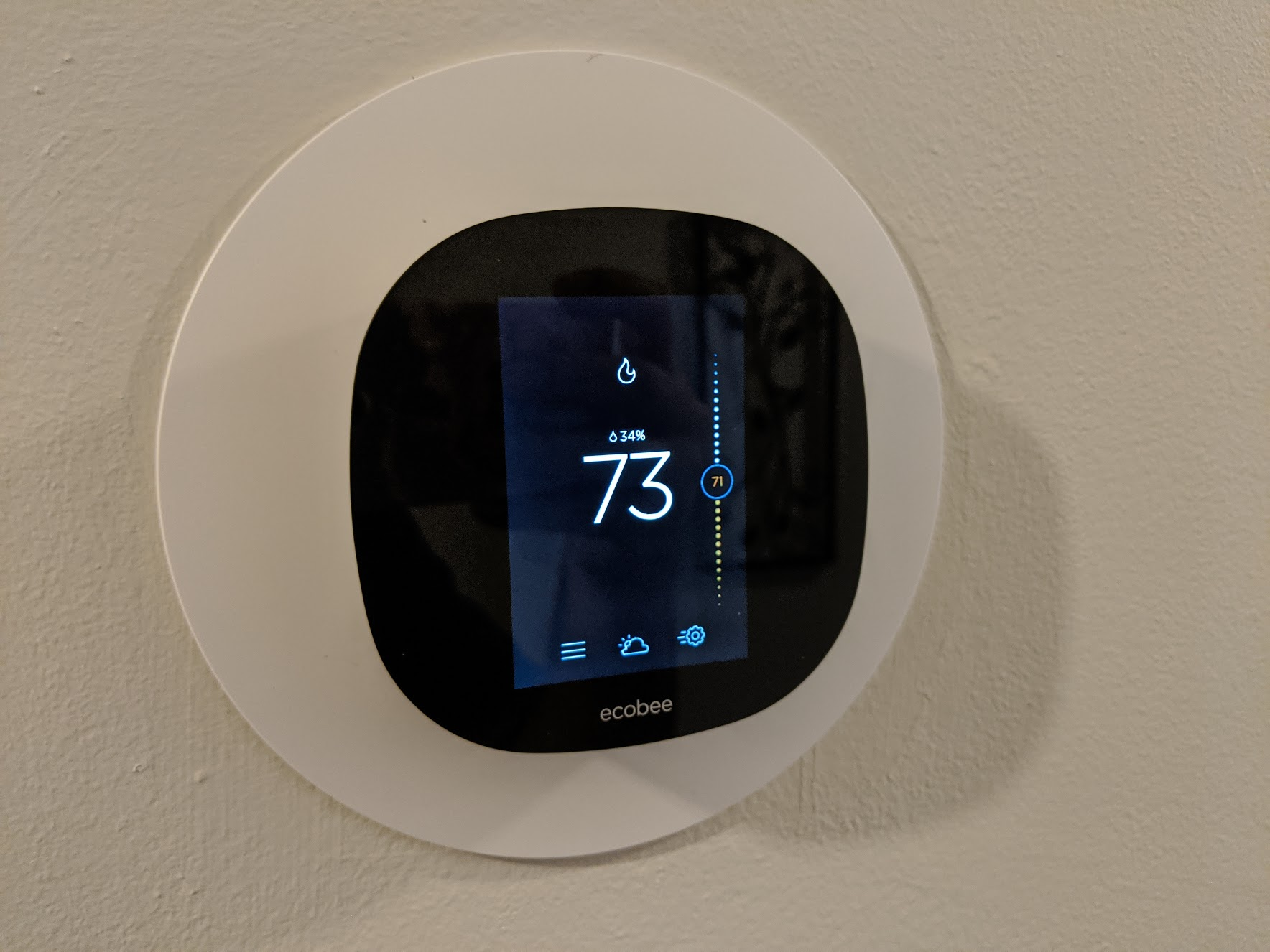 I installed it all myself! The wiring wasn't too bad, the key being the C Wire which is what powers the device. In my case, it was tucked behind the wall so once I got it out, I went downstairs and checked the furnace to make sure it was the right one (it was!).
How has it been?
Good! Even if it results in little-to-no energy savings (unlikely) I loooove the convenience of being able to control it from my phone. When I record my courses in the basement, or I want the fan on to help take a nap, I can use my phone without having to trudge upstairs (#firstworldproblem).
I also appreciate the ability to easily set a weekly schedule with shortcuts for "Home for now" and "Away for now" which are quickly done via the touchscreen or app.
You can set a geofence which will automatically switch your settings to Home or Away if you enter or leave the area. Since me and Cassie usually work during the day, this is a nice fallback for the weekend whenever we're out and about.
Has it saved you money?
Yes, it has (or will). One awesome feature is that you can set the amount of time for your fan to be on each hour. With the old Honeywell, it was either Auto or On. I guarantee that we are seeing some minor savings simply by allowing me to set the fan to be on for 15 minutes every hour.
I installed it January 9 and 30 days later, our gas usage has remained about the same (~200 therms). I don't think it's saving much on gas, our furnace is so old now and the HVAC service person told me it's probably operating at 75-80% efficiency 😣.
However, check this out for electricity usage: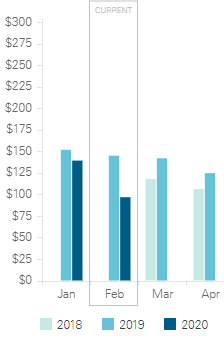 We are trending downward still on power usage, which makes me very happy to see! Clearly taking the steps to eliminate phantom loads and hopefully switching to a smart thermostat is putting more money in the bank.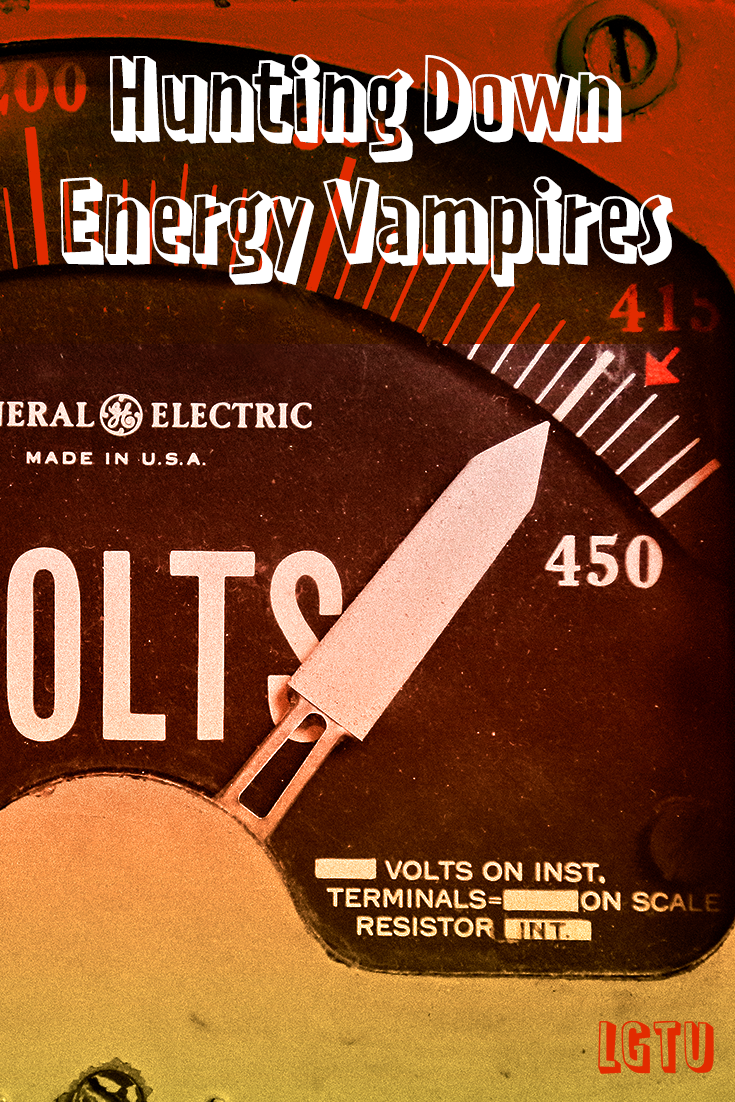 Air vents galore!
I've been going on a spree replacing all the old ugly airvents with some new clean white ones.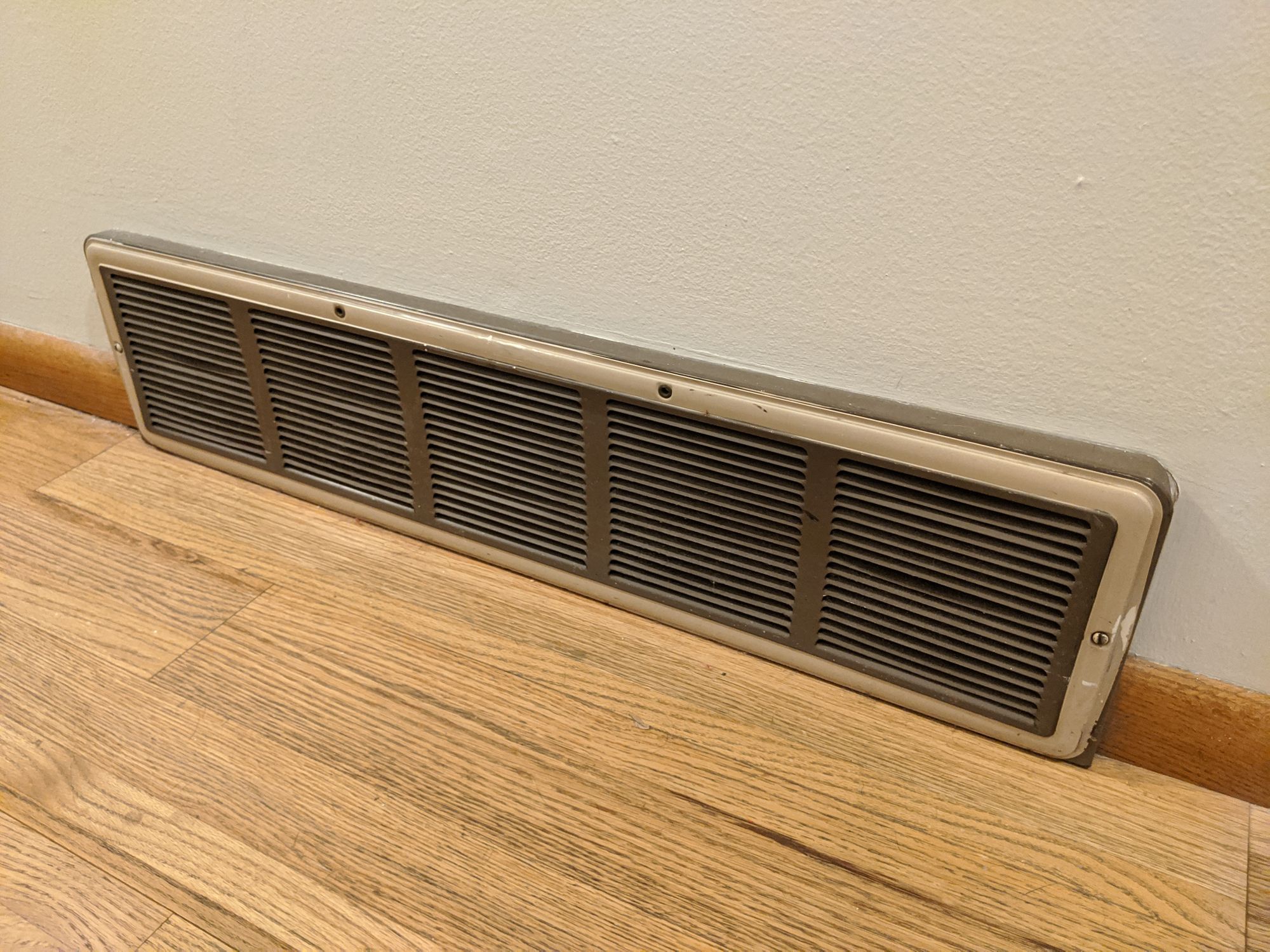 It all started in my daughter's room, to make the air vents better match her newly painted trim. You'd think it'd take about 10 minutes but since this is an older house, I've run into some annoyances but it's good practice.
The major issue has been the baseboard vents in the hallway protruding outwards. I had to learn how to cut the vent on the bottom using a dremel!
Rami was a bit nervous of the Dremel once it got going so he stood by as I made some sparks fly.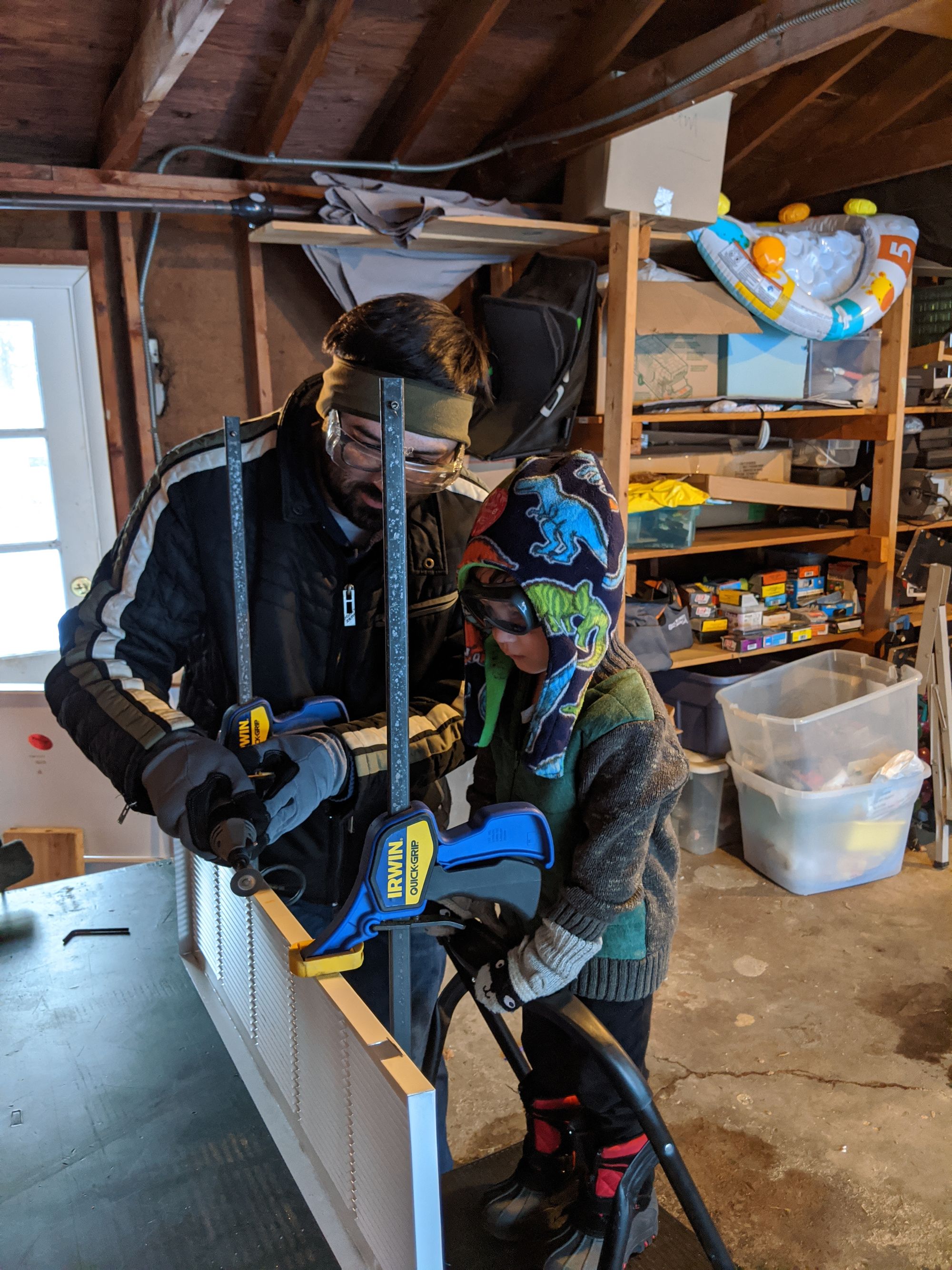 After I was done, he gave me a reassuring, "Good job, Papa" 🤩
This was a first for me, so let me spend a hot minute on it after all that's what this blog is about–the journey!
How to cut metal with a Dremel blade
The first question I asked was, How in the heck do I cut metal in a small surface area? The answer was a Dremel! I actually had one courtesy of my dad (thanks paps!).
Then the next question is, what blade do you get for the Dremel? And the answer is a metal fiberglass sawblade which you can get as part of the combo kit (seen above) or separately. What you're looking for is blades marked with the "Metal" label. You will also need a mandrel to attach it, which I didn't have, so I got a little kit with it included.
I referenced this YouTube video of how to install the blade, it was simple once you understood what a mandrel was used for:
Once I did that, I cut the bottom of the vent off almost completely so it would butt up against the wall and make for a clean look.
The dreaded sump pump of doom
I already documented the issue with our basement sump pump: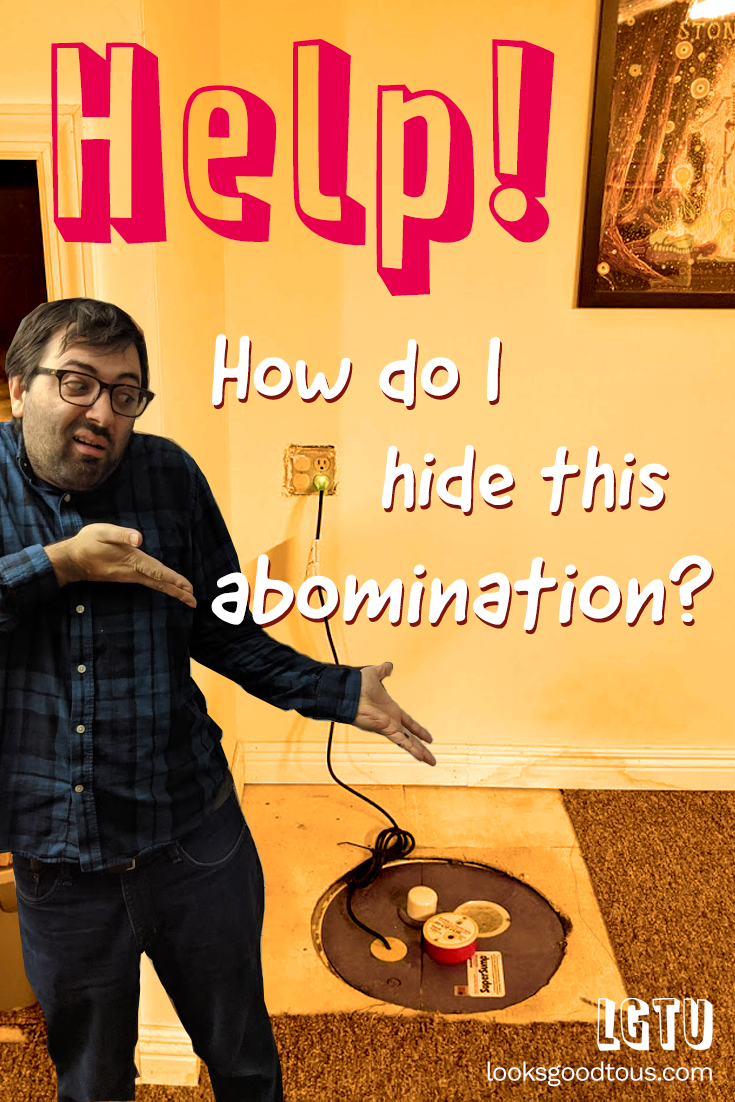 I have a small update and I'll definitely share more! I think I've decided on the closet solution and will hopefully be tackling that next at the end of March, when Cassie and the kids will be gone for the weekend.
I need to do a quick sketch of the dimensions and come up with a materials list. I will be sure to post that as I do it, possibly in the next two weeks as the subject of my next post. At the least I hope to demo and clean the area where it will go and work from there.
Saving for the FUV (Family Utility Vehicle)
Lastly (but not least, in terms of 💰) we are saving up for purchasing a minivan. I'll be trading in my vehicle (a 2010 Corolla) to swap with what I will call our FUV, or Family Utility Vehicle (😉).
Before you barrage me with other vehicle ideas that are not a minivan, trust me, I know. I tried to justify any other kind of vehicle, even so far as considering the Ford Transit Connect (the Eurovan). As far as utility, space, family features, and our use cases (road trips, hauling kids, friends and doggo), you just can't beat a minivan unless you want a Monstrous SUV and I don't. For reliability, you can't beat Honda or Toyota.
To tell you the truth, I am excited for it since it means it will be much easier to haul materials, furniture, and other things that I get for projects and I won't have to schedule pickups with friends (none of whom have a large vehicle close by).
My eyes are set on the Honda Odyssey 2015, having very high ratings on Consumer Reports and relatively better measures on most fronts than even the Sienna (though the AWD in Siennas are enticing). Specifically the 2015 model year was when Honda introduced a slew of new features to the line and it's a respectable 5 years old.
I didn't want to trade my 10 year old car for another 10 year old van at this point: I want whatever I get to last another 10-15 years and I want it to have some modern amenities that won't be sorely missed at the 10-year mark. The prices on used 2015 models are just right and some scratch-and-dent ones can come in at pretty good prices, I spotted them as low as $12k before the end of 2019. I am using Autolist to track local listings for deals and I'm targeting the April/May timeframe.
I was disappointed to see such lackluster reliability reports on the new 2017 Chrysler Pacifica since that actually looks and drives like a nice vehicle. The talents of Jessica LaFond, the chief engineer, were wasted at Chrysler and hopefully Toyota or Honda snap her up to work on nextgen minivans with actual good reliability. 🤞